The initial improvements, part of TriMet's extension of the MAX Red Line to Hillsboro, are scheduled to finish this weekend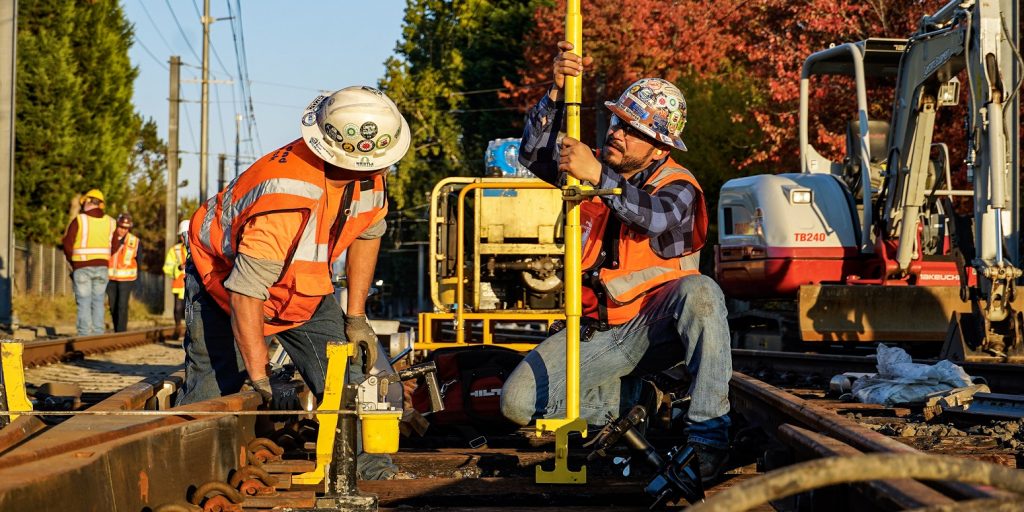 The first phase of trackway construction for TriMet's A Better Red MAX reliability and extension project near Fair Complex/Hillsboro Airport is on schedule to finish on time this weekend.
MAX Blue Line trains will resume regular service Sunday, Nov. 20, following an eight-day disruption for construction that is part of TriMet's multi-year A Better Red project. The work is laying the foundation to extend the MAX Red Line west 10 stations, from Beaverton Transit Center to Fair Complex/Hillsboro Airport. This section of the light rail system dates back to TriMet's Westside Blue Line extension.
Improvements to Fair Complex/Hillsboro Airport
Crews have been working since Nov. 12 to improve components of the light rail system near the Fair Complex/Hillsboro Airport MAX Station. Once TriMet completes work on A Better Red in 2024, the station will be the new west side terminus for the MAX Red Line, the end result of a 10-station service extension of the line from Beaverton Transit Center into Hillsboro.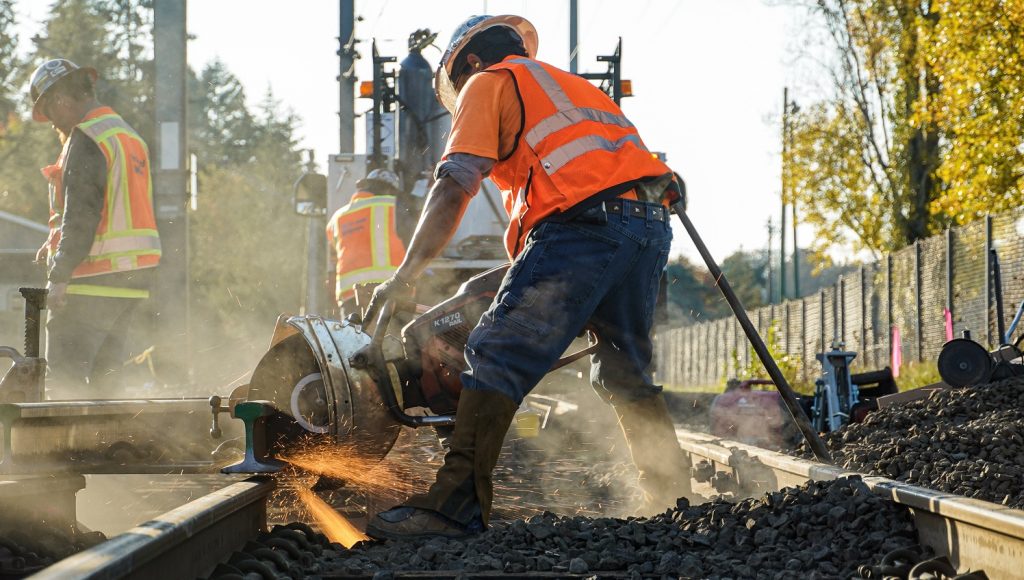 When it was completed in the 1990s, an auxiliary track at Fair Complex/Hillsboro Airport wasn't planned to accommodate regular train movements. Crews have been working to make important improvements that will allow more trains to move around each other, including replacing critical track components used to turn back trains. They do this by crossing from one track to the other. Crews have also been replacing switch machines to automatically align the track direction—the devices that physically move parts of the track—along with worn, wooden rail ties.
In addition to preparing Fair Complex/Hillsboro Airport for more train traffic in the future, crews have also been taking the opportunity to revitalize other parts of the system between Orenco/NW 231st Ave and Hatfield Government Center. They've been grinding the rail and clearing brush and debris to help create smoother, more enjoyable trips for our riders.
Since the start of the project, field staff, customer service personnel, volunteer Ride Guides and others have been out at key locations to help riders navigate the changes. We appreciate our riders' patience and understanding as crews spend the next few days completing the project.
A Better Red

Since 2001, the MAX Red Line has provided a convenient, cost effective way for riders to go to and from Portland International Airport, jobs and other destinations. As our region grows, it's important for transit to grow with it to connect more people to the places that matter to them. With A Better Red, not only will the Red Line be extended 10 stations west into Hillsboro, additional improvements around the Gateway Transit Center and Portland International Airport will improve train traffic by alleviating bottlenecks that impact the entire rail system.
"The City is ready to welcome the Red Line into the heart of Hillsboro," said Don Odermott, Transportation's System Director for the City of Hillsboro. "With the future terminus at Hillsboro Airport/Fair Complex Station, this extension provides the service and frequency for our community that we envisioned when we celebrated its grand opening in 1998."
Crews have been working on the project since breaking ground in September 2021:
We are very appreciative of our riders and thank them for their understanding and support as we work to make A Better Red. For more on the project, visit trimet/org/bettered.