With colder weather around the corner, TriMet encourages riders to start getting ready now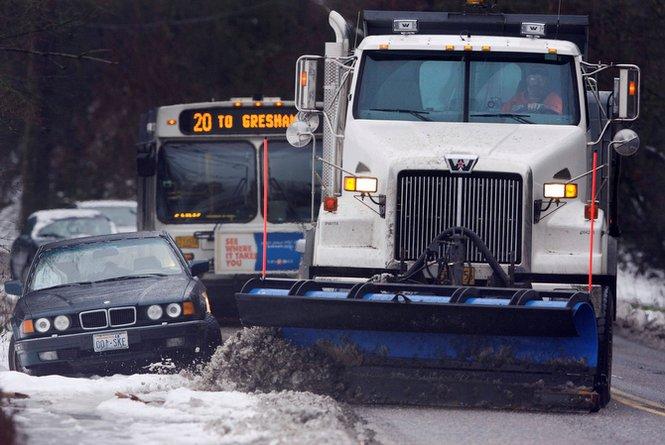 When that first nip of morning air snaps at your skin, making your arm hairs rise to attention, you know what's coming—winter! For TriMet, it's a sign to get ready. We are, and we hope you are too! We've been arranging our gear and reviewing our plans to help keep buses and trains moving in the event of snow or ice storms in the coming months.
Winter can be unpredictable, which is why it's important to consider early how a storm might impact your travel. To help guide you on your trips on TriMet, we suggest visiting our winter weather webpage, trimet.org/winterweather, which features detailed tips and information for when wintry conditions arrive.
Through coordination with our regional transportation partners, and the preparatory work of our employees, TriMet is primed for the potential of snow and ice. But if conditions are too icy and slick, or if it's simply too cold for you to wait outside safely, please consider postponing your trip if you can.
Safety takes the driver's seat
During winter storms, TriMet emphasizes safety over schedules. Snow, high winds and especially ice can impact travel and may result in delays or detours for trains and buses.
"The weather can vary throughout the region, so we encourage riders to check weather reports, monitor conditions in your area and refer to TriMet's website before heading out this winter," TriMet's Executive Director of Transportation Inessa Vitko said. "Not only are our operators and supervisors prepared, but our facilities, maintenance and operations teams are also ready to step up to keep everyone moving as best we can this winter."
Snow will mean slower, more cautious trips for buses. They will follow their normal routes as long as the streets are safe for travel. We work with city and state road crews to help make sure bus routes get salted or plowed first, and we'll chain buses as necessary, especially on hilly routes. Once chained, all buses are limited to 25 mph.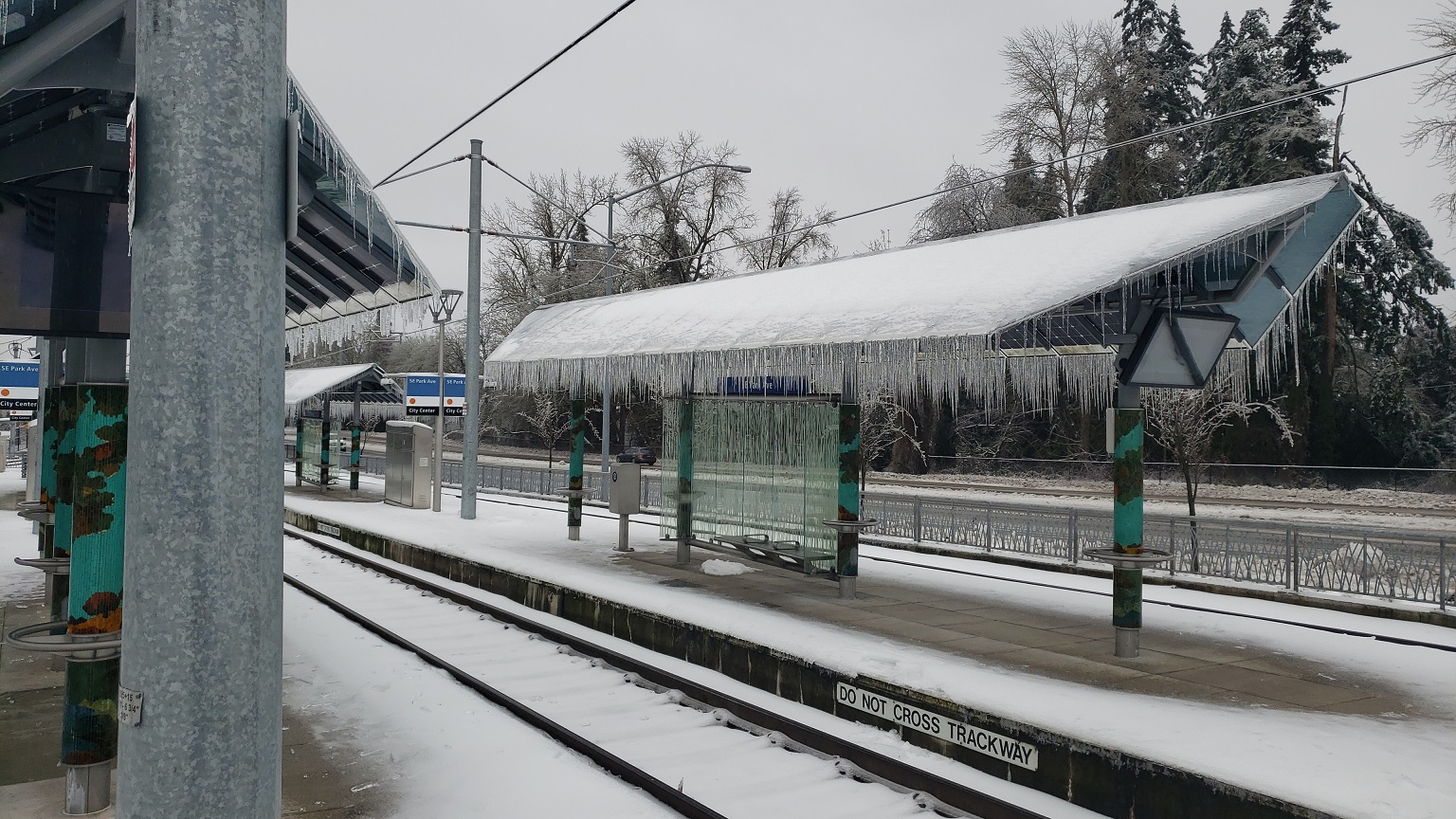 Ice can impact the MAX system, especially if it builds up on overhead wires faster than we can remove it. It is possible your train may be delayed and you may have to make an extra transfer due to ice. In some situations, we may have to use shuttle buses to transport riders between stations.
Equipment on standby
Every autumn, TriMet takes stock of our winter equipment. This year, we have more of it than ever—more drop-down chains for buses and de-icer for our facilities—set aside for when the first snowflake falls.
We have five sets of chains designated for every bus.
Nearly all of our buses, about 95%, have drop-down chains that operators can deploy with a press of a button.
We have 25 light rail vehicles equipped with ice cutters to try to prevent ice from building up on our overhead wires.
To help prevent slips and falls, we have more than 82,000 pounds of de-icer on hand for our crews to spread on platforms, transit centers and our operating facilities.
And we have switch heaters and additional equipment to try to keep trains running.
Winter riding tips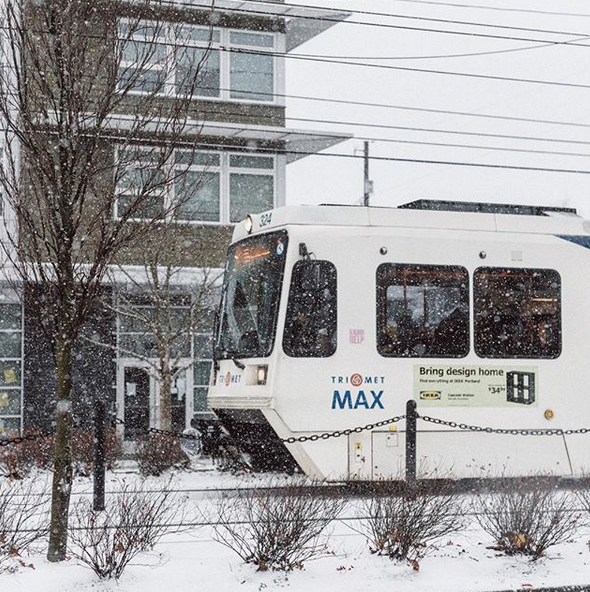 As we've seen over the past few winters, cold snaps can happen anytime in the season, covering roads with snow and ice and slowing all travel, including transit. To help you stay safe and comfortable, here are TriMet's tips for riding during wintry weather.
Make sure to dress warmly, in bright-colored or reflective clothing if you have it. Bring a small light, or use the flashlight on your phone, to help make yourself more visible.
Stand away from the curb, especially as your bus is approaching.
Watch your step on stairs and platforms and, if you can, wear shoes with good traction.
Be prepared for detours and delays—especially if there's substantial snow in the forecast.
Buses may not always be able to pull all the way over to the curb in snow, so please be careful when stepping off the curb toward your bus. Accommodations will be made to assist riders with mobility devices.
Remember that in severe weather conditions buses and trains may get so far off schedule that our TransitTracker™ won't be able to accurately predict arrival times. Instead, it will use "miles away" to give you a sense of where your bus or train is.
You can also monitor bus and train locations in real time at trimet.org.
If delays or disruptions happen, we will announce them as quickly as our staff can. You can also sign up to get email or SMS updates about snow/ice service now to stay one step ahead.