From Oct. 22-23, shuttle buses will serve stations between Gateway/NE 99th Ave Transit Center and Portland International Airport as crews install bridge girders at Gateway Green Park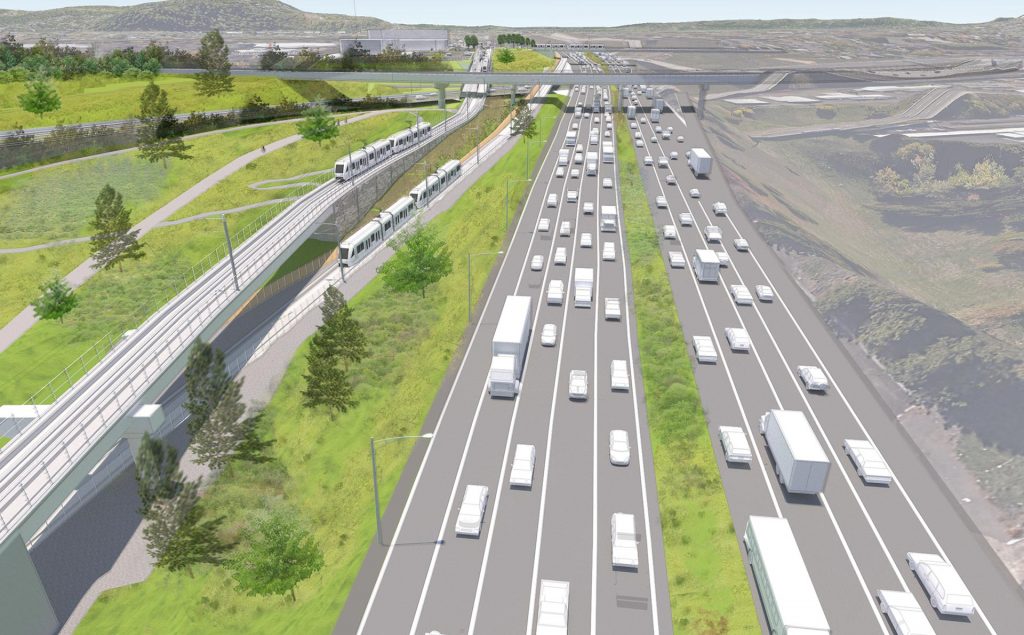 Work on TriMet's multi-year A Better Red MAX Extension and Reliability Project continues and will require another MAX Red Line disruption this month. Construction planned north of the Gateway/NE 99th Ave Transit Center will shut down the Red Line Saturday, Oct. 22, through Sunday, Oct. 23. Shuttle buses will serve stations between Gateway Transit Center and Portland International Airport.
MAX Red Line trains will not be running anywhere on the system during the disruption. Riders west of the Gateway Transit Center will want to use MAX Blue Line trains, which will be running more frequently during the busiest hours to replace Red Line service. You can also use MAX Green Line trains to reach Gateway. But if you are heading to PDX, remember to exit the train at Gateway and look for the shuttle bus stop, marked by a large red sign, where buses will be arriving about every 15 minutes.
For information on the disruption, go to trimet.org/improvements.
Plan ahead with TriMet
TriMet staff and our Ride Guides will be at select stations during the Oct. 22-23 disruption, helping riders catch their connections and answering questions. During the project, riders should plan an extra 30 minutes for their trips and go to trimet.org ahead of time. Our trip-planning tools will set you on the best path. They calculate the fastest possible trip, whether that means using shuttle buses that replace MAX Red Line service or taking an alternate bus route. We encourage riders to sign up for service alerts on our website to receive messages about disruptions delivered directly via text and email.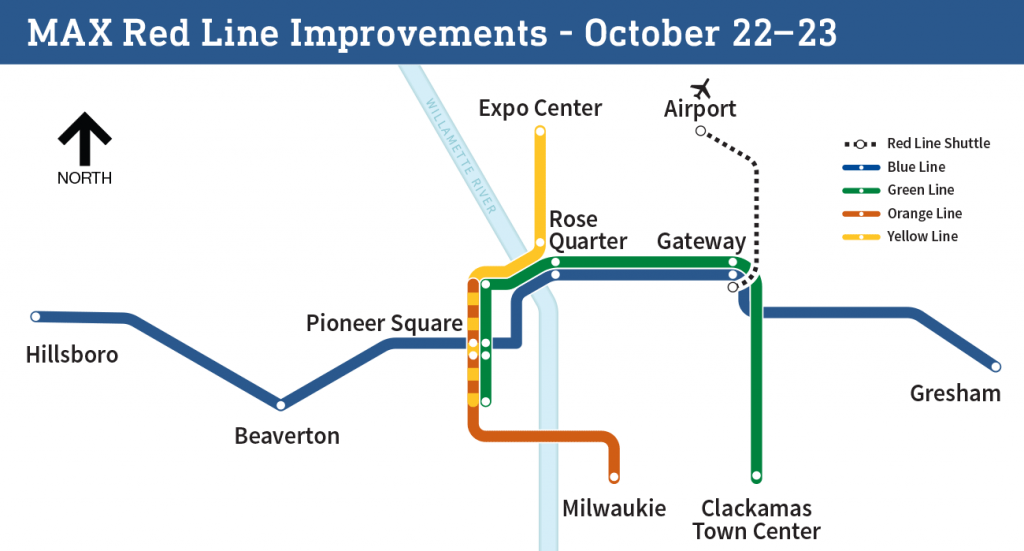 You can reach TriMet's Customer Service team by calling or texting 503-238-RIDE (7433) daily between 7:30 a.m. and 5:30 p.m. You can also send us a direct message by texting the number or follow us on Twitter and send a direct message to @trimethelp.
Bridges Take Shape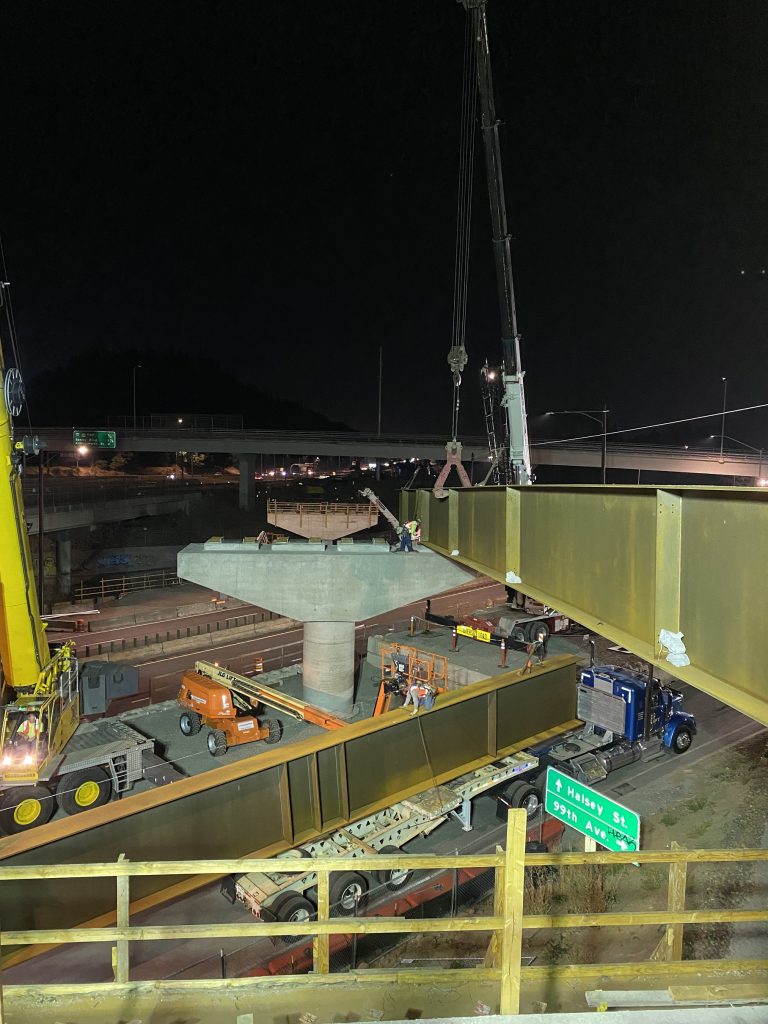 Crews will use the weekend disruption to erect massive concrete girders for a new light rail bridge at Gateway Green Park, about a quarter mile north of the transit center. The bridge will span the existing MAX Red Line tracks that lead to and from PDX.
Girders are like the bones of a bridge, supporting the deck that lays on top and transferring the load down to the foundation. Unlike the steel girders that were recently installed on the other light rail bridge that's under construction north of the Gateway Transit Center, these are made of precast concrete. While they're heavier than the girders we've typically used, weighing about 70,000 pounds each, they're better suited for the project due to their reduced height.
In addition to the disruption of MAX Red Line service, there will be intermittent closures of the I-205 Multi-Use Path that runs adjacent to our tracks and Gateway Green Park.
Once all the girders are in place, the structures will begin looking a lot more like the bridges they'll eventually become. Once completed, one will extend over I-84, the Exit 7 Northeast Halsey Street/99th Avenue off-ramp and Union Pacific Railroad tracks. The other will be parallel to I-205 in Gateway Green and span the existing MAX Red Line tracks. Together, they will help move Red Line trains more efficiently through the Gateway area.
A Better Red

TriMet's A Better Red project will extend the MAX Red Line west 10 stations to Fair Complex/Hillsboro Airport, further cementing the Red Line's status as the premiere "train-to-plane" connection on the West Coast. The improvements will also include a second set of tracks in the Gateway area—along with the two new MAX bridges—and near Portland International Airport.
The additional tracks will alleviate bottlenecks near the Gateway Transit Center where three MAX lines meet. These bottlenecks can create delays, which have a cascading impact throughout the rest of the system. The new bridges and tracks will help trains move more efficiently, not just on the MAX Red Line but throughout the light rail system, improving on-time reliability for MAX trains.
Since A Better Red kicked off a year ago, crews have been working near Gateway, along the MAX system in Washington County and near PDX. Some of the work has included:
We thank our riders and other travelers for their patience and understanding as we continue to reach milestones and make progress on A Better Red. When it opens in 2024, riders will have more reliable trips throughout the entire system. To learn more, go to trimet.org/bettered.