From Sept. 23-26, construction will close I-84 near the I-205 interchange, while a section of MAX Blue Line between Gateway Transit Center and E 122nd Ave will be disrupted from Sept. 24-25
TriMet's ongoing efforts to rejuvenate and improve the MAX system will continue in September and require closures of I-84 and a small section of the MAX Blue Line.
From 10 p.m. Friday, Sept. 23, to 4 a.m. Monday, Sept. 26, a 1.5-mile stretch of I-84 will be closed in both directions near the I-205 interchange.
From the start of service on Saturday, Sept. 24, through the end of service Sunday, Sept. 25, the Blue Line will be disrupted between Gateway Transit Center and E 122nd Ave MAX Station.
The closure of I-84 is necessary so crews can continue building a new light rail bridge over the freeway. For the Blue Line disruption, we will use shuttle buses to take riders between the Gateway Transit Center and E 122nd Ave MAX Station. During the project, MAX schedules will be adjusted, with trains on all lines running every 20 minutes during most of the day. Shuttle buses during the weekend disruption will match Blue Line service and depart about every 20 minutes.
Riders will want to plan an extra 30 minutes for their trips. We thank both our riders and motorists for their patience as we work on these important projects. Over the long run, they will help improve MAX reliability, ease traffic congestion and maintain a healthier environment.
I-84 closure planned – Sept. 23-26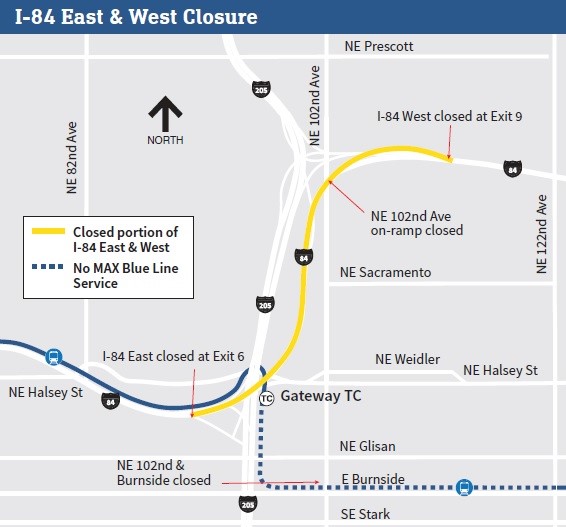 I-84 will be closed in both directions near the I-205 interchange from 10 p.m. Friday, Sept. 23, to 4 a.m. Monday, Sept. 26. The Northeast 102nd Avenue on-ramp to I-84 west and the I-84 east Exit 7 Halsey/99nd Ave off ramp will also be closed.
As TriMet's A Better Red project continues to make progress in the Gateway area, crews will be setting girders for a new MAX bridge near the junction of I-84 and I-205 during the weekend closure.
Drivers should plan an alternate route or take public transit during the closure as I-205 will likely see more congestion than usual. You can visit ODOT's TripCheck.com for real- time traffic information.
While the closure of I-84 will not affect our transit service, some trips may take longer due to other construction taking place on the Blue Line. MAX Green Line may be a good alternative for some people wanting to avoid traffic. It runs parallel to I-205 from Clackamas Town Center to Gateway Transit Center before heading to Downtown Portland next to I-84. Buses will also be running regular service while construction takes place.
MAX Blue Line disruption – Sept. 24-25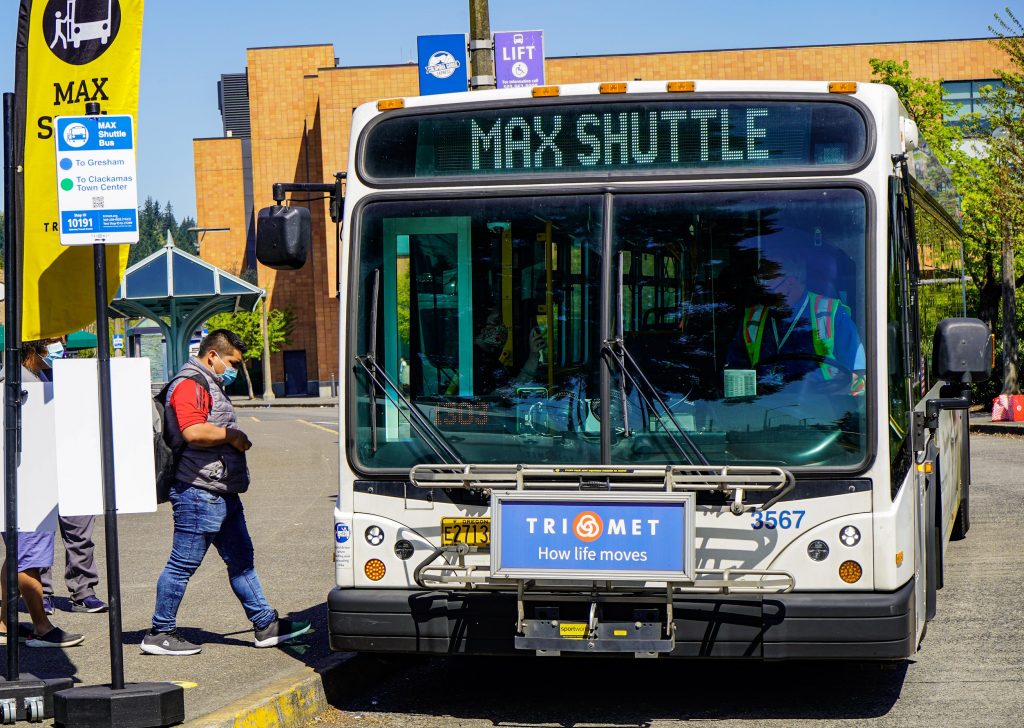 During the disruption, crews will revitalize track and a rail crossing at Northeast 102nd Avenue and East Burnside Street. With shuttle buses serving MAX stations between Gateway Transit Center and E 122nd Ave MAX Station, TriMet will have extra staff out at select stations to help riders make their connections.
While construction will last from Sept. 23-26, service will only be disrupted during the weekend—Sept. 24-25. Throughout the duration of the project, traffic controls will be in place near Northeast 102nd Avenue and East Burnside Street to help auto drivers get around the worksite safely.
Train schedules throughout the system will be adjusted during the four-day project. Riders will want to plan before you go. You can check the location of all TriMet vehicles throughout the system in real time by going to trimet.org.
Making Transit Better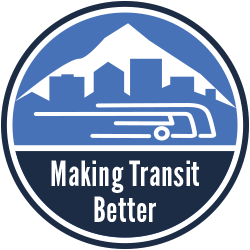 Improving the MAX system is one of the many ways we work to make transit better. TrIMet's improvements not only keep trains running reliably, they also help us expand and upgrade service. With the support of regional partners, our riders and the community at large, we aim help more people reach work, school, events and other destinations.
Among our largest undertakings in years, TriMet's A Better Red MAX project has been under construction since September 2021. This multi-year project, set to complete in fall 2024, will extend the Red Line west to serve 10 more stations in Beaverton and Hillsboro. The project also improves schedule reliability for the entire MAX system by adding a second track near both Portland International Airport and Gateway Transit Center. At Gateway, new bridges are being constructed for this second track, spanning I-84, the I-205 multi-use path and existing tracks.
Construction activities currently in progress include:
Building a new walkway and break facility for MAX operators at Fair Complex/Hillsboro Airport MAX Station
Constructing a new track crossing, Red Line station platform, multi-use path and two new bridges just north of the Gateway Transit Center
Multi-phase construction along Air Cargo Road, near Portland International Airport, to reposition the roadway
To find out more about A Better Red, go to trimet.org/bettered. For more on how we're making transit better, check out trimet.org/bettertransit.