Raimore Construction estimates total disadvantaged business enterprise (DBE) participation to date at more than 75%*, a new record for TriMet

*Data adjusted Sept. 15, 2022
TriMet's Division Transit Project is on track to achieve another first: record-setting involvement by businesses owned by minorities, women and other historically disadvantaged groups. Led by prime contractor Raimore Construction, a certified disadvantaged business enterprise (DBE) and minority-owned business itself, the project to date has achieved more than 75% DBE participation. That sets a TriMet record for major projects.
DBEs are businesses owned by women or minorities at a level of at least 51%. Companies that are certified as DBEs can receive preference for contracts funded with transportation-related dollars, under programs administered by the U.S. Department of Transportation, the state of Oregon and TriMet. The Division Transit Project, which laid the foundation for TriMet FX™ and our first Frequent Express line–FX2-Division–is one such project. FX2-Division service opens to the public on Sunday, Sept. 18.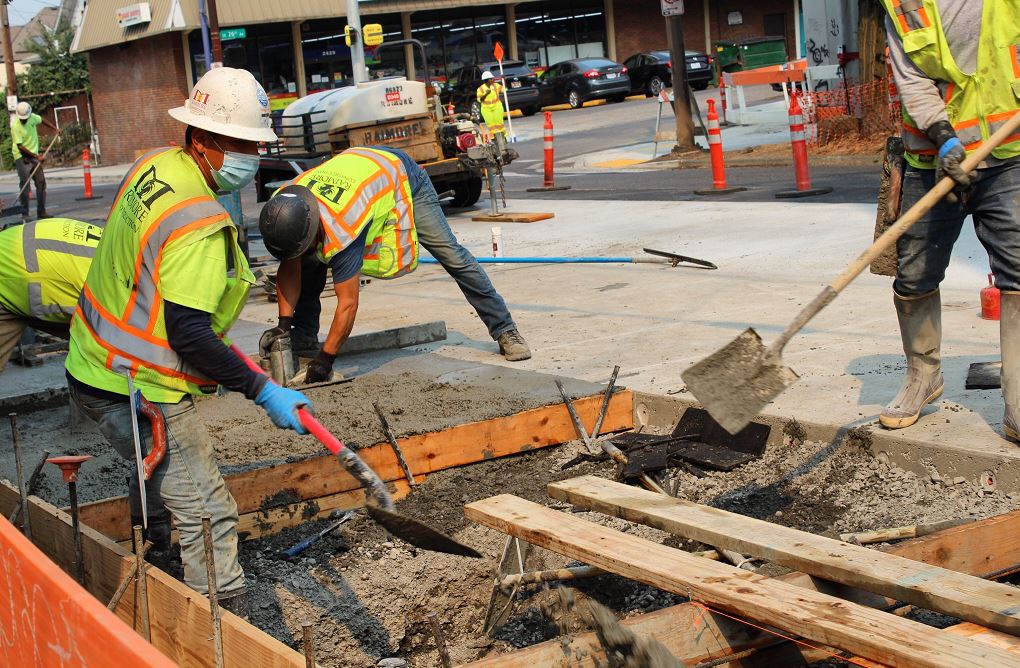 Raimore built pathway to success
Raimore Construction made history when TriMet awarded the Division Transit Project contract in 2018. It was the largest contract ever awarded in Oregon to a certified DBE. From the beginning, Raimore promised to bring more certified firms on board as subcontractors for the project. Now, with construction nearly complete and the opening of FX2-Division less than a month away, the Raimore Construction team has more to celebrate. To date, total DBE participation for the project reached more than 75%.
| | |
| --- | --- |
| Major construction projects | DBE work |
| Westside Blue Line | 17% |
| Interstate Yellow Line | 19% |
| Washington County Commuter Rail (WES) | 17% |
| I-205 Green Line | 17% |
| Portland to Milwaukie Orange Line | 25% |
| Division Transit Project | ~75% (to date) |
"With the support of government agencies like TriMet, Raimore and firms like ours gain opportunities to pursue meaningful work, which benefits communities in multiple ways," said President and CEO of Raimore Construction, Jeff Moreland Sr. "Not only will this work improve travel and safety through a diverse transportation corridor, it also lifts up minority-owned businesses, the people who work for them and their families."
"Raimore Construction has been a great partner — talented, determined, and dedicated to the community and helping others find a path to success," said TriMet General Manager Sam Desue Jr. "I'm proud TriMet first partnered with them more than 20 years ago during the Interstate MAX project, and that decades later, we were able to award Raimore the largest DBE contract in Oregon history."
A way forward for minority and woman-owned subcontractors
As the general contractor on the $175 million Division Transit Project, as well as the lead contractor on the City of Portland's accompanying $13 million Outer Division Safety Project, Raimore and minority-owned businesses have helped transform Division Street. The projects have increased safety, with new sidewalks, pedestrian crossings with signals, pedestrian protection at intersections, protected bike lanes, raised center medians and more. 
For the Division Transit Project, Raimore utilized DBE subcontractors including: A2 Metals LLC, Advanced Tribal LLC, Affordable Electric Inc., Alarm Tracks Inc., Alcantar and Associates LLC, All About Flagging LLC, Alvin L. Hall/Rock & Road Construction LLC, Bailey's Construction Unlimited, Bestrade Enterprises Inc, Brothers Concrete Cutting Inc., Champion Parking Lot Maintenance Co., C.O.A.T. Flagging, Egami Construction Inc., Fremont Forest Systems Inc., Gateway Trucking LLC, IML Services LLC, J & R Trucking LLC, Just Bucket Excavating, Lemus Construction LLC, Mainstream Landscape Maintenance LLC, McDonald Excavating Inc., Miller Factors LLC, Northwest Geotech Inc., Precision Landscape Services Inc., Pro Eagle Trucking, S & F Land Services LLC, Shadow Guard Security Group Corp, Thuy Tu Consulting LLC, and WB Family Construction Inc.
Support for disadvantaged businesses
TriMet has a demonstrated history of engaging diverse community members in our workforce and business practices. We adopted our first goals for engaging minority- and women-owned businesses in 1982. The Federal Transit Administration has looked to our program as a national model for improving diversity in transportation contracting. Learn how our Disadvantaged Business Enterprise program supports businesses owned by women and people of color.
The future of transit is FX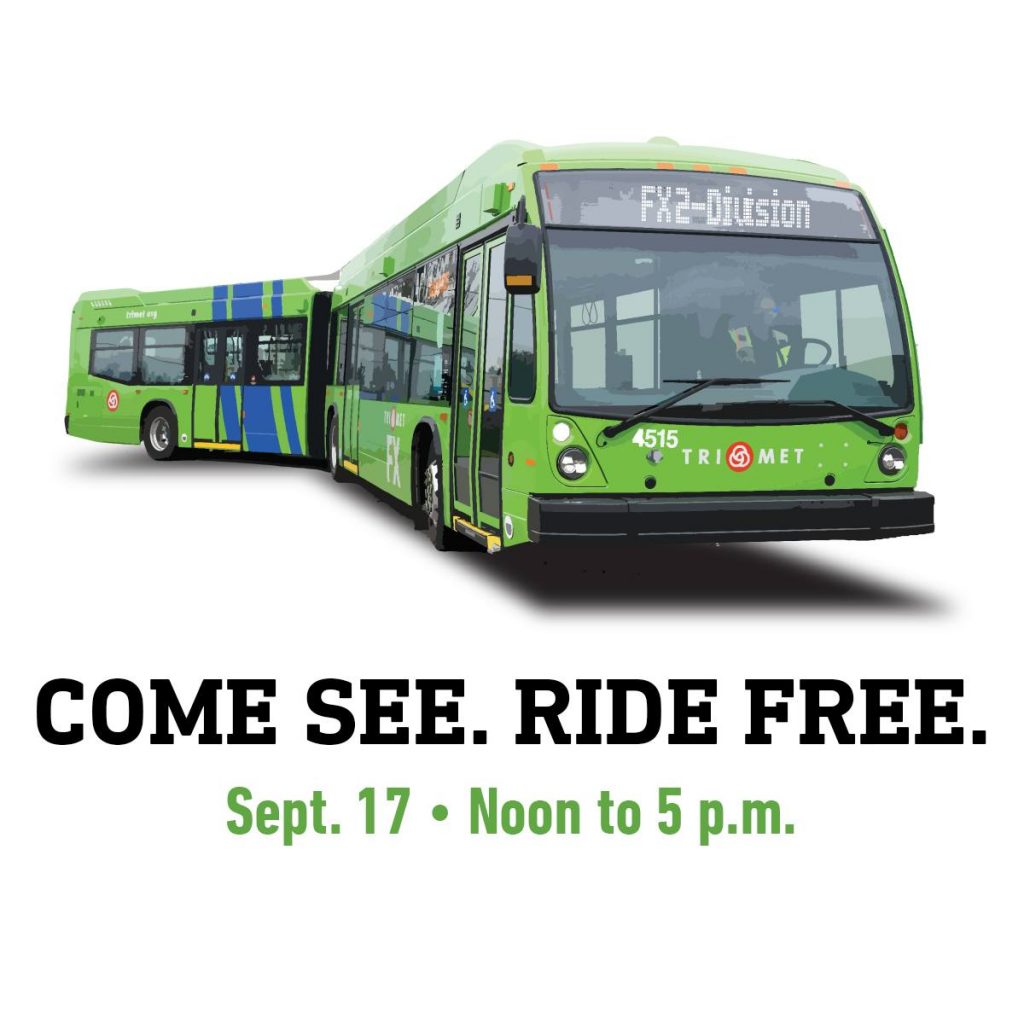 TriMet's launch of FX2-Division will bring a new type of high-capacity bus service to the region. With its longer, 60-foot buses, FX will allow more people to ride—60% more per bus—at frequencies of 12 minutes throughout most of the day. FX2 will run daily, with service from about 4:30 a.m. – 1:00 a.m.
TriMet is inviting the community to celebrate the launch of the new FX2-Division line on Saturday, Sept. 17. We're hosting a huge party, with three festival event sites at OMSI, Portland Community College (PCC) Southeast and the Gresham Farmers' Market. In addition to local food and live entertainment at each site, we will also have free rides on our new big, green bendy buses! Come See. Ride Free. Learn more!