A first-of-its-kind for TriMet, FX2-Division begins service on Sunday, Sept. 18
On Sunday, Sept. 18, TriMet will start something new: FX or Frequent Express bus service. FX is better bus service, with longer, bendy buses with more room for riders and improvements that will help keep buses out of traffic, speed up travel times and get people to their destinations faster. Our first FX bus line, FX2-Division, brings higher tier bus service to the 15-mile Division Street corridor. It is expected to reduce ride times between Gresham and Downtown Portland by about 20%!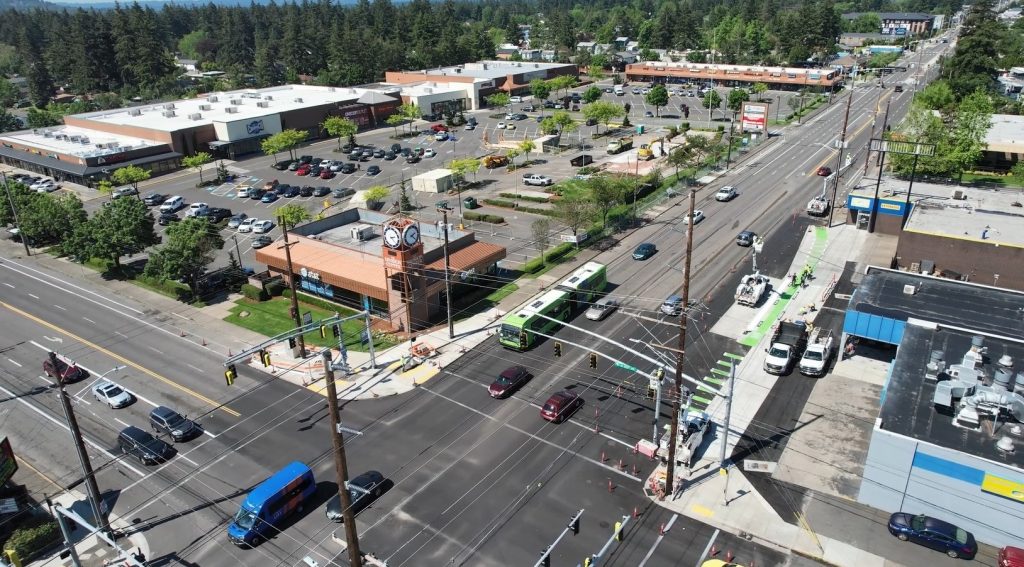 The Division Transit Project laid the way for FX service. Construction began in early 2020 and is nearly complete. Here's a look at the top five tasks that we're working to check off our "to do" list ahead of the Sept. 18 launch:
1. Finalizing maps, schedules, trip planning tools
TriMet is finalizing maps, schedules and trip planning tools to help our riders hop on board when FX2-Division starts to roll. The new line follows the same route as our soon-to-be retired Line 2-Division, with two major exceptions: The route extends farther east, providing a new transit connection between Gresham Central Transit Center and Cleveland Park and Ride, though riders can still transfer to Line 20-Burnside/Stark for a quick connection to Mt Hood Community College. It also uses Tilikum Crossing, Bridge of the People, to cross the Willamette River to Downtown Portland, whereas the current Line 2 uses the Hawthorne Bridge. By moving to Tilikum Crossing, FX service will benefit from the use of exclusive transit lanes that keep riders out of traffic congestion and connect students and employees to OHSU and PCC.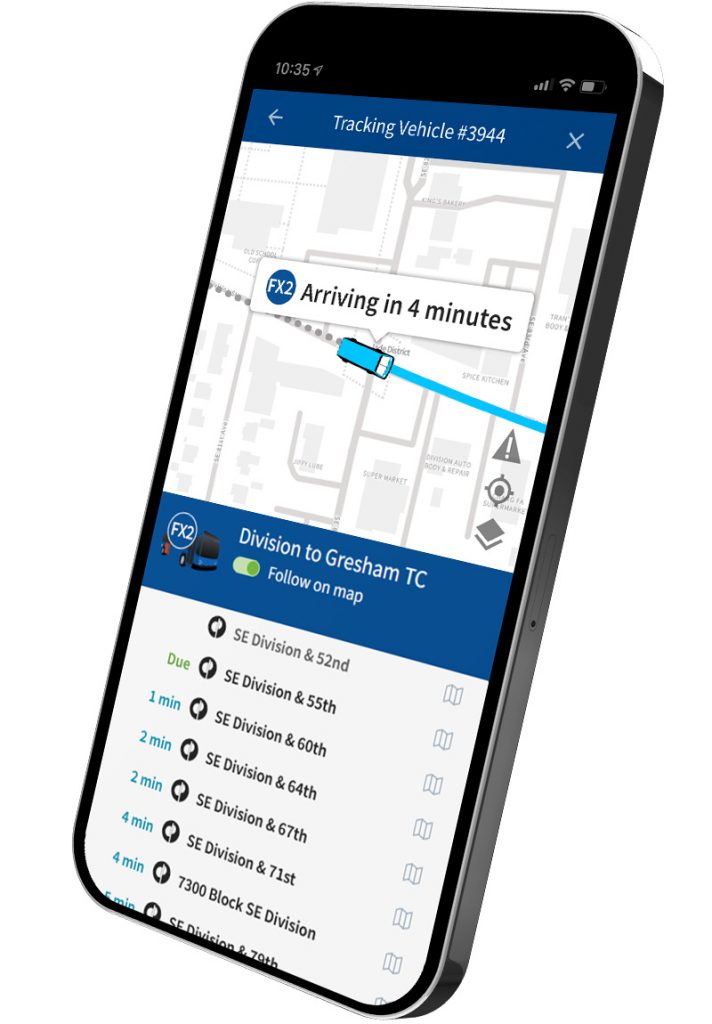 Our website, trimet.org, is your best source of information on new and existing service, and we've already made updates with the new FX2-Division schedule, so you can easily plan a trip. Visit trimet.org and enter a date of Sept. 18 or later to see where you'll catch FX and how your trip will improve. FX2-Division buses will arrive every 12 minutes for most of the day, every day, with service from about 4:30 a.m. – 1:00 a.m. and easy transfers to MAX and many other bus lines.
2. Installing amenities and features at bus stop stations
FX2-Division has 42 pairs of newly constructed bus stop stations along the 15-mile route, between Gresham and Downtown Portland. The stations are built to reflect one of four different designs, each selected based on its location. TriMet placed stations in areas where rider demand is highest, to help minimize unnecessary stops and keep riders moving.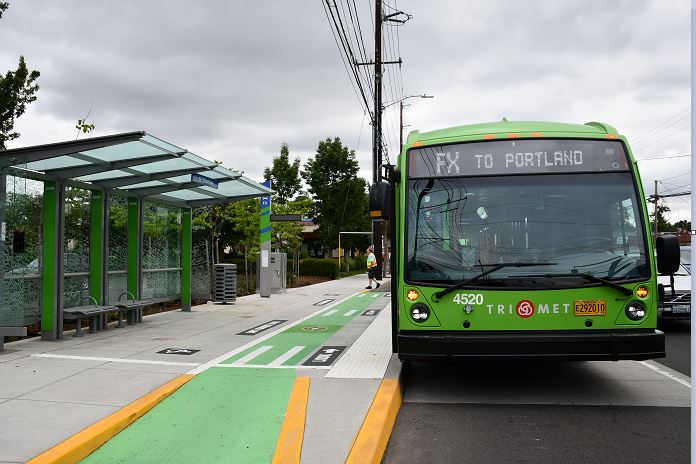 Over the next several weeks, we'll be working closely with our contractors to put finishing touches on the stations, which look and feel a lot like MAX stations. They will be fully equipped with weather protection, seating, TransitTracker(™) real-time arrival digital displays and other amenities. Each station has special markings and signs to help direct riders and people passing through and keep everyone safe.
3. Training operators and frontline staff to help riders get used to bigger buses
It's been more than 20 years since TriMet last had 60-foot-long, articulated buses in our fleet, and a lot has changed in the decades since! So, we're getting our operators and other frontline staff ready to help riders use the big new bendy buses on FX2-Division. The buses are longer, with room for 60% more riders on board. They can carry more than 100 people, but many are surprised to learn that the bus is about the same width of a typical bus and can make tight turns with ease.
The new buses have three doors, with electronic Hop Fastpass™ readers for contactless fare payment at every door, two internal bike racks and priority seating for seniors and people with disabilities. Riders using mobility devices must use the front door, where they can request a ramp to be deployed. People with bicycles enter through the rear door, which provides faster and easier access to onboard bike storage.
4. Testing transit priority technology
FX2-Division is expected to cut travel times for riders between Gresham and Downtown Portland by about 20%. TriMet and our transportation partners with the cities of Gresham and Portland worked to incorporate special transit priority features into the design, to help keep buses out of traffic and keep riders moving.
During the final weeks before the new service launches, we're taking time to test and sync special traffic signals that will give buses more green lights as they travel Division. We're also excited to see new signs going in and lane striping nearing completion, including business access and transit (BAT) lanes at key locations. The new bus lane between 110th and 122nd avenues will speed up eastbound bus trips, especially during busy afternoon traffic.
5. Planning a big grand opening celebration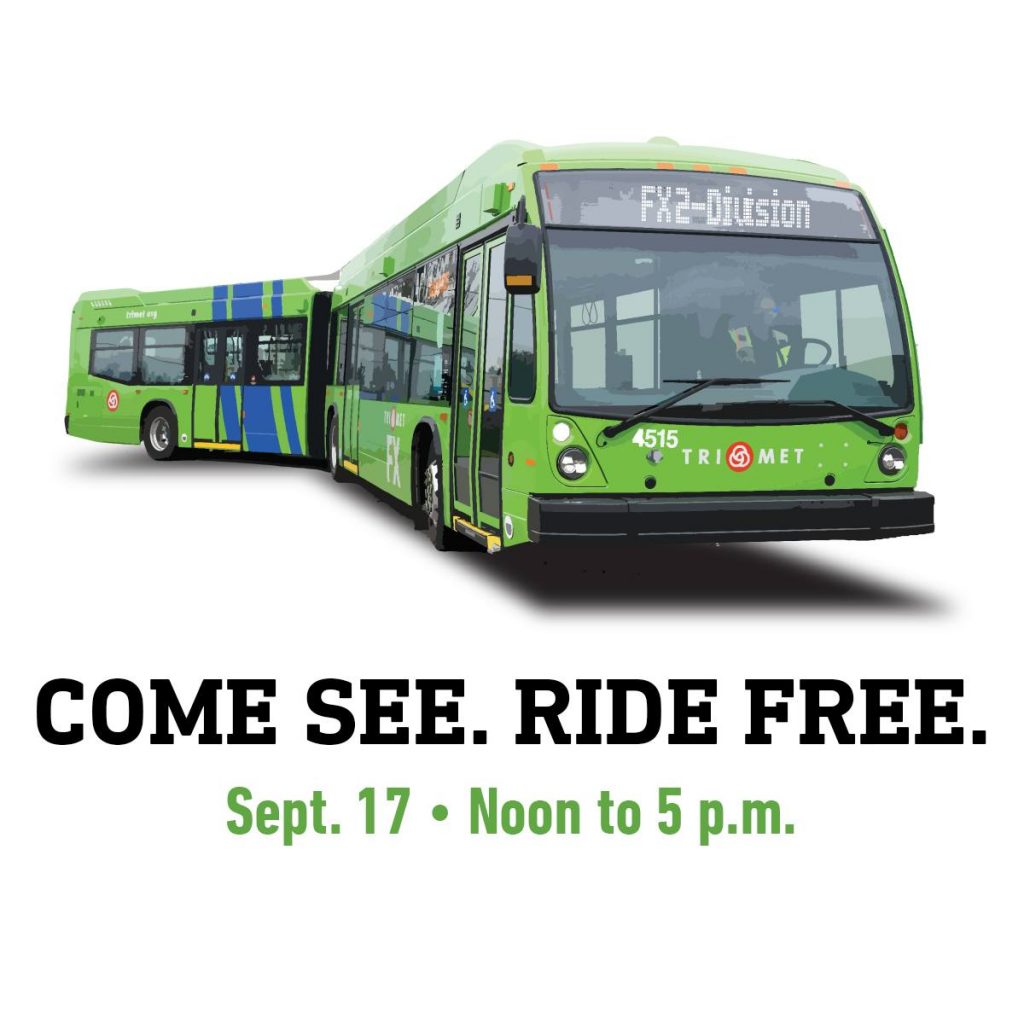 We're throwing a party, and everyone's invited. We're planning a big celebration to welcome the community to our new FX service. On Saturday, Sept. 17, the day before service officially opens, the public is invited to join us for not one but three festivals along the route, at OMSI, Portland Community College (PCC) Southeast and the Gresham Farmers' Market.
Each site, which will be open from Noon until 5 p.m., will feature local food, live entertainment and a paint-by-numbers mural that the whole family can enjoy. We're also excited to debut a new type of attraction that honors the area's rich cultural traditions: My People's Market at OMSI, which opens early at 11 a.m.
Plus, there will be free rides on FX buses all afternoon! Come see! Ride free!
Hiring operators to drive our future
If you've ever dreamed of sitting behind the wheel of an FX articulated bus, an electric bus or one of our 700 workhorse buses that serve our riders daily, join our team and put yourself in the driver's seat!
New operators earn $25.24 an hour to start and are eligible for a $7,500 bonus, in addition to benefits like health, dental and vision plans with low- to no-cost, a 401a retirement plan with an 8% employer contribution and up to $25,000 in life insurance for full-time operators, provided by TriMet.
And, you'll gain the satisfaction and stability of working for TriMet, a public agency, which has been serving the greater Portland area for more than 50 years! Visit trimet.org/drive to learn more and apply today!