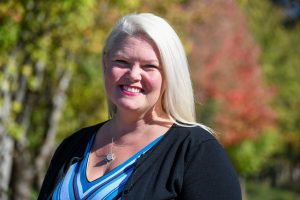 Inessa M. Vitko will become TriMet's Executive Director of Transportation Operations on Monday, Oct. 17, 2022. She'll direct all operational activities for our bus, MAX light rail, WES commuter rail and LIFT paratransit services.
Vitko has extensive knowledge across many transit functions and currently serves as Chief Operations Officer at C-TRAN. She began her transit career at TriMet more than 16 years ago before moving to the bus agency in Vancouver. With the help of Vitko's leadership, C-TRAN has been named the American Public Transportation Association's North America Transit System of the Year twice—in 2019 and 2022.
"Ms. Vitko returns to TriMet at a critical time as we work to address our operator shortage and work with the community on a major restructuring of our bus service," said TriMet Chief Operating Officer Bonnie Todd. "I'm confident her expertise and caring leadership will help us move through the many challenges before us."
"I am so excited to come back to TriMet with new perspective and inspiration," said Vitko. "Transportation Operations is at the heart of everything we do, and I couldn't ask for a better opportunity to work once again with the team at TriMet serving our community while supporting our operators and employees on the frontline of our operations."
Vitko has been leading C-TRAN's largest department since May 2018. As COO, she oversees the work of over 300 union and non-union C-TRAN employees in the agency's fixed-route and demand-response operations, dispatch, field supervision and customer service areas. She also heads the agency's operations scheduling, marketing & communications, ADA compliance, and information technology efforts, as well as C-TRAN's contracted security team..
Vitko served as C-TRAN's lead on labor negotiations and has a strong relationship with Amalgamated Transit Union Local 757 leadership, the same union that represents TriMet's operators and other union employees.
Vitko led her department through the coronavirus pandemic, making adjustments to staffing, service delivery, budget, and policy, while working in cooperation with the ATU and International Association of Machinists and Aerospace Workers (IAMAW) union to avoid any involuntary job loss. Earlier this year, her team helped C-TRAN launch The Current, an on-demand rideshare service that provides point-to-point service.
Before moving to C-TRAN, Vitko served as the head of TriMet's customer experience team and helped elevate customer-forward thinking inside the agency. She also previously managed TriMet's customer information department, served as a service planner in operations and worked as an administrator on the Ride Wise program that is now managed by Ride Connection.
Vitko played a key role in many major projects at TriMet, including the opening of the MAX Orange Line, the launch of Hop Fastpass® electronic fare system, coordination for major MAX improvement projects and service planning for the Transit Mall renovation, which was part of the construction of the MAX Green Line.
Vitko holds a Master's of Public Administration and a Bachelor of Science in Mathematics and Statistics, both from Portland State University. She is a graduate of APTA's Emerging Leaders Program and serves as an ELP committee member and national mentor. She is also a graduate of the Center for Creative Leadership's Leadership Development Program. Vitko is also a member of Beaverton's Urban Redevelopment Agency Board and serves on its budget committee. She is an avid Portland Trail Blazers fan, hopes to see the WNBA come back to Portland and enjoys traveling and sailing with her husband.
About TriMet's leadership team
TriMet's executive team consists of the general manager, the chief operating officer and other chiefs/executive directors of the agency's divisions.
The team works together to deliver safe and reliable transit service for residents of Clackamas, Multnomah and Washington counties. The executive leaders are responsible for the performance of their employees, their budgets and ultimately their division's role in the overall performance of the agency.
Learn more at trimet.org/about/leadership.