Learn about the ease and benefits that come with switching to Hop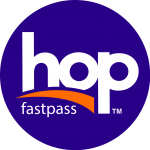 Major retail outlets that sell TriMet fares will continue to sell traditional paper tickets and passes into the summer as TriMet increases the marketing and education about Hop Fastpass™ transit fare cards. We heard from riders who are unclear about Hop and how it works so TriMet will be spending the coming months talking about all the ways to pay with Hop, how easy it is to use and the benefits you get with Hop that you don't get with paper fares. TriMet will look to set a date later this spring for the transition away from paper fare sales at major retailers.
Hop is just as easy as paper, just tap for every ride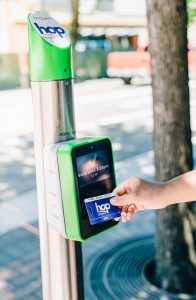 Hop is a new transit fare card that you use on TriMet, C-TRAN and Portland Streetcar. Just like traditional paper tickets and passes, use your Hop card to pay for your ride.
Go to one of the hundreds of convenient retail locations that sell TriMet fares (such as Fred Meyer and Safeway). Instead of getting a book of paper tickets or a paper month pass, get a Hop card and load money on it. The Hop card costs $3. That is a one-time fee unless the card is lost or destroyed. Then you will need to purchase a replacement card.
Pay your fare by tapping your Hop card (or phone tied with a mobile wallet) on the green Hop reader every time you board. Readers are located at MAX, WES and Vine stations and on board buses and streetcars. The system automatically deducts the cost of the ride from the user's balance.
Hop brings benefits that paper tickets do not
The system gives you the best fare so you save as you ride.
Get the savings of a day or month pass without the upfront cost of a pass. For an Adult, a month pass is $100. With Hop you can avoid that upfront cost and pay as you go!
Use the Hop card for two trips—more than 2½ hours apart—in one day and earn a day pass, which gives you free rides the rest of that day.
Paying with the Hop card, reach the cost of a month pass and ride free the rest of the month.
Don't waste money on fare you don't use.
With a paper month pass, if you don't end up riding 20 days in a month you end up wasting money. With the Hop card, you only pay for the rides you take.
With a paper day pass, if you don't end up riding twice in the day more than 2 ½ hours apart, you're out money. Again with the Hop card, you only pay for the rides you take.
Easily reload money just about anywhere, anytime.
At the Customer Service desk (or, in the future, at the checkout lane) at a growing number of stores. At any Plaid Pantry convenience store, reload with cash only.
Online at myhopcard.com, using the Hop Fastpass app (download free from Google Play and iTunes) or by calling 1-844-MYHOPCARD.
Set up auto-load (requires card registration).
Enjoy lost-card protection.
Hop is account-based, which means the value is stored in the user's account rather than the card itself. If the card is registered, and the user reports a lost card, the balance in the account is protected and the user must pay only for a replacement card. Replacement cards can be purchased at any participating retailer.
It is important to report a lost or stolen card as soon as possible, so the card can be deactivated. If the card is registered, you can deactivate it yourself online.
More retailers are getting on board with Hop.
TriMet has grown its network of retail outlets from a little more than 100 in 2016 to more than 350 today – a first for a transit agency of TriMet's size.
TriMet is partnering with even more stores to increase that number to 500 locations where you can sell and load money on Hop cards.
Hop has many convenient ways to pay
Hop card: Purchase a Hop card at a local retailer or ticket office and load money on to it.
Contactless credit/debit card: Tap your contactless credit or debit card (with near field communication).
Mobile wallet: Pay your fare with a bankcard stored in an Android Pay, Apple Pay or Samsung Pay mobile wallet. While a great option for less frequent riders including tourists and visitors, users can only buy an Adult fare and do not get all the benefits of a Hop card.
Hop virtual card in Android Pay: TriMet is beta testing the ability for riders with Android Pay to buy a virtual card and store it in their mobile wallet – making Hop the first transit fare card in the world available in Android Pay. Beta testers are able to tap their phone to a Hop reader and get all the benefits of a physical Hop card. Stay tuned for the rollout timeline of this new payment feature.
Learn more about the ease and benefits of Hop.
Wondering about your Hop data?
The Hop system collects anonymous ridership and travel pattern data for use in aggregate to look at broad ridership trends. Individual transaction data, such as where a person's card was tapped and when, is only available to support staff to answer customer questions about their account.
About Hop
Hop is the next generation of transit fare, offering a cash-free, hassle-free option that's valid throughout the Portland-Vancouver metro area. Hop Fastpass – a better way to pay!