Android Pay, Apple Pay or Samsung Pay are your new ticket to ride TriMet, C-TRAN and Portland Streetcar
Using transit in the Portland-Vancouver metro area just keeps getting easier with the Hop Fastpass™ electronic fare payment system. In addition to paying a fare with the tap of a Hop card, riders can now just tap their phone to pay. It's the newest feature of Hop. All you need to use it is a smartphone and a mobile wallet app with a linked credit or debit card.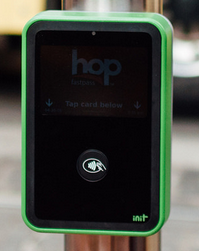 Phone taps can be used to purchase adult fare only, but as with Hop cards, the fares are good for riding TriMet and C-TRAN buses, MAX Light Rail, WES Commuter Rail, C-TRAN's Vine Rapid Transit and Portland Streetcar. Transfers between providers are seamless; riders need only to tap their phone against the target on the Hop reader each time they board. Paying by phone can save money too. Once a phone is tapped for two, distinct trips (more than 2 ½ hours apart) within the service day, the rider earns a day pass, and the rest of the day's rides are free. Unlike Hop cards however, the same is not true on a monthly basis.
To tap with a phone, you don't need a Hop card; you just need a mobile wallet service like Android Pay, Apple Pay or Samsung Pay that is linked to a valid bankcard.
Five easy steps to use your mobile wallet to pay fare
Check your phone to see if it is equipped with a mobile wallet. If not, download one from your app store.
Link the mobile wallet to a credit or debit card.
Tap and hold your phone against the target on the Hop Reader. (You may have to authenticate your account with a fingerprint or security code.)
Watch for the confirmation screen (or listen for the ding) to assure your fare is valid.
Remember to tap each and every time you board, including transfers.
New to using mobile wallet?
Mobile wallet technology is safe, secure and private. Credit card account numbers are not actually stored on the phone. Instead, information is tokenized. That means unique identification symbols replace sensitive data; essential data is retained without compromising security.
Mobile wallet apps are available for Android and Apple devices. Check out these websites to learn more.
Fare Inspection
TriMet riders are required to provide proof of fare. Our fare inspectors have new equipment that allows them to scan a Hop card or phone to determine whether fare is valid. That's one more reason to tap every time you board. A valid tap is your ticket to ride. If your phone is proof of payment, be sure to keep it handy and charged.
Get on board Hop!
Riders with Hop Fastpass™ accounts can still use their Hop card to enjoy all of the benefits that come with our new electronic fare payment system. Month passes can only be earned through Hop card taps. Registered account holders also get lost-card protection. If a card is lost or stolen, value can be frozen then transferred to a new card.
Hop cards are now available at 120 retail outlets, including grocery and convenience stores, pharmacies and transit ticket offices, and we're happy to offer fare-loading services at 7-Eleven stores throughout the greater Portland-Vancouver area. Once the retail network is fully built out by spring 2018, Hop cards will be available in more than 500 retail outlets. In addition to loading value in stores, riders can also manage their account at myhopcard.com, by downloading the Hop Fastpass™ mobile app or by calling 1-844-MYHOPCARD.
Using a Hop card and reloading value is easy. Learn how:
Hop brings transit fare payment across the Portland-Vancouver metro area into one easy system. And now, with the addition of the mobile wallet, it's another simple way to pay. We are working continuously to improve the system, to expand Hop to regional employer transit programs and to broaden our network of Hop retail outlets. More to come in the future!
Hop partnerships
TriMet has been working with systems partners since 2014 in the development of the $34 million Hop Fastpass™ system. It is expected to reduce fare evasion and reduce costs associated with ticket vending machines, cash purchases and collection processing.
TriMet thanks INIT, CH2M, Oracle, moovel, Wells Fargo Merchant Services, Ready Credit and The Brigade for their partnership and dedication in bringing the regional electronic fare system to the Portland-Vancouver area.
About C-TRAN
C-TRAN operates bus services within Clark County, Washington including the city of Vancouver. C-TRAN also provides express commuter service between Clark County and various points in Portland, OR, including downtown and other locations.
About Portland Streetcar
Portland Streetcar operates three lines around 16-miles of track in Portland's Central City. It has been in operation for 16 years and has serviced over 54 million riders since its inception.
About TriMet
TriMet provides bus, light rail and commuter rail transit services in the Portland, Oregon metro area. We connect people with their community, while easing traffic congestion and reducing air pollution — making the Portland area a better place to live.