Hop allows riders to use one fare system throughout the Portland-Vancouver region; provides benefits including daily and monthly ride savings, auto-loading and lost-card protection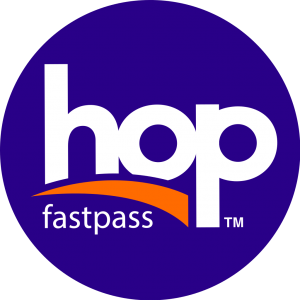 TriMet and partners C-TRAN and Portland Streetcar celebrate the launch of Hop Fastpass™ — a new and better way to pay your transit fare seamlessly throughout the Portland-Vancouver region. Hop is an electronic-fare payment system. Riders can now use contactless payment devices such as a Hop card to pay their fare on TriMet and C-TRAN buses, Portland Streetcar, MAX Light Rail, WES Commuter Rail and C-TRAN Vine. In the coming weeks, riders also will be able to use a contactless bank card or smartphone with a mobile wallet connected to a bank card to pay for their trips.
Some riders have actually been using Hop since February 2017, when a small group began testing the Hop system. This beta test group grew to more than 5,000 over the course of five months and test riders provided great feedback for improvements and adjustments. At the beginning of July, Hop cards began rolling into select grocery stores, and the Hop mobile app showed up in the Apple App Store and Google Play. Now it's time for all riders to enjoy the benefits of tapping!
"The benefits of this new fare system will be far reaching, bringing more efficiency to TriMet and providing important benefits for our riders, including saving money the more they ride," said TriMet General Manager Neil McFarlane. "We are thankful for our partnership with C-TRAN and Portland Streetcar to make this regional fare system a reality."
"Our Hop beta testers expressed excitement about how easy the card is to use, how quickly it enables them to board the bus, and how it helps them keep track of their transit use," said C-TRAN Executive Director/CEO Shawn M. Donaghy. "With this next generation of electronic fare, our customers will benefit from multiple ways to pay. The Hop card is helping to redefine regional transportation, and we could not have had better partners than TriMet and the Portland Streetcar."
"Hop Fastpass is the type of investment in convenience our riders expect and deserve from the system," said Portland Streetcar Executive Director Dan Bower.
How to Hop
Get a Hop card
Hop cards work like reloadable gift cards. Purchase a Hop card at a local retailer, TriMet's Ticket Office, C-TRAN's Fisher Landing or Vancouver Mall transit centers or at the Portland Streetcar's Customer Service Office.
Many local grocery stores sell the Hop card including Fred Meyer and Safeway. At first, customers will need to ask for the cards at the Customer Service desk. Later this fall, they'll be able to find Hop cards on the stores' gift card racks. The cards began showing up in some stores July 5 and are now in well more than a hundred stores. Once the retail network is fully built out by spring 2018, Hop cards will be available in more than 500 retail outlets. By September 2017, customers will be able to load money on their cards in the checkout lane. View our map of current Hop retailers.
Hop cards are available for Adult, Honored Citizens and Youth riders. (Honored Citizen and Youth card holders are required to carry ID when riding.) The cost of the card is $3, which pays for manufacturing the card and will help maintain a convenient retail network.
Every rider must have their own Hop card, but one person can manage multiple cards through their Hop account. TriMet, C-TRAN and Portland Streetcar plan a number of events to educate riders about Hop, with free cards given out at many of the events.
Coming this fall, companies with employer fare pass programs will begin their transition to Hop. Full implementation of employers will take through next spring.
Load value
At Safeway and Fred Meyer (and many more stores in the coming months!), riders can load money on a Hop card at the Customer Service desk. In the future, these stores will allow reloading in the checkout lane using cash or a payment card. Currently, 7-Eleven allows reloading at the checkout counter and also will sell cards later this year. Riders also can reload value on their cards at myhopcard.com, using the Hop smartphone app for Android and iOS, or via phone at 1-844-MYHOPCARD. There is a $5 minimum when loading money on the card, except at transit agency ticket offices where there is no minimum.
Tap and go
Tap the Hop card on a Hop reader at a TriMet MAX, WES or C-TRAN Vine station or on board a TriMet bus, C-TRAN bus or Portland Streetcar every time you board. Hop readers also accept contactless credit/debit card and, coming soon, taps from smartphones using a mobile wallet (Apple Pay, Samsung Pay, Google Pay). Please note, smartphone payments will only be good for Adult fares.
Transfer to any TriMet, C-TRAN or Portland Streetcar service of the same or lower price, free of charge. Just remember to tap for each ride. When transferring to a higher-priced service, the fare difference will be deducted from the account. View fares for the different transit services at trimet.org/fares/hop.
Hop brings benefits
Hop makes it easier and more convenient to board and pay fares.
Save as you ride
Riders get the savings of a day or month pass without the upfront cost:
Use the Hop card for two trips—more than 2½ hours apart—in one day and earn a day pass.
Paying with the Hop card, reach the cost of a month pass and ride free the rest of the month.
Easily reload value
Reload just about anywhere:
Add value to a Hop card anywhere, anytime, using the Hop website, app or phone hotline at 1-844-MYHOPCARD.
Reload at the Customer Service desk (or, in the future, at the checkout lane) at a growing number of stores.
Set up auto-load (requires card registration) to never be stuck without fare.
Lost-card protection
Hop is account-based, which means the value is stored in the user's account rather than the card itself. If the card is registered, this provides lost-card protection, meaning the balance is protected and the user only must pay for a replacement card. It's important to report a lost or stolen card as soon as possible, so the card can be deactivated.
Phasing in Hop
It will take about a year to fully implement Hop Fastpass. Until then, current passes and fares will be accepted. Hop tickets — paper tickets with electronics inside — that are good for either 2½ hours or 1 day are available from transit agency ticket offices and eventually will be sold at fare ticket machines. Unlike Hop cards, Hop tickets are not reloadable.
Hop partnerships
TriMet has been working with systems partners since 2014 in the development of the $30 million Hop Fastpass system. It is expected to reduce fare evasion and reduce costs associated with ticket vending machines, cash purchases and collection processing.
TriMet thanks INIT, CH2M, Oracle, moovel, Wells Fargo Merchant Services, Ready Credit and The Brigade for their partnership and dedication in bringing the regional electronic fare system to the Portland-Vancouver area.
About INIT
INIT's (Innovations in Transportation, Inc.) back-end processing software, MOBILEvario, serves as the core intelligence for Hop's account-based payment fare system. It manages and processes the multi-agency fare structures in real-time, recognizes and processes revenue sharing, as well as manages accounts and automates reconciliations.
As a worldwide leading supplier of integrated ITS and ticketing systems for buses, light rail, and trains, INIT has been assisting transport companies in making public transport more attractive, faster and more efficient for more than 30 years. Today, more than 400 customers rely on our innovative hardware and software solutions.
About CH2M
Headquartered in near Denver, Colorado and with a regional office in Portland, OR, CH2M leads the professional services industry delivering sustainable solutions benefiting societal, environmental and economic outcomes with the development of infrastructure and industry. CH2M's payment systems group has developed innovative fare solutions that optimize clients' objectives and meet their passenger needs.  CH2M has provided technical and project management expertise throughout the planning, development, and implementation of the Hop Fastpass program.
About Oracle
The Oracle Cloud offers complete SaaS application suites for ERP, HCM and CX, plus best-in-class database Platform as a Service (PaaS) and Infrastructure as a Service (IaaS) from data centers throughout the Americas, Europe and Asia. For more information about Oracle (NYSE:ORCL), please visit us at oracle.com.
About moovel N.A.
moovel N.A. LLC, a part of moovel Group GmbH, enables seamless multimodal experiences and connected transit commerce through mobile applications, including the Hop Fastpass app and the TriMet Tickets app. The mobile ticketing applications built by moovel N.A. are used by 17 transit authorities in the U.S. and allow customers to book and pay for public transit tickets via their smartphone. This makes moovel N.A. the leading provider of mobile ticketing technology for U.S.-based transit apps. Led by CEO Nat Parker, moovel is headquartered in Portland, OR.
About Wells Fargo
Wells Fargo & Company (NYSE: WFC) is a diversified, community-based financial services company with $2.0 trillion in assets. Wells Fargo's vision is to satisfy our customers' financial needs and help them succeed financially. Founded in 1852 and headquartered in San Francisco, Wells Fargo provides banking, insurance, investments, mortgage, and consumer and commercial finance through more than 8,500 locations, 13,000 ATMs, the internet (wellsfargo.com) and mobile banking, and has offices in 42 countries and territories to support customers who conduct business in the global economy. With approximately 273,000 team members, Wells Fargo serves one in three households in the United States. Wells Fargo & Company was ranked No. 25 on Fortune's 2017 rankings of America's largest corporations. News, insights and perspectives from Wells Fargo are also available at Wells Fargo Stories.
About Ready Credit
Ready Credit Corporation, headquartered in Eden Prairie, Minnesota, is a leading innovator of prepaid product solutions for the transit consumer. The company was the first to issue an instant, anonymous prepaid card from a self-service kiosk, the patented ReadySTATION®.   The company continues to innovate with unique products and services for the Public Transit and Airlines industries transforming how providers and consumers interact. Ready Credit's innovative products and services in public transit include a prepaid card enabled to automatically adapt to user need, eg. originate without fees for use in a Transit environment then switch to a fee-based general purpose card upon a non-Transit transaction and an account-based, transit-only card that can be purchased and loaded in thousands of retail locations nationwide.  The Company's instant cash-to-card solution for the Airlines industry supports thousands of airline passengers in over 60 airports in the United States, Guam and Puerto Rico.  All Ready Credit prepaid products are Visa or MasterCard network branded, and deposits are FDIC insured.
About The Brigade
The Brigade creates moments for consumers that forge indelible bonds with clients, including myhopcard.com. Agile, human centered design practices help The Brigade deliver remarkable digital products and experiences. "We believe in putting relationships over projects, which has afforded us the opportunity to build lasting relationships with our co-conspirators."
About C-TRAN
C-TRAN operates regular route bus services within Clark County. C-TRAN also provides express commuter services between Clark County, WA and various points in Portland, OR, including downtown and other locations.
About Portland Streetcar
Portland Streetcar operates three lines around 16-miles of track in Portland's Central City. It has been in operation for 16 years and has serviced over 54 million riders since its inception.
About TriMet
TriMet provides bus, light rail and commuter rail transit services in the Portland, Oregon metro area. We connect people with their community, while easing traffic congestion and reducing air pollution — making the Portland area a better place to live.