Division Transit Project makes history as certified Disadvantaged Business Enterprise firms paved the way for better FX bus service
TriMet, joined by the Federal Transit Administration and regional partners, held a ceremony on Saturday, Sept. 17, 2022, at Portland Community College Southeast, to launch a new type of high-capacity bus service for the region.
TriMet FX™ will provide faster, more reliable bus trips using longer buses with all-door boarding, streamlined stop locations, next-generation transit signal priority and dedicated bus lanes in key locations. The agency's first FX line—FX2-Division—begins running on Sunday, Sept. 18, with service between Downtown Portland, Southeast and East Portland and Gresham.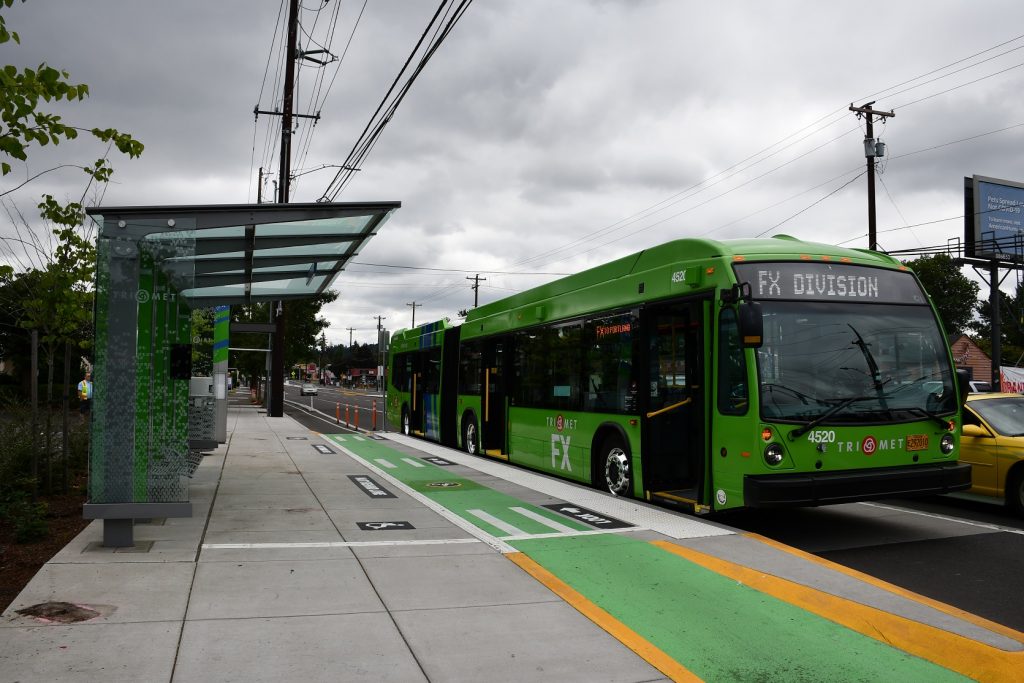 Following the ceremony, TriMet, with the generous support of sponsors, kicks off a community celebration Saturday afternoon from 12 p.m. to 5 p.m. The FX2-Division Grand Opening Celebration, presented by Raimore Construction, features family-friendly festivals along the route with free rides on the new green FX buses during the event.
A Division of Possibilities
TriMet welcomed FTA Region 10 Administrator Linda Gehrke to Portland to help commemorate the historic new FX service and the achievements made with the Division Transit Project. The project laid the infrastructure for the high-capacity FX service while making critical safety improvements in the Division Street Corridor and making history with the work accomplished by minority and women-owned certified businesses.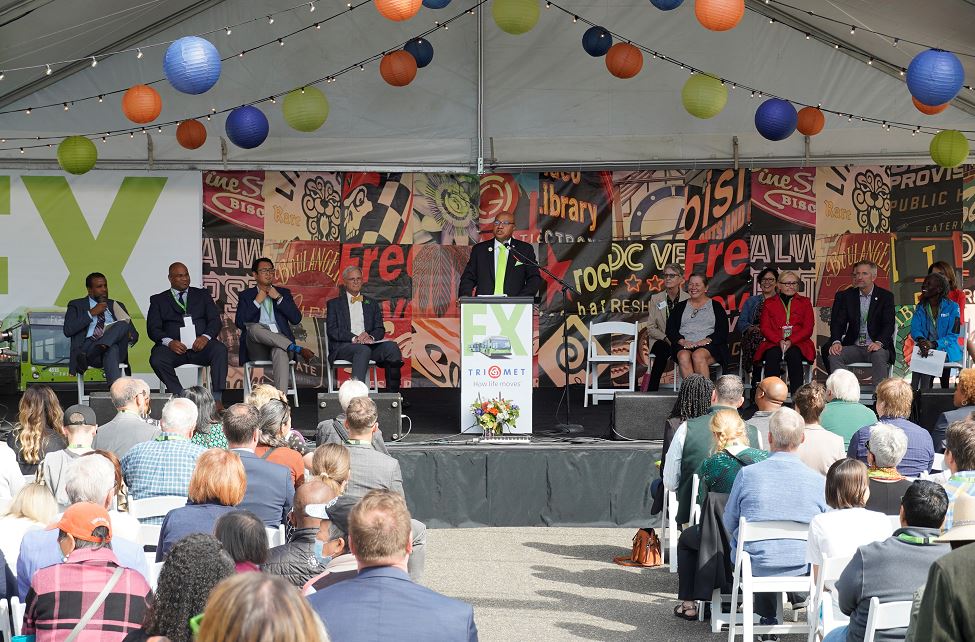 TriMet General Manager Sam Desue Jr., Regional Administrator Gehrke, U.S. Rep. Earl Blumenauer and other project partners spoke at the FX2-Division Opening Ceremony about the transformation of the Division Street corridor and the new tier of bus service coming with the launch of FX.
"In January 2020, TriMet, the FTA and our partners kicked off the Division Transit Project surrounded by colorful images reflecting the diversity, culture and vibrant spirit of the Division Street Corridor; we launched a campaign we called 'A Division of Possibilities' and never has a slogan become more fitting," said Desue. "Not only has the Division Transit Project made a better, faster type of bus service possible, the project transformed a high-crash corridor, making it possible to safely walk, bike and drive along and across Division Street. Now, more possibilities lie ahead with the launch of TriMet FX™—Frequent Express."
"Today, we are celebrating another innovative project from TriMet—combining the capacity and reliability of the city bus with modern amenities that will mean a faster, cleaner, and smoother ride for people in Portland and Gresham," said Gehrke. "FTA was happy to support TriMet's Division Transit Project with $87 million, providing federal support to a project that will improve safety, lessen Portland's environmental footprint and help get people where they need to go faster and more efficiently."
"This project showcases how we can—and should—invest federal monies to help our local communities recover and become more livable," said U.S. Rep. Earl Blumenauer (D-Ore). "Investing in our communities—through transit, dedicated bike lanes and pathways, sidewalks, protected crossings—keeps people safe, healthy and economically secure.
"Metro and our regional partners have dedicated countless hours to plan high-capacity bus service in the Division Corridor that works with, and for, the communities it serves," said Metro Council President Lynn Peterson. "It's great to see our efforts and all the feedback from the community, especially those that served on the Community Advisory Committee, hit the road with the opening of the first FX line."
FX: Faster, more reliable bus service
TriMet's first FX line, the FX2-Division, will move more people faster and more efficiently along a 15-mile route, that connects Downtown Portland, Southeast and East Portland and Gresham. The new high-capacity bus service features new, longer bright green buses arriving every 12 minutes, all-door boarding and transit priority in key locations.
FX2-Division features:
Stations located where rider demand is greatest to minimize travel times while providing important transit connections
Longer, 60-foot articulated buses with room for 60% more riders
All-door boarding with electronic Hop Fastpass® electronic fare readers inside all three doors to reduce stop times
(Those paying with cash must use front door.)
Bikes racks on board, rather than on front of the bus
A new type of technology that people using mobility devices can self-operate to secure their device
Business Access & Transit (BAT) lanes at key locations to move buses around traffic (The longest stretch of BAT lanes goes 12 blocks eastbound between SE 110th and 122nd avenues.)
Next-generation transit signal priority to move buses around traffic and more efficiently along Division Street
(The new technology tracks FX buses in real-time and allows them first access at intersections. It can extend green lights and shorten reds and allows for 'queue jumping'—giving buses at stations or in bus lanes the green light first to cross intersections.)
Built by the community, for the community
The Division Transit Project will go down in TriMet and Oregon history. First, TriMet awarded Raimore Construction, a certified Disadvantaged Business Enterprise (DBE), the construction award—the largest contract for a DBE in Oregon. With the project, Raimore was determined to lift up other minority-owned businesses, awarding them subcontracts on the project for electrical, flagging, trucking, landscaping and other work. To-date, more than 75% of the construction on the Division Transit Project has been completed by DBEs—Raimore and 41 other DBE firms. That is the highest percentage of DBE participation on any major TriMet project and any major public transit project in Oregon.
"The Division Transit Project created an opportunity to build something better together and this project has proven that construction can be an engine of change," said Jeff Moreland Sr., president and CEO of Raimore construction. "Together, we have built more than a bus rapid transit project—we built up people through jobs, careers, and economic opportunity. Communities flourish and experience a sense of belonging when given the opportunity to participate, share in profitability, and truly benefit from these community building projects."
"FX is more than just a transit line," said Metro Councilor and APANO Community Development Director Duncan Hwang. "The project has brought significant community benefits to this area, including supporting minority-owned contracting businesses and the development of affordable housing. Now, our community can enjoy a faster and safer transit line, as well as other much-needed economic benefits."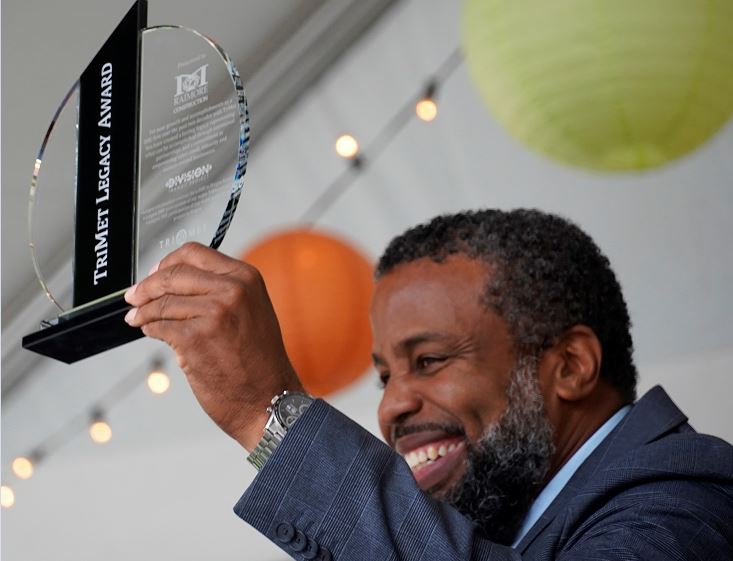 During Saturday's ceremony, TriMet General Manager Desue Jr. and Regional FTA Administrator Gehrke presented Moreland and Raimore with an award acknowledging the company's work over the past two decades with TriMet and its historic accomplishments with the Division Transit Project. The award reads in part, "You have created a lasting legacy, representing what can be accomplished through intentional partnerships and a commitment to empowering other small, minority-, and women-owned businesses."
Connecting communities and opportunities
Before the worldwide COVID-pandemic, most TriMet bus riders along Division Street traveled on average about three miles. The new, improved FX service opens up new travel opportunities for reaching work, shopping, recreation and education.

"I am looking forward to the launch of the FX2 service along the Division Street Corridor," said Portland Mayor Ted Wheeler. "These modern green buses will connect Portlanders to better jobs and services, helping businesses recovering from pandemic grow and thrive. Congratulations to TriMet on this historic moment."
In addition to businesses, community services and venues, FX2-Division will serve multiple higher education institution. They include Portland State University in downtown Portland, OHSU at South Waterfront, Warner Pacific College and Portland Community College Southeast on Division Street, and Mount Hood Community College via a connection with TriMet's Line 20 in Gresham.
"Gresham is a proud regional partner celebrating today's historic launch after years of planning, collaboration, and community resilience," said Gresham Mayor Travis Stovall. "The City of Gresham is committed to developing a transportation system that is more equitable, safer, innovative, and environmentally sustainable. This project represents the best outcomes government can achieve when we all work together for the betterment of everyone!"
Transforming Division Street into a safer place to travel
TriMet's new FX2-Division buses will roll along a much different Division Street than three years ago before the Division Transit Project began.
"The connected efforts between PBOT's Outer Division Safety Project and TriMet's Division Transit Project have transformed one of the most dangerous high crash corridors in the region into a welcoming, safe access point for all—no matter how you choose to travel," said Portland Transportation Commissioner Jo Ann Hardesty. "Making it safer, faster, and greener for people to move about their daily lives through a project that created living wage jobs enriches our entire region and public transit system."
The combined improvements made by the Division Transit Project and the Outer Division Safety Project include:
Protected intersections— the first of their kind in the Portland region— installed at three high-use intersections (122nd, 148th and 162nd avenues) create a safety barrier between people and vehicles
Nearly 81,000 square feet of new sidewalks added to Division Street (59,000 square feet in Portland and 22,000 square feet in Gresham)
11 new marked crosswalks with stoplights, median islands or flashing lights
10 more signalized pedestrian crossings
Upgrades and lighting improvements to existing pedestrian crossing signals
New street lighting installed along the corridor at all new crossing locations
Some 4.5 miles of protected bike lanes, with physical separation where possible, to better guard bicyclists against motor vehicles
Protected intersections— the first of their kind in the Portland region— installed at three high-use intersections (122nd, 148th and 162nd avenues) create a safety barrier between people and vehicles
Raised center medians between SE 80th and 174th avenues, a proven tool for reducing crashes
Other improvements have been made for a better customer experience for FX2-Division riders. Buses will serve 42 pairs of enhanced bus stations along the Division Street corridor. Many stops are more typical to MAX light rail stations, with amenities such as lighting, seating, real-time bus arrival information displays and weather protection.
FX2-Dvision Opening Ceremony
TriMet's FX2-Division Opening Ceremony at PCC Southeast brought together elected officials, community partners, staff and others involved in the Division Transit Project, to celebrate the culmination of the project and launch of the new FX—Frequent Express—bus service.
Speakers included:
Sam Desue Jr., TriMet General Manager
Linda Gehrke, FTA Region 10 Administrator
Earl Blumenauer, U.S. Congressman
Lynn Peterson, Metro Council President
Duncan Hwang, Metro Councilor and APANO Community Development Director
Ted Wheeler, Portland Mayor
Travis Stovall, Gresham Mayor
Jo Ann Hardesty, Portland City Commissioner
Jeff Moreland Sr., Raimore Construction President and CEO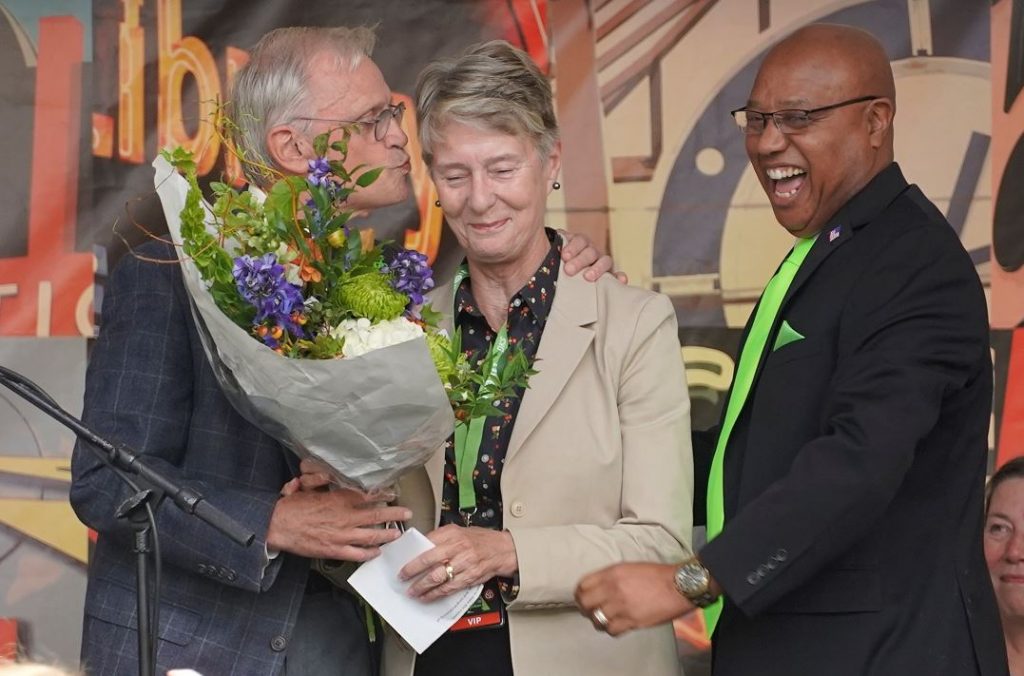 Congressman Blumenauer and General Manager Desue honored Metro Councilor Shirley Craddick for her integral role in the Division Transit Project since the project's inception. Along with Councilor Craddick, the late Metro Councilor Bob Stacey also was pivotal in the project from the beginning. A moment of silence was held for Councilor Stacey, who passed away on Sept. 8. Before joining Metro, Stacey had served as TriMet's first Executive Director of Policy & Planning.
Also during the ceremony, the White Lotus Dragon & Lion Dance Group delighted attendees with a Chinese Lion Dance. In Chinese culture, lions represent joy and happiness, and the dance is often performed during new year celebrations. General Manager Desue and Regional FTA Administrator Gehrke took part in a traditional feeding of lions with lettuce, which is a blessing of sorts for good luck and prosperity.
FX2-Division Grand Opening Celebration
A community celebration is being held Saturday afternoon to mark the launch of the new FX line. TriMet thanks our generous sponsors for making the FX2-Division Grand Opening Celebration, presented by Raimore Construction, possible. Throughout the afternoon, people can visit three festival locations along the route: My People's Market next to the OMSI/SE Water Avenue Station, PCC Festival Marketplace at PCC Southeast and Gresham Farmers' Market.
Each unique site features local food and culture, live entertainment, exclusive giveaways and more. Visitors can participate in a paint-by-numbers mural activity at each festival site. The mural pieces, created by Portland artist Angelina Marino-Heidel, will be joined together and installed this fall on the Cascadia Health building at Southeast 42nd and Division.
In conjunction with the FX2-Division Grand Opening Celebration, the Division Midway Alliance is holding its annual Festival of Nations and many businesses are joining in the FX fun with offerings. People also have the chance to check out our big, new green FX buses and ride free during the celebration.
Funding the Division Transit Project
The Division Transit Project is projected to come in on or under budget. The initial cost was estimated at $175 million. TriMet thanks all our funding partners: FTA, City of Portland, City of Gresham, Metro, Multnomah County and the Oregon Department of Transportation.
Funding Source
Amount
Federal - 5309 Small Starts Funds
$87,413,950
Federal - Other Funds (STBG, CMAQ, SP&R)
$31,617,758
Federal - ARP Act, Capital Investments 
$12,963,076
TriMet
$24,083,116
City of Portland
$17,730,001
City of Gresham
 $500,000
Metro
$285,612
Multnomah County
$130,000
ODOT
$104,388
Total
$174,827,901
The $87.4 million in funding from the Federal Transit Administration comes from its Small Starts capital investment grants program. This was a one-time lump sum payment known as a single year grant agreement. Oregon's U.S. Congressman Blumenauer helped create the Small Starts Program, which this project is funded under, and Oregon's U.S. Senator Merkley strongly advocated for this project in his position on the Senate Appropriations Committee.