TriMet begins FX2-Division Frequent Express bus service, updates routes and improves schedules for fall, while implementing a temporary, 2% service-level reduction due to ongoing operator shortage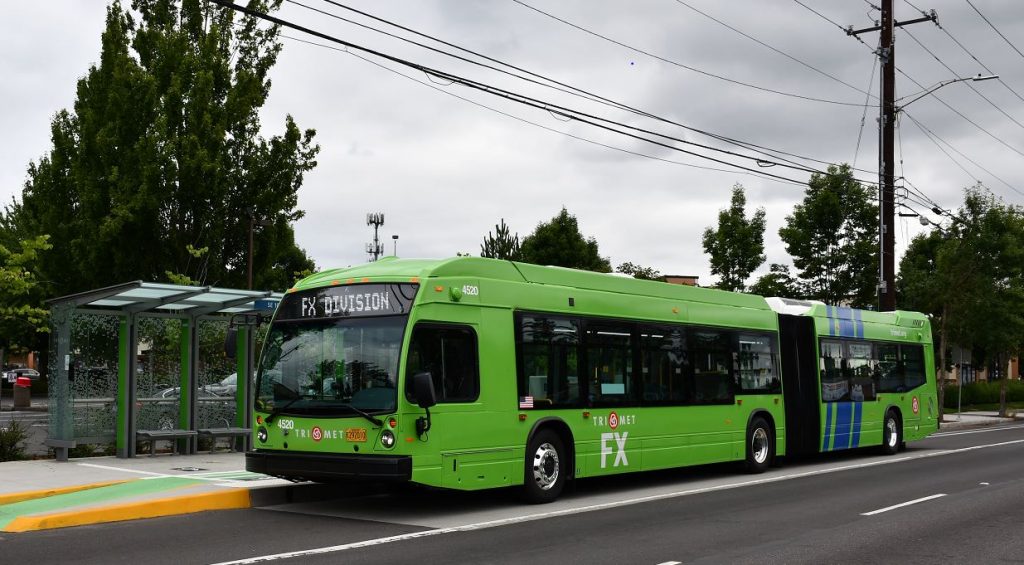 TriMet FX™ is at your service, with a new type of transit for the 15-mile Division Street corridor, from Gresham to Downtown Portland. This morning, FX picked up its first riders, as our big, new, green buses rolled into service on Division Street. FX is a better, faster, higher-tier bus service, and it's a first-of-its kind for TriMet and our region. What makes FX different? From its longer, articulated buses, to enhanced bus stop stations at key locations and transit signal priority technology that helps buses avoid traffic and reach their destination faster and on time, FX is optimized for speed and reliability in every way.
The FX difference: What to expect
15-miles of FX—Frequent Express—bus service on the Division Street corridor, between Gresham and Downtown Portland
Buses arriving every 12 minutes most of the day, with daily service from about 4:30 a.m. – 1:00 a.m.
New, 60-foot buses with space on board for 60% more people and time-saving features including all-door boarding, Hop Fastpass® electronic fare readers at every entry and on-board bike racks
42 pairs of bus stop stations (more similar to MAX stations), with features like weather protection, seating, TransitTracker™ real-time displays and more
New transit-only signals and Business Access & Transit (BAT) lanes in key locations to give buses more green lights and keep riders moving past traffic congestion
An expanded route, with service to Cleveland Ave Park & Ride and use of the car-free Tilikum Crossing, Bridge of the People, to cross the Willamette River
FX2 launch brings additional adjustments
As part of our launch of the FX2-Division service, we're making adjustments to Line 10-Harold and updating stops at Gresham Central Transit Center and the Portland Transit Mall. We've also retired Line 2-Division. Line 10 will move from Southeast Ladd Avenue to Southeast 7th, to cover some stops that Line 2 previously served. It also now has weekend and holiday service.
All riders are encouraged to visit trimet.org to plan your trip! We've also updated schedules across much of the TriMet system, for streamlined connections between FX2-Division, many other bus lines and MAX.
More moves for fall 2022
Our fall service brings minor service expansions and schedule improvements to 16 additional bus lines. At the same time, we are reducing service on 10 bus lines, including canceling service on two low-ridership lines due to our operator shortage. Here's what you need to know:
Schedule and route improvements: We're adding buses to Line 17-Holgate to bring arrivals to every 30 minutes between 6 a.m. and 8 p.m. We're also adjusting the routes of Line 20-Burnside/Stark and Line 24-Fremont to improve transfers. In addition, we're adjusting schedules on the following lines to help keep buses on time and make connections easier: 12, 16, 21, 44, 45, 70, 71, 73, 74, 75, 76, 78 and 94. 
Temporary service-level reduction: As we announced in June, TriMet will implement a temporary 2% bus service level reduction to address our ongoing operator shortage. Starting today, service has been adjusted on the following eight bus lines: 1, 8, 9, 18, 26, 72, 81 and 82. We are canceling service due to very low ridership on lines 50 and 92. We also reduced service due to our historic operator shortage in January 2022.
Forward Together

With the COVID-19 pandemic changing the way people travel, TriMet has launched Forward Together, a comprehensive service analysis and community engagement effort to determine a better bus system. We're taking a look at where buses are running now and where they should run. We'll be sharing more about the effort in the weeks ahead and asking our community for help in shaping the future of our bus service.