Next-generation transit signal priority technology is being installed to help TriMet FX buses move through intersections faster
If you ever wanted to zip down a road with a string of green lights clearing your way, then TriMet's Division Transit Project will be a wish fulfilled. Faster, smarter and more reliable bus service is coming Sept. 18 with the culmination of the Division Transit Project and the launch of TriMet FX™—or Frequent Express—service along Southeast Division Street. One reason for that will be a first for our region: the "next generation" of what's known as transit signal priority.
Transit signal priority is a way of phasing or timing traffic signals so buses jump to the head of the line and get more green lights. Working with the Portland Bureau of Transportation (PBOT), Gresham, the Oregon Department of Transportation (ODOT) and LYT, a company specializing in next-generation transit signal priority technology, TriMet is having it installed at 58 of Division Street's signalized intersections. These stretch along FX's 15-mile route between Downtown Portland and Gresham.
You've probably experienced the benefits of transit signal priority in the past, but a version that's relied on infrared emitters inside buses and receivers on top of traffic lights. These emitters and receivers need to be near each other to work. But the newest version does something different using cellular technology: it collects information about the location and speed of a bus and sends it to a cloud server, which allows the system to adapt the phasing of traffic signals to give an edge to bus riders.
This means quicker trips and even easier access to buses. That's because the technology also provides priority to pedestrian signals to help people reach transit stops ahead of the buses.
The future of transit is FX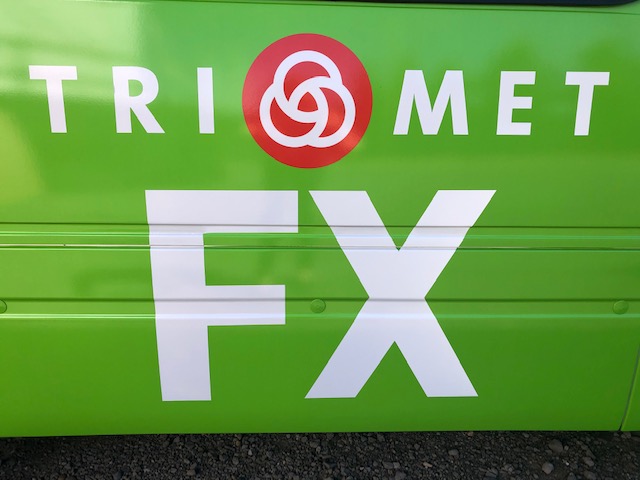 Providing green-light priority to buses is just one of the efficiency improvements coming to the new FX2-Division line. Most visibly, it will bring a new type of high-capacity bus service to the region. With its longer, 60-foot green buses, FX will allow more people to ride—60% more per bus—at frequencies of 12 minutes or less throughout most of the day.
This new type of service, along a busy transit corridor, means other changes are coming to make the riding experience even more efficient and reliable.
Riders will be able to board and pay through three different doors, an advantage of the FX bus's longer, articulated design.
Cyclists will be able to bring their bikes on board through the rear door, where they can more quickly secure them in an interior rack.
To help minimize travel times, 42 new bus stations have been built between Gresham's Cleveland Park & Ride and Tilikum Crossing, Bridge of the People, where rider demand is greatest.
The new stations include features like seating, lighting, rain and wind protection and TransitTracker™ displays.
Less waiting, faster buses
FX will cut travel times up to 20% between Downtown Portland and Gresham.
While giving special treatment to buses at signalized intersections has been done for years using the infrared line-of-sight system, it's never been able to collect transit vehicle and intersection information that allows it to adapt as it can now. That's made possible now through advances in machine learning—a subset of artificial intelligence.
With the help of LYT, sophisticated technology is drastically improving traffic signal priority. Rather than relying on line-of-sight emitters and receivers that communicate between buses and traffic signals, the new technology uses a device on the bus to relay a constant stream of information to the system's network, most important being a bus's speed and estimated time of arrival. That information is then passed onto traffic signal cabinets at intersections, which will make a request to grant the bus a green light before it arrives.
That stream of information will also improve how TriMet schedules buses, which can help prevent "bus bunching"—where two or more buses arrive back-to-back, or within just a few minutes of each other.
"As we fine tune the system, we're expecting there will be a feedback loop with TriMet's scheduling department," TriMet's Director of Intelligent Transportation Systems A.J. O'Connor said. "Schedules will become more consistent, reliable and tighter."
Partnerships drive innovation
TriMet appreciates the work of our partners to turn the bold vision of the Division Transit Project into a reality. LYT's expertise in next-generation transit signal priority helps to create a smarter, more adaptable transit system.
The cities of Portland and Gresham, as well as ODOT, have been instrumental in their support, recognizing the value of faster and more convenient transit service. TriMet was able to pursue a next-generation transit signal priority system thanks to a grant from the Federal Highway Administration through ODOT.
And Raimore Construction, the Division Transit Project's prime contractor, along with our various subcontractors, have worked through the challenges presented by COVID-19 to keep the project on schedule. Raimore's company won the largest contract ever to be awarded to a certified Disadvantaged Business Enterprise in Oregon. That certification helps bring opportunities to businesses that are owned by people who've experienced social and economic hardship.
Speed up your career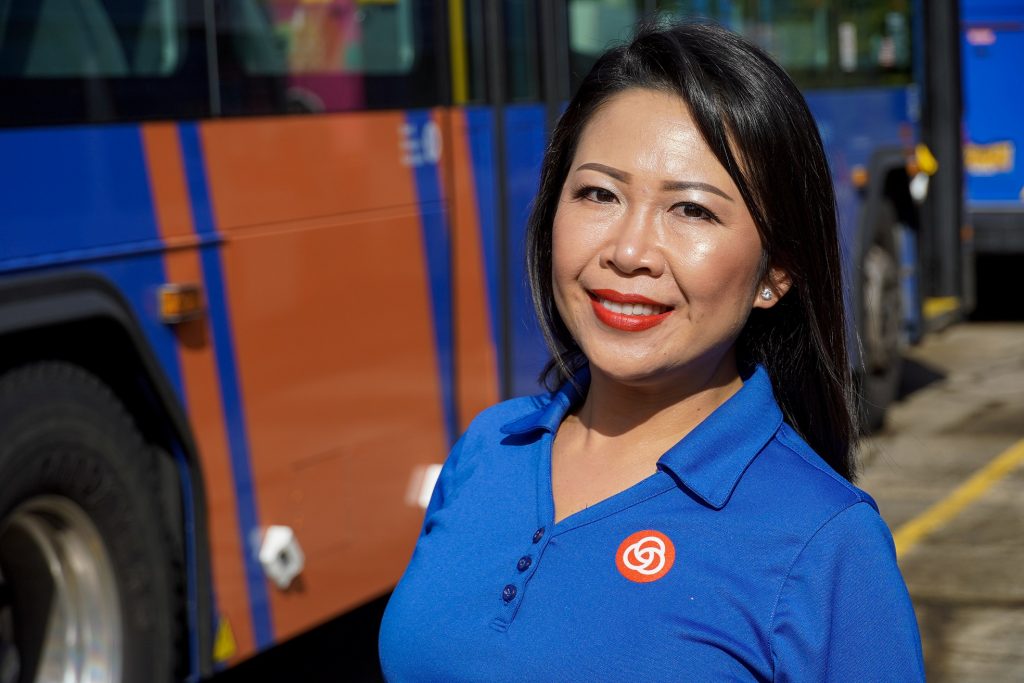 TriMet is hiring bus operators, including those who will have an opportunity to drive the new FX buses. There are other innovative vehicles for you to get behind the wheel of as well, including new electric buses and our fleet of 700 renewable-diesel-powered buses.
New operators earn $25.24 an hour to start and are eligible for a $7,500 bonus. Other benefits include health, dental and vision plans at low to no cost, a 401(a) retirement plan with an 8% employer contribution and up to $25,000 in life insurance for full-time operators, provided by TriMet.
If operating a MAX sounds exciting, we just made it faster to get behind the controls. You can be part of the future—and build a great future for yourself—at TriMet, which has been innovating public transportation in the region for more than 50 years. Visit trimet.org/drive to learn more and apply.