Grand opening celebration on Saturday, Sept. 17 features multiple festival sites, food, live entertainment and free rides on FX buses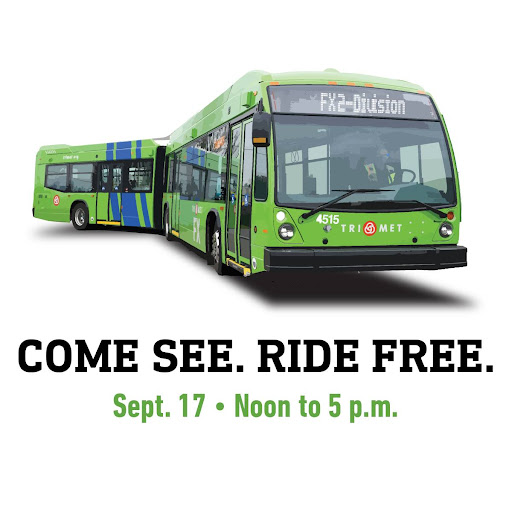 TriMet invites the community to join us Saturday, Sept. 17, to celebrate the launch of FX2-Division, the first TriMet FX—Frequent Express—bus line. FX will be better, faster, high-capacity bus service along the 15-mile Division Street corridor between Gresham and Downtown Portland. Before our big, green, bendy buses roll into service on Sunday, Sept. 18, we want to give you a ride and show you what all of the excitement is about!
FX2-Division Grand Opening Celebration
Come See. Ride Free.
Saturday, Sept. 17, 12 p.m. – 5 p.m.
My People's Market at OMSI/SE Water Station | PCC Festival Marketplace | Gresham Farmers' Market
Learn more at trimet.org/fx/celebrate
Festivals, free rides and more!
To reflect and embrace the rich diversity of the Division Street corridor, TriMet will host festivals at three sites along the route: My People's Market at OMSI/SE Water Station, PCC Festival Marketplace at PCC Southeast and Gresham Farmers' Market from 12 p.m. through 5 p.m. Each family-friendly festival will feature food, arts, live music, multicultural presentations, special promotions and more. Admission is free.
Visitors will have a chance to participate in a paint-by-numbers mural activity at each festival site. Created by Portland artist Angelina Marino-Heidel, the mural is designed to unify the FX2-Division line with the community. Each of the panels will be joined together and installed this fall on the Cascadia Health building at Southeast 42nd and Division.
People will also have the opportunity to see and ride TriMet's big, new FX buses that will serve the FX2-Division line. The buses, which are manufactured by Nova Bus, a division of Volvo, are 60-feet long, with an articulated or "bendy" center. The buses not only have room for more riders on board, they will help speed up service, with boarding at all three doors, Hop Fastpass™ fare readers at each entry, contactless, self-securement for a mobility device and bike racks on board. The 31 buses that TriMet purchased for the project are the first articulated buses we've had in our fleet in more than 20 years! Learn more at trimet.org/fx/celebrate.
Win prizes, collect FX memorabilia
Each festival site will have giveaways and incentives to encourage visitors to stop by multiple locations. Prizes include a one-of-a-kind FX bus LEGO(R) set sourced by Bricks & Minifigs Portland, a set of two limited-edition event posters, created by local artist Paul Lanquist and a 2-for-1 ice cream coupons from Salt & Straw. We're also giving away lots of FX swag, including T-shirts, sunglasses, special-edition Hop cards loaded with fare, and more!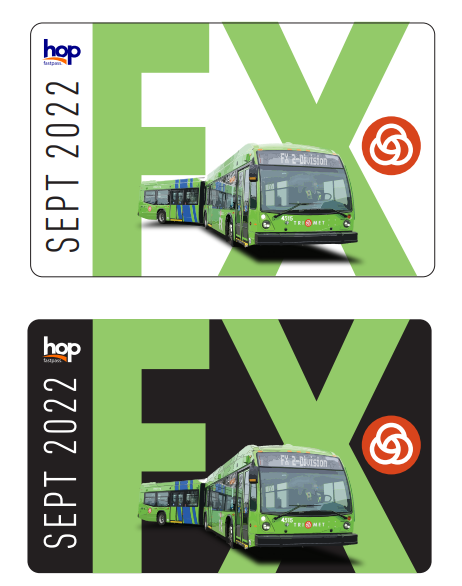 FX Grand Opening Celebration festival sites
PCC Festival Marketplace (2305 Southeast 82nd Avenue, Portland): Open 12-5 p.m. The PCC Festival Marketplace at PCC Southeast will showcase 34 vendors of Asian-inspired food and entertainment along with other neighborhood businesses and non-profit organizations. Summit Wushu Martial Arts Academy and the White Lotus Dragon and Lion Dance group are among the performers featured throughout the day.
My People's Market at OMSI/SE Water Station (2201 Southeast Water Avenue, Portland): Open 11 a.m.-5 p.m. This festival will feature My People's Market — a reimagined marketplace that brings a diverse collection of the Portland area's entrepreneurs, makers, and artists together. The market will have more than 120 BIPOC vendors, two stages and a beer garden. Entertainment includes live music by local soul band Bridge City Revival, DJ Ashe and numerous other performers.
Gresham Farmers' Market (401 Northeast Second Street, Gresham): Open 12-5 p.m. FX buses will drop people at the Gresham Central Transit Center, where entertainers will greet them. A special trolley and vintage bus will transport them to the Gresham Farmers' Market. One of the largest markets in the region, it features local produce, fruit, flowers, nursery stock, handcrafted food items, and more. Live music performances include sing-a-long group The Low Bare Chorale, accordion quartet Paper Bellows and the Americana sounds of JT and the Mudbugs. The market location is also a short 6-minute, 1/3-mile walk from the transit center.
The festivals and FX2-Division Grand Opening Celebration are made possible due to the generous support of our sponsors, including Raimore Construction, the presenting sponsor and lead construction company for the Division Transit Project. The $175 million project laid the foundation for TriMet's first FX bus line.
TriMet thanks Raimore and our other sponsors:
Supporting sponsors
LYT
Regence Blue Cross/Blue Shield
Nova Bus
PGE
WSP Design
Community sponsors
Metro
Oregon Department of Transportation
Landscape Forms
Moda Health
Kaiser Permanente
Mission Square Retirement
D-K-S Associates
Please see the full event lineup at trimet.org/fx/celebrate.
Getting there
Parking at festival locations and along the Division Street corridor is limited. TriMet will be running regular Line 2-Division bus service throughout the celebration. Other buses and MAX run by festival sites. Check trimet.org to plan your trip.
Division Midway Alliance Festival of Nations
In coordination with the FX2-Division Grand Opening Celebration, the Division Midway Alliance Festival of Nations will take place from 11 a.m. to 4 p.m. at the Planned Parenthood parking lot at 14601 Southeast Division Street. This event is one of the longest running and largest multicultural festivals east of I-205. It celebrates the diversity of the Division Midway district, featuring cultural foods, performances, entertainment, vendors and community services.
Babblebuy Event Navigation and Business Promotion
We've partnered with local small-business app BabbleBuy to help navigate TriMet FX2-Division Grand Opening celebrations, including performers, activities, events and businesses involved.
Additionally, many businesses and restaurants along Division Street also will feature special promotions as part of the grand opening celebration.