Join TriMet, Raimore Construction and our partners for a special hiring event at the Lloyd Center DoubleTree on Tuesday, May 9, 10 a.m. – 3 p.m.
TriMet is hosting a Community Hiring Event at the Lloyd Center DoubleTree on Tuesday, May 9. We've teamed up with our long-time transportation project partner, Raimore Construction, to put together something special for job seekers. Not only will there be opportunities to learn about, apply for and interview for jobs, we'll also have services available to help you stand out from the crowd, for all of the right reasons.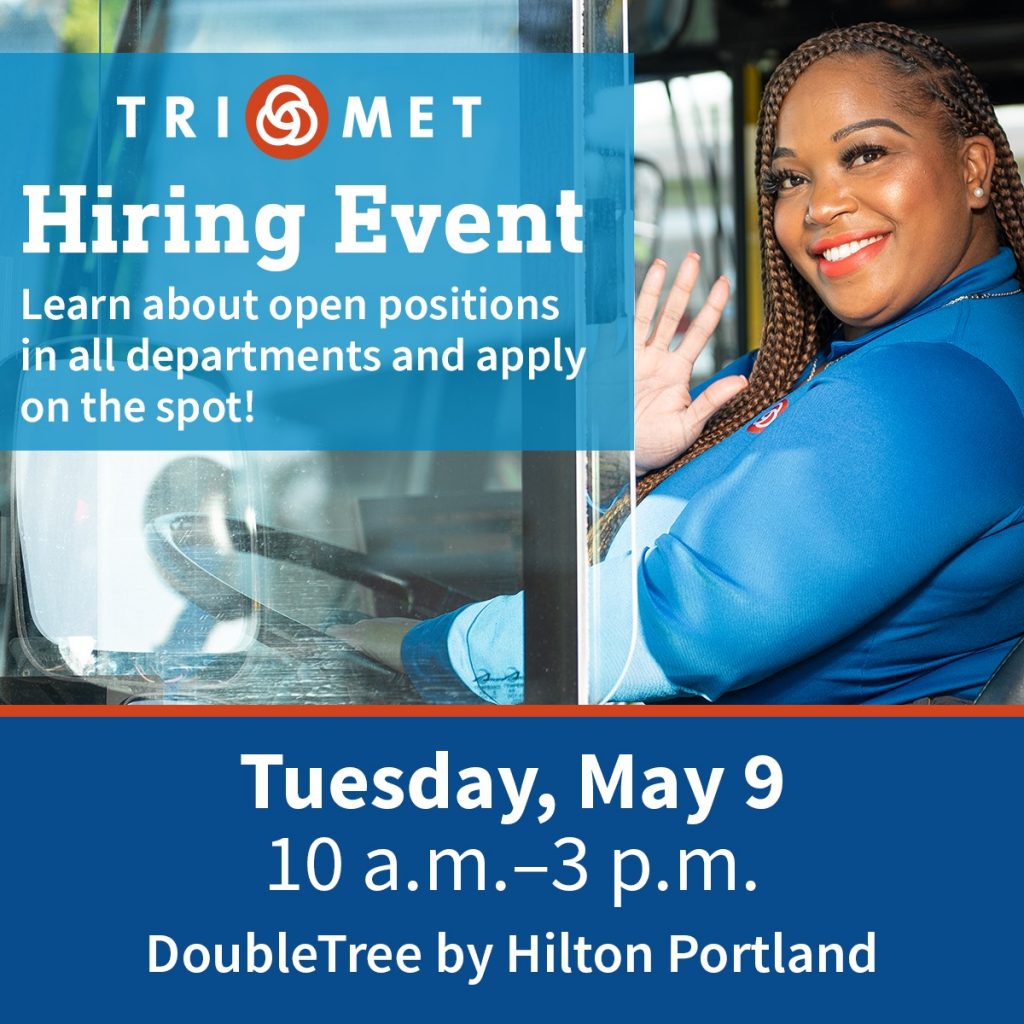 Community Hiring Event
Lloyd Center DoubleTree
11:00 a.m.: Maintenance Service Worker Orientation
11:45 a.m.: Bus Driver Orientation
When TriMet and Raimore Construction built the Division Transit Project, Raimore brought in the highest-ever percentage of small businesses owned by minorities or women, for a project of this type in Oregon. Over decades of working together to make transit better for our region, TriMet and Raimore have been recognized for our commitment to sharing contracting and employment opportunities with the region's BIPOC communities. The Community Hiring Event will have services available on site, which are focused on improving employment outcomes for historically disadvantaged and under-served groups.
What to expect
By now, you've probably heard that TriMet is hiring bus and MAX operators. We are also hiring for positions in Engineering & Construction; Finance & Administrative Services; Information Technology; Labor Relations & Human Resources; Maintenance Operations; and Public Affairs. For the Community Hiring Event, we will be conducting interviews with people who are applying to become operators and maintenance service workers. We'll even be making some conditional job offers, on site!
Our friends at Raimore Construction will also be talking with applicants, as well as offering career services, including taking free head shots for attendees; providing resume support; and assisting those who have questions about their criminal history. Additional employers who plan to join us on site include Colas Construction, Oregon Department of Transportation (ODOT), Portland Bureau of Transportation (PBOT) and more!
Take a look at our Frequently Asked Questions for suggestions on what to wear, what to bring with you and how to get there. If you can't make it this event, please visit trimet.org/careers to see all of the opportunities that are currently available, learn about our benefits package and apply online, anytime!