From June 12-July 11, riders will 'tap to ride' the elevator, free-of-charge, during a test of the new system
TriMet will be piloting an elevator improvement project beginning in June at the Hollywood/NE 42nd Ave Transit Center. The four-week project will restrict elevator access to riders with a valid Hop card or Hop ticket, or a physical or virtual chip-enabled payment card in an effort to improve elevator reliability*.
*Valid access items have been updated for clarity.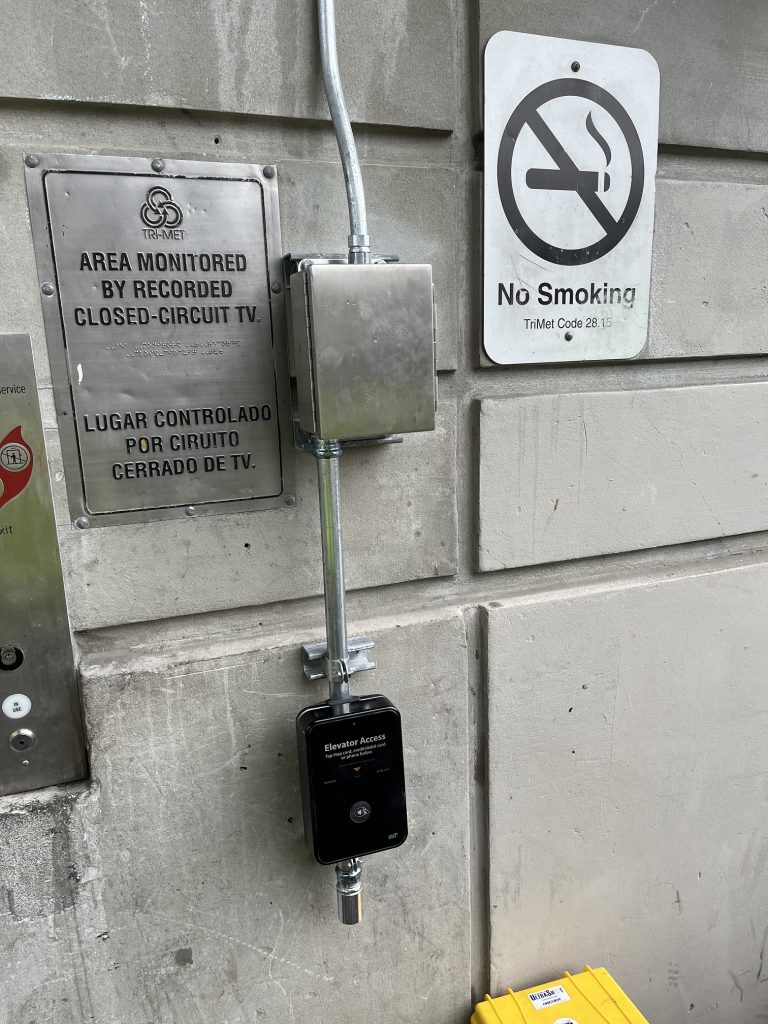 From June 12-July 11, customers will need to tap their plastic or virtual Hop card; Hop ticket; phone with Apple Pay, Google Pay or Samsung Pay; or contactless credit or debit card on a reader next to the elevator to open the doors. Customers will not be charged anything as a result of this tap and will still be required to tap a second time on a Hop reader prior to boarding MAX. While riders won't be charged for the elevator tap, their card must be valid for it to work.
When someone taps with a Hop card, Hop ticket, a chip-enabled payment card or a smartphone wallet, the elevator doors will open and the reader will display a confirmation screen —a green check mark and the words "Welcome" and "Thanks for riding TriMet." The Hop card, Hop ticket or payment card needs to be valid and have funds stored, although there will not be a charge for accessing the elevator. Hop cards do not need to be registered to access the elevator. Elevator access during the pilot will not work for customers using paper tickets, also known as transfers, received from a bus ticket printer.
Easy access for riders
We understand it can take a couple of times to grow familiar with a new process. That's why we want to make this trial-run as easy as possible to keep you moving. As much as we can, we want to minimize the impact on customers, particularly people with disabilities. For the duration of the pilot, transit security staff will be present at the elevator during MAX operating hours to open it for cash and paper transfer customers and to count how often these customers access the elevator.
The electronic reader used to access the elevator will look like TriMet's Hop fare readers, except it will be black instead of green. New signs, as well as the elevator access reader screens themselves, will instruct riders to tap before boarding the elevator and will state that there's no charge associated with this. The signs will also remind riders to tap again on a green Hop fare reader to pay for their ride before getting on a train.
To access the platform and ride MAX, the process will be as easy as one, two, three:
1: Tap your Hop card, contactless bank card or phone against the black validator at the elevator. The elevator will come and the doors will open.
2: Board the elevator to take it down to the platform level.
3: If you haven't already tapped your card or phone against a green Hop fare reader, you can do so on the platform before boarding MAX.
Improving reliability
TriMet is committed to improving reliability and efficiency across our transit system. Like buses and trains, elevators are an important part of our transit system that help people make their connections. But they are also unique, in that they are unrestricted, outdoors and user-operated. By limiting elevator access to riders, we hope to diminish their unplanned outages related to improper use.
By ensuring that those who are riding are using the elevators for their intended purpose, we hope to cut down on maintenance-related delays and disruptions, and to make the riding experience safer, more reliable and welcoming for everyone. The four-week pilot at Hollywood/NE 42nd Ave will be used to determine the feasibility of introducing a similar system at elevators at other TriMet rail stations and transit centers.
For more information about the elevator access pilot, go to trimet.org/elevatoraccess.
Tap every time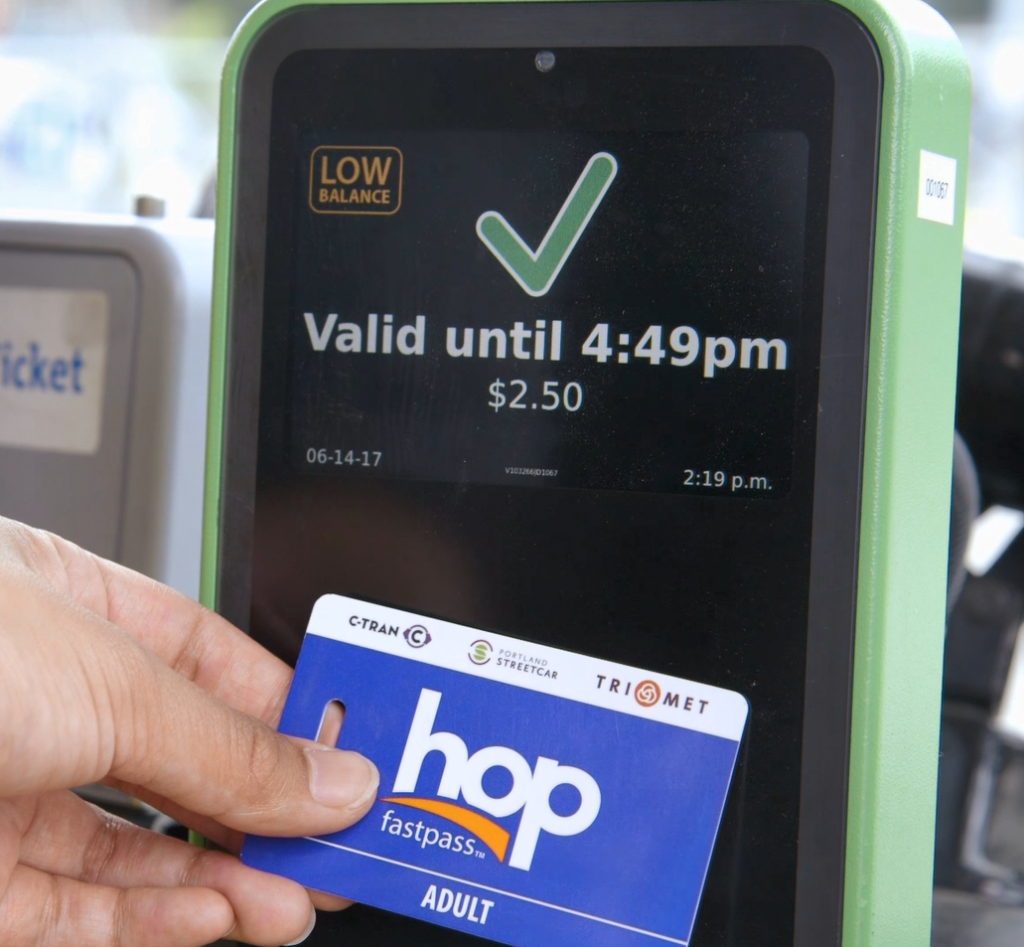 TriMet first began rolling out Hop in July 2017 as an easier way of offering a number of innovative ways to pay fare. Its basic form is the physical Hop card, which works just like a gift card. You load money to the card and then tap it to a Hop reader.
Hop is the better way to pay, allowing riders to tap, board and save, all at the same time. Hop means never overpaying thanks to fare capping, which rewards you with free rides once you meet the equivalent of a daily or monthly pass. With Hop, ride knowing you won't pay more than the cost of a monthly pass, which is $100 a month—or $28 a month for those in our reduced-fare Honored Citizen program. That price won't change even if fares increase. Additional benefits of Hop include lost-card protection and auto reloading.
Hop readers are located on board buses and at the platform for MAX and WES. Tap with every ride and transfer. It's your proof of payment and shows you have valid fare. With Hop, there's no need to carry cash, have exact change or stop at a ticket machine.
To check on the status of TriMet's elevators and sign up for alerts, go to trimet.org/alerts/elevators.