The project is more than 50% complete, with construction progressing at different worksites along the MAX Red Line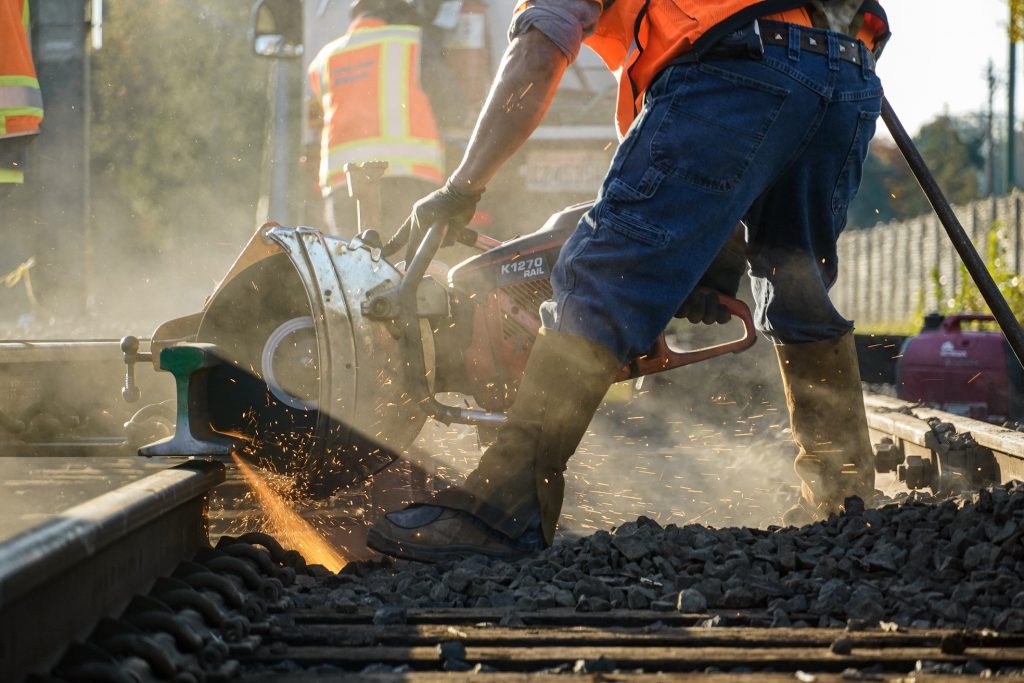 More than a year and four months after TriMet's A Better Red MAX Extension and Reliability Project broke ground, construction has reached a major milestone. The project has surpassed 50% of its completion, entering the back half of its work on schedule and on budget. Thanks to the project, nearly $100 million in federal funds are being brought to the Portland metro area, creating and supporting jobs for the entire region.
With construction set to conclude in 2024 ahead of its opening that same year, A Better Red is TriMet's most significant light rail construction project since the MAX Orange Line opened in 2015. In part, the project will extend the MAX Red Line west to serve 10 more stations in Beaverton and Hillsboro.
But the project aims to do even more by improving the flow of train traffic. The addition of a second track near the Gateway Transit Center and Portland International Airport, along with a new station dedicated to westbound MAX Red Line service—called Gateway North, located about 500 feet north of the existing transit center— will improve schedule reliability for the entire MAX system. These improvements will help trains move around each other more efficiently near Gateway and PDX.
Construction achievements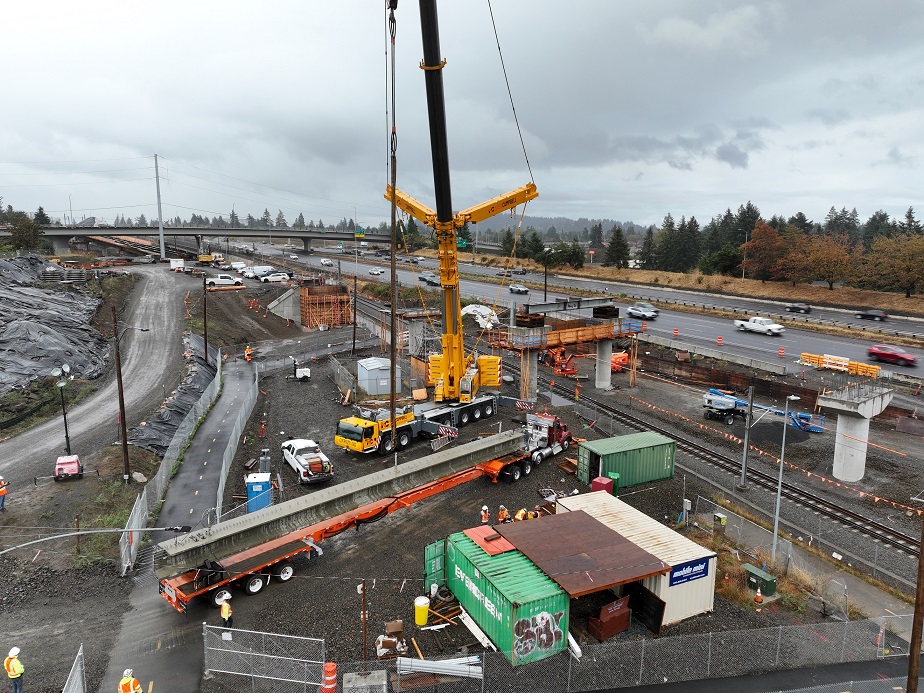 A section of the MAX Red Line north of the Gateway Transit Center has seen a steady progression of construction since the project kicked off in September 2021. However, while that has been the most visible worksite, construction has also occurred elsewhere, including in Hillsboro and near Portland International Airport. Unique among this project is how construction is taking place in different locations along the Red Line, with more heavy lifting yet to come.
Construction highlights so far include building the substructures of two new light rail bridges north of the Gateway Transit Center. This work has included the installation of steel girders to a bridge extending over I-84 last fall as well as affixing concrete girders to a second bridge being built over existing MAX tracks. We have also moved and added components to the trackway to help make room for these new structures. This included moving a 200-foot section of track in March 2022.
In addition to building new retaining walls, bridges and moving components of our track and the light rail system north of the Gateway Transit Center, crews have also been working in Washington County and near Portland International Airport. In November 2022, crews improved parts of the MAX system near the Fair Complex/Hillsboro Airport MAX Station and set the stage for additional work to take place there. A new 680-square-foot facility is also taking shape at the station, which will give operators and other field staff a place to rest and take a break at what will become the new western terminus for the MAX Red Line.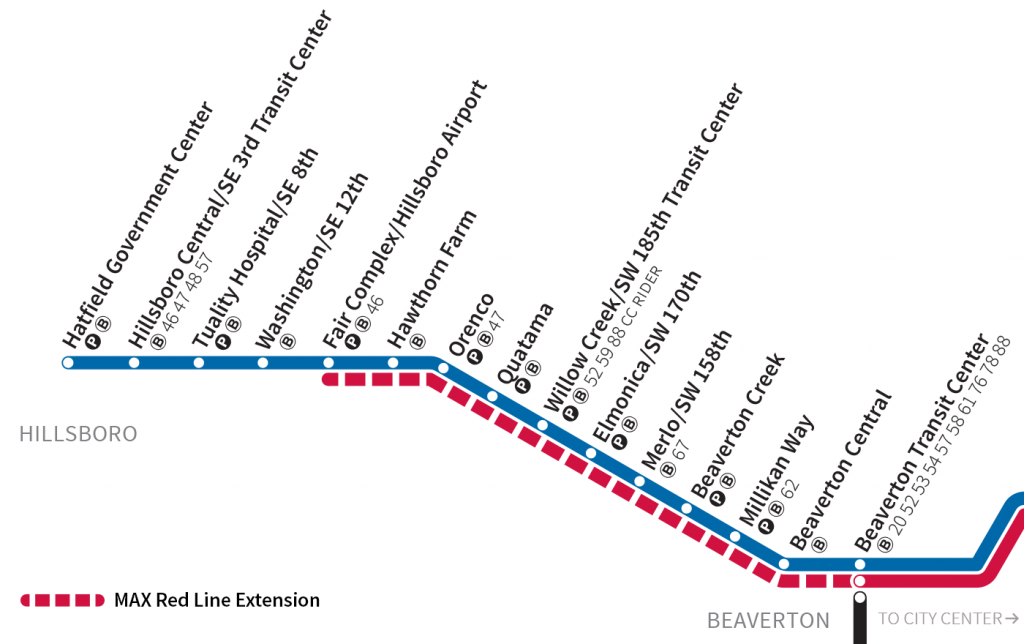 More work to come
New and improved MAX Red Line service will be up and running in 2024. The project is made possible thanks to a $99.9 million construction grant awarded by the Federal Transit Administration, which covers a substantial portion of the $215 million overall cost of the project.
There's more work to come! In the months ahead, crews will be completing the construction of the two new light rail bridges. Crews will also build a new station platform at PDX and add another track next to what is currently there. Also, in partnership with the Port of Portland, a new multi-use path will be built between the MAX station and NE 82nd Avenue. That new path will create a better connection between transit and jobs at the Port of Portland, allowing people to get around on foot, bike, scooter and other mobility devices after exiting a train. In Hillsboro, crews will also soon be finishing the operator break facility and installing additional equipment needed to turn around trains at Fair Complex/Hillsboro Airport MAX Station.
While much of the work has taken place without the need to disrupt service, there will be times in the coming year when suspending MAX service is necessary to allow crews to work directly in the trackway for extended periods. We thank our riders for their patience during construction! TriMet will provide advanced notice for any construction activity that disrupts trains or auto traffic. For more information about A Better Red, including regular construction updates, go to trimet.org/betterred.
A Better Red: Making Transit Better

Making Transit Better is something we strive for every day because it means improved livability, cleaner air and more opportunities for everyone. When more people ride transit, the community benefits in ways both big and small, allowing the region to grow and thrive.
A Better Red is just one of the ways TriMet is addressing the needs of a growing Portland metro area. Not only is the project going to improve connections and MAX reliability, it's also creating and sustaining jobs for the region along with other economic benefits. With A Better Red expanding and improving MAX light rail—now powered by 100% renewable energy—TriMet is creating a more attractive option than driving and reducing greenhouse gas emissions while supporting jobs in the process.