TriMet's Tilikum Crossing, Washington Park MAX station serve up wonder while speeding up transit
They are some of the region's most spectacular architectural landmarks, and they can't be reached by car. TriMet's Tilikum Crossing, Bridge of the People and the underground Washington Park MAX Station are awesome achievements in transportation that were built to be experienced by transit. These brilliant structures are more than beautiful, they are integral parts of our regional transit system. They are where form meets function, giving buses, trains and the people who ride them an advantage–a faster, more reliable ride, with a one-of-a-kind view.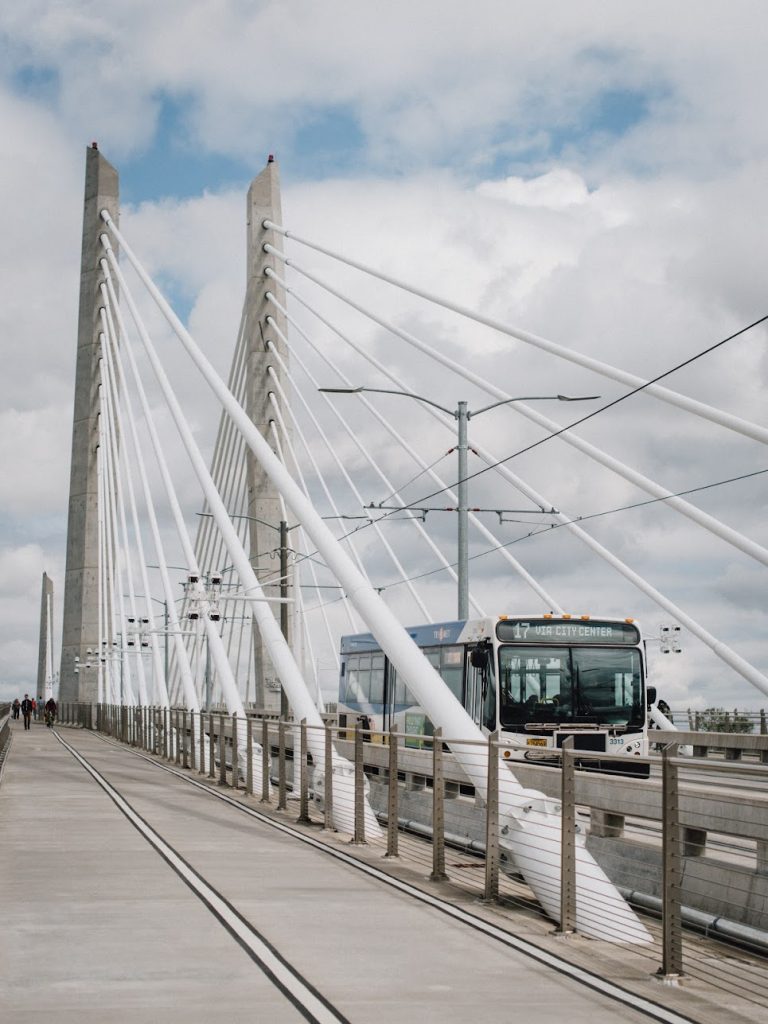 We are moving another bus line to the car-free Tilikum Crossing as part of the Forward Together Service Improvements that go into effect Sunday, Aug. 27. In the meantime, we're continuing progress on "A Better Red," a project that benefits from the dedicated right-of-way of the Robertson Tunnel. The tunnel was created as part of the Westside MAX Project, which extended MAX Blue Line west of Downtown Portland to Beaverton and Hillsboro. MAX Red Line trains would later share the track. Today, both lines serve the Washington Park MAX Station–-the deepest transit station in North America.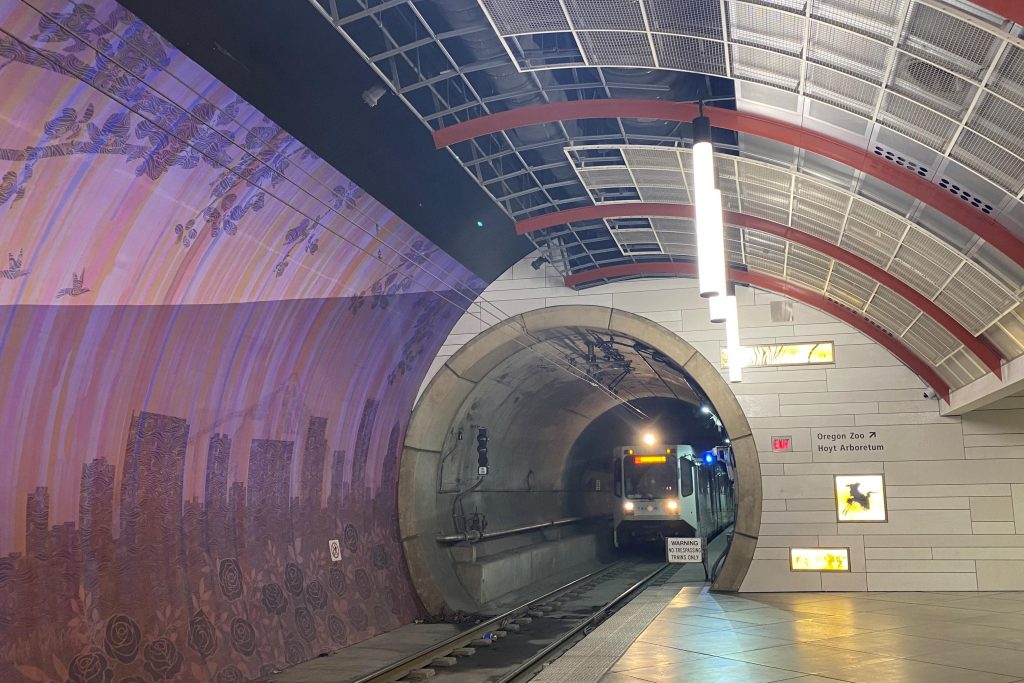 Tilikum Crossing improves transit service
Take TriMet to experience the towering light and splendor of the Tilikum Crossing, a first-of-its-kind crossing of the Willamette, accessible only by transit, by bike, mobility device or foot. Completed in 2015 as part of the Portland-Milwaukie Light Rail project, Tilikum Crossing was the first bridge of its kind in the United States. The four-pier, cable-stayed-type bridge rises 78 feet above the Willamette River, with twin towers that soar another 180 feet into the sky! The bridge opened as the first new span across the Willamette since the Fremont Bridge in 1973.
TriMet will move Line 19-Woodstock/Glisan to the Tilikum Crossing as part of Forward Together, to help avoid delays caused by traffic congestion on the neighboring Ross Island Bridge. And that's not all. We're improving service so that Line 19 buses arrive every 30 minutes for more hours of the day, every day. And, we're adjusting the route in Southeast Portland through the Eastmoreland neighborhood. Buses will no longer travel on Southeast Rex Street or 32nd Avenue, to speed up travel time.

The changes coming to Line 19 are part of the first large package of updates that TriMet will roll out with Forward Together, a sweeping overhaul of transit service that we took on coming out of the COVID-19 pandemic. Forward Together is focused on equity and will make it easier for more people to connect with opportunities throughout the region. It moves some service from areas with low ridership and higher incomes to those where there are more people with lower incomes, who rely on transit to connect with opportunities throughout our region.
Additional improvements include upgrading Line 54-Beaverton-Hillsdale Highway to Frequent Service and adding buses on lines 8, 15, 35, 43, 56, 44, 70, 75 and 94 to increase the hours of day, frequency and days of the week when our service is convenient, robust and reliable.
The Forward Together plan moves buses to where they're most needed and most likely to be used. As a result, we are reallocating some of our services. We are discontinuing lines 61, 64, 65, 66 and 68 due to low ridership. The limited, commuter-hours service will be replaced by improvements on lines 43, 54 and 56 and the current service on lines 8, 9 and MAX. Line 36-South Shore will also be retired due to very low use.
About 30% of our bus lines will see some sort of change with this package of improvements, and we ask all riders to visit trimet.org and plan a trip for Aug. 27 or later, to see how to adjust their travel after the changes take effect.
A Better Red work continues
We're rolling out Forward Together as A Better Red—our MAX Red Line extension and reliability project continues. Less than two months remain in our ongoing, 126-day disruption required for the current phase of the project. The work includes the replacement of the Portland Airport MAX Station and the installation of a second track along the alignment between the airport and Gateway Transit Center. During the project, shuttles are serving MAX stations between PDX and Gateway, running about every 15 minutes throughout most of the day. 
When the work is completed in 2024, the MAX Red Line will extend to 10 additional stations into Hillsboro. The entire MAX system will benefit from the track improvements, resulting in more reliable light rail service across the region.
Transit tunnel moves MAX trains past traffic
MAX Blue and Red lines benefit from another architectural wonder: the Washington Park MAX Station. At 260 feet underground, it's the deepest transit station in North America, sitting some 90 feet further below ground than any station in New York City's famed subway system.
Located within Portland's West Hills, the station serves as a gateway to Washington Park and some of the region's most beloved treasures, including the Oregon Zoo. It's a one-of-a-kind stop along our 60-mile light rail system. Because of its underground location, the Washington Park MAX Station stays a cool 50-55 degrees year-round. Riders coming in from a warm day relish the rush of cool air as trains arrive after traveling 55 miles per hour through the underground tube. A geological timeline—created from a drilling core sample—runs along the platform, highlighting historical milestones. The walls of the tunnel are awash with colorful vinyl panels that capture the natural beauty of the Washington Park experience.
Experienced best by transit
Like Tilikum Crossing, the Washington Park MAX Station was built to support the region's transit system. These architectural wonders make riding faster and more convenient by giving transit vehicles opportunities to move past traffic, maintain speed and avoid delays. Each was a first of its kind–the Tilikum Crossing, as the nation's longest car-free bridge and the Washington Park MAX station, the nation's deepest. And neither can be experienced by car. TriMet invites you to take in the awe the next you ride. Visit trimet.org and plan a trip.