Resuming Aug. 28, the transit center elevator will provide access only to riders with valid fare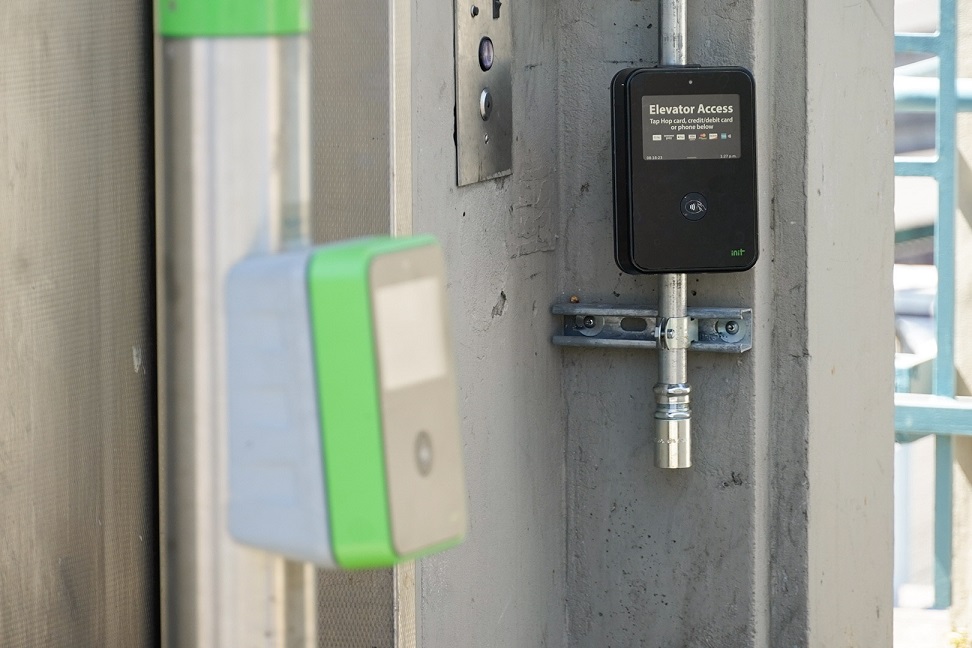 TriMet is entering the next phase of an elevator safety and reliability project, intended to cut down on misuse and the need for unplanned repairs. Resuming Aug. 28, the elevator at Hollywood/NE 42nd Ave Transit Center will only be accessible to riders with a valid fare. While there will be no charge to use the elevator, riders will need to tap their fare payment against a reader to the right of the elevator door for it to open. Riders on the platform level will also need to tap the reader for the elevator to take them to the top of the skybridge.
Earlier this summer, TriMet conducted a successful four-week trial run of the system. It helped prevent damage and reduced elevator outages. Our goal is to keep elevators as clean and reliable as possible for riders, to improve the customer experience. The Hollywood elevator will be a work in progress as we fine-tune how the access system works. The aim is to use what we've learned at this elevator as we look to improve other elevators in our system in the future.
"Access control tools, like the ones we're using, give us options for all kinds of different things into the future," TriMet Executive Director of Safety and Security Andrew Wilson said. "I think this is an important piece for us, having built a very open system, just to make sure that it's accessible."
Elevator access
At the Hollywood/NE 42nd Ave Transit Center, card readers used to access the elevator will be black but look similar to our Hop Fastpass readers. It's important to remember that unlike Hop readers, the elevator's card readers do not collect fare. Riders will need to tap another time, against a green Hop reader before boarding. Signs will also be posted near the elevator, reminding riders to tap at the elevator card reader for the doors to open.
Accessing the elevator will work with any of our traditional forms of fare:
Plastic Hop card
Hop ticket from a ticket vending machine
Contactless credit/debit card
Phone (with mobile wallet or digital Hop Fastpass enabled).
Not only is Hop Fastpass a convenient way to open the elevator, it continues to be TriMet's best way to pay fare, allowing riders to tap, board and save, all at the same time. With Hop, riders never have to worry about overpaying, thanks to daily and monthly fare capping. Once the equivalent of a monthly pass—$100 for adult fare or $28 for those in our reduced-fare Honored Citizen program—is reached, there's no charge again until the next month. Additional benefits of Hop include lost-card protection and auto reloading.
While the paper tickets dispensed by the ticket vending machines contain a chip inside and can be tapped against readers, paper tickets printed out on buses do not. TriMet security staff will be stationed at the transit center to help riders with those tickets access the elevator when needed.
Reliability and safety improvements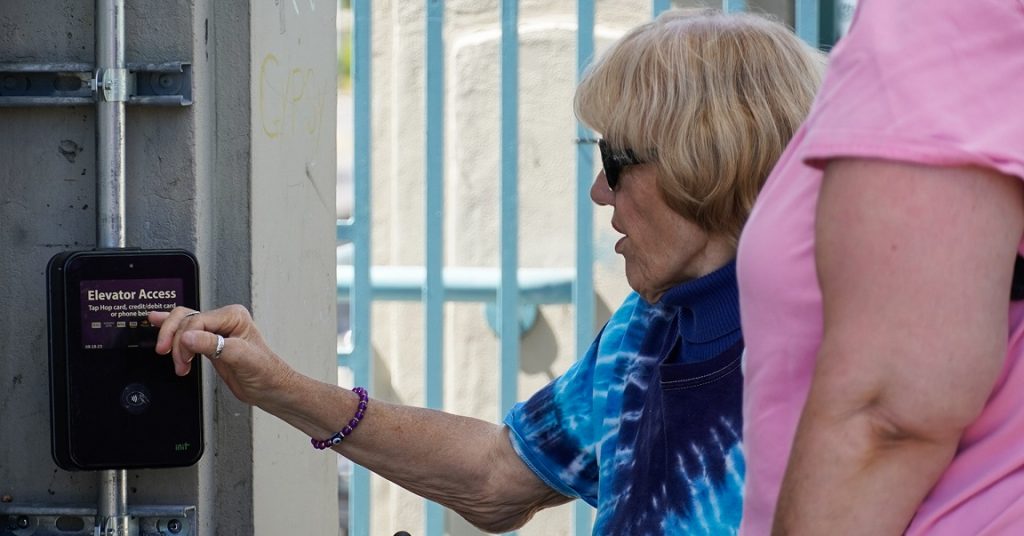 TriMet is committed to improving reliability, efficiency and the customer experience across our transit system. This not only includes buses and trains, but other services and amenities that help riders get around. Due to their public accessibility, misuse of the elevators can damage equipment, leading to unplanned outages. These outages have the greatest impact on riders who need elevators the most. TriMet will be using feedback from our Committee on Accessible Transportation to guide the project forward to help it further meet the needs of people with disabilities. CAT members have signaled their support of the project, including the height and placement of the card readers to the right of the elevator doors.
"Our goal is to make this the most accessible system in the country, and to make it accessible to everybody and user friendly," Committee on Accessible Transportation Chair Jan Campbell said. "And I think working directly with users, the Committee on Accessible Transportation, you're actually meeting with the users, so we can be at the very beginning of the design and the improvements."
By working to ensure that those who are using the elevators are doing so to get to and from MAX trains, we hope to cut down on maintenance-related delays and disruptions and make the riding experience safer, more reliable and welcoming. For more information about the elevator access project, go to trimet.org/elevatoraccess. You can also sign up for Service Alerts to stay in the loop as we work toward adding card readers at other elevators in the future.