Roll out of Forward Together improvements starting Sunday, Aug. 27, to bring increased frequency, more hours and days of service on multiple bus lines; route changes to speed up service; schedule updates to keep buses on time; reduced or discontinued service on some lesser used, low-ridership bus lines
Here we go! Starting Sunday, Aug. 27, TriMet will expand and improve bus service, as we implement the first major package of changes from our Forward Together service concept. The plan, which was developed in partnership with the community as travel changed during the COVID-19 pandemic, includes a sweeping overhaul of transit service for our tri-county service area. Forward Together is focused on equity and will make it easier for more people to connect with opportunities throughout the region. It moves some service from areas with low ridership and higher incomes to those where there are more people with lower incomes, who rely on transit to make important daily connections – like getting to work, school, health care and other services.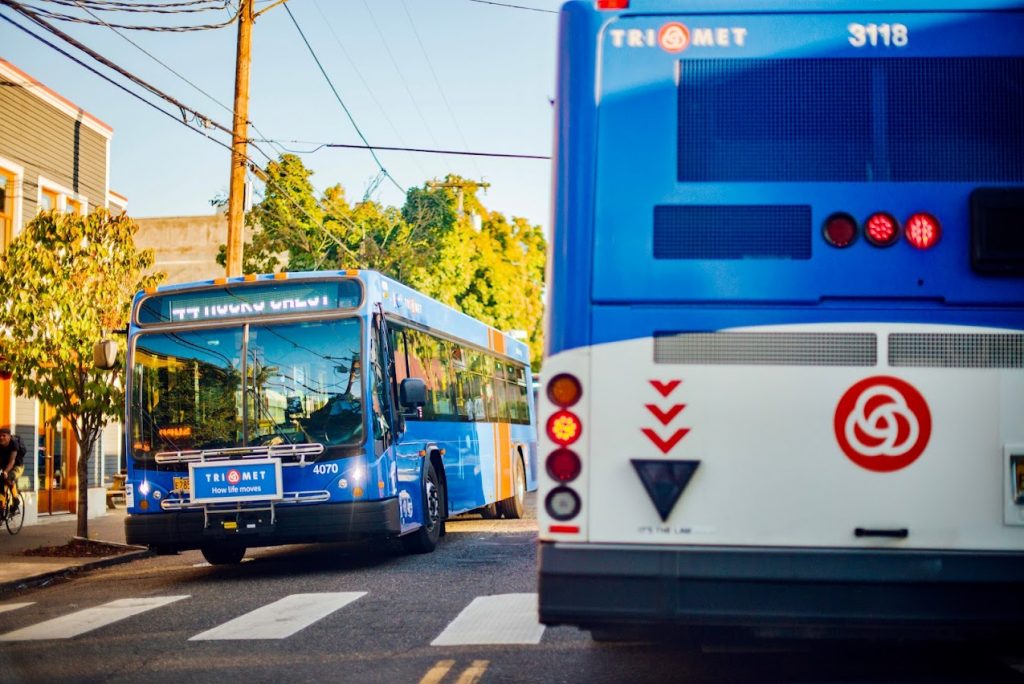 In this first bulk delivery of improvements and adjustments, we're expanding our Frequent Service network and making it easier and more convenient to ride, with buses arriving more often, at more times and on more days. However, with limited human and financial resources, these improvements come with trade-offs. Some lesser-used bus lines will be discontinued, while others will be streamlined to reduce duplication, move service closer to those who need it most and make our transit system work more effectively for everyone.
More buses at more times on more lines and days of the week
TriMet's Frequent Service buses and MAX lines arrive every 15 minutes or better, for most of the day, every day. We're expanding upon our existing network, with more service for Line 54-Beaverton Hillsdale Hwy. Previously, the popular bus line combined with Line 56-Scholls Ferry Road to provide 15-minute service. Starting Aug. 27, we're adding buses to Line 54, to keep them arriving about every 15 minutes, every day of the week.
You can also look for more buses arriving more often or for more hours of the day, or route adjustments or schedule changes to keep buses on time on the following lines:
Line 8-Jackson Park/NE 15th: We're increasing weekday service to Marquam Hill during the morning and afternoon commute.
Line 15-Belmont/NW 23rd: We're improving the existing Frequent Service so that buses on NW 23rd arrive every 15 minutes starting at 9 a.m. on Saturdays and Sundays.
Line 19-Woodstock/Glisan: We're improving service with buses arriving every 30 minutes for more hours of the day, every day. We're also changing the route, moving the line from the Ross Island Bridge to Tilikum Crossing to avoid auto traffic. And, we're adjusting the route in Southeast Portland through the Eastmoreland neighborhood. Buses will no longer travel on Southeast Rex Street or 32nd Avenue, to speed up travel time.
Line 35-Macadam/Greeley: We're improving Line 35 service with buses arriving every 30 minutes for more hours of the day, every day. We're also changing the route with buses between Johns Landing and Lake Oswego alternating between Highway 43/Riverside (35R-Macadam/Riverside) and Taylors Ferry and Terwilliger Blvd (35T-Macadam/Terwilliger) to serve Lewis & Clark College and South Burlingame.
Line 44-Capitol Hwy/Mocks Crest: We're increasing weekday morning service in Southwest Portland to help riders connect with Lines 43 and 56 and Marquam Hill.
Line 70-12th/NE 33rd Ave: We're increasing evening service to NE 33rd Ave on weekends.
Line 75-Cesar Chavez/Lombard: We're extending evening service to Milwaukie on weekends. We're also moving lines 75 and 77-Broadway/Halsey out of Hollywood/NE 42nd Ave Transit Center due to construction. Buses will serve temporary stops on Northeast 42nd, Broadway and Halsey.
Line 94-Pacific Hwy/Sherwood: We're improving Line 94 service between Tigard and Sherwood with buses arriving every 20 minutes for more hours of the day, every day. We're also changing the route by removing Line 94 service between Tigard and Portland. Line 12-Barbur/Sandy Blvd will continue to serve that area.
Spreading service where it's needed most
The Forward Together plan aims to put buses where they're most needed and most likely to be used. As a result, we are reallocating and realigning some of our services. This brings major changes for riders who use TriMet to connect with OHSU, Doernbecher Children's Hospital, Portland VA Medical Center and other healthcare facilities on Marquam Hill.
We are discontinuing several bus lines that provided service to Marquam Hill due to low ridership. Lines 61-Marquam Hill/Beaverton, 64-Marquam Hill/Tigard, 65-Marquam Hill/Barbur Blvd, 66-Marquam Hill/Hollywood and 68-Marquam Hill/Collins Circle will be retired. These weekday-only bus lines primarily offered service during the morning and afternoon commutes and were experiencing lower-than-expected ridership, even before the COVID-19 pandemic.
With Forward Together, the service that was dedicated to those low-ridership lines will be redistributed to nearby lines that offer more service throughout the day and week. This will help more people get to and from Marquam Hill, no matter when they need to be there. The service will be replaced by changes to service on lines 43, 54 and 56 and current service on lines 8, 9 and MAX, connecting with the Portland Aerial Tram. As Line 54 moves to Frequent Service, we will also make improvements to lines 43 and 56:
Line 43-Taylors Ferry: We're adding buses to Line 43 so that riders will see arrivals every 30 minutes. Line 43 will provide service between the Hillsdale neighborhood and OHSU. Riders should also know that we are changing the route of Line 43 between Tigard and OHSU. We're moving buses off of South Corbett, as there are additional transit options nearby. Lines 12-Barbur/Sandy Blvd, 35-Macadam/Greeley and 99-Macadam/McLoughlin offer service nearby.
Line 56-Scholls Ferry Rd: We're improving service on Line 56 with buses arriving every 30 minutes for more hours of the day, every day. When combined with Line 43, this change will bring 15-minute service between Hillsdale and OHSU. We're also adjusting the route of Line 56 to OHSU, discontinuing service on Southwest Barbur Boulevard, where there's service nearby on lines 12 and 44-Capitol Hwy/Mocks Crest.
Additional adjustments
Line 36-South Shore: We are discontinuing Line 36 due to low ridership.
Line 39-Lewis & Clark: We are reducing weekday service due to focus on peak travel times for students at Ida B. Wells High School. We're also extending the route to serve the Arnold Creek neighborhood and Barbur Transit Center, moving it off of Palatine Hill Road.
Line 51-Vista: We're extending Line 51 service on Dosch Road to Wells High School and Southwest Barbur and Bertha. Line 51 will no longer travel to Southwest 2nd but rather end at Goose Hollow, with service to Lincoln High School.
Line 55-Hamilton: We're reducing service on Line 55 due to low ridership and available service nearby on Beaverton-Hillsdale Highway. The remaining buses will be timed to serve Wells High School students.
Line 99-Macadam/McLoughlin: We're simplifying the route and moving buses to South Moody through the South Waterfront to help reduce delays.
More improvements
Line 17-Holgate/Broadway: We're adjusting the route of Line 17 to improve transfers and help keep buses on time, by moving the end of the line for eastbound travel to Southeast 122nd Avenue and Holgate Boulevard. Riders continuing to Southeast 136th can board Line 17 buses to Portland City Center to complete their trip.
Line 44-Capitol Hwy/Mocks Crest and Line 78-Denney/Kerr Pkwy: We are restoring weekend service to PCC Sylvania.
Tigard Transit Center: We're reorganizing bus stops to accommodate more service at Tigard Transit Center. Riders of lines 43, 64, 76, 78 and 94 can expect to see changes.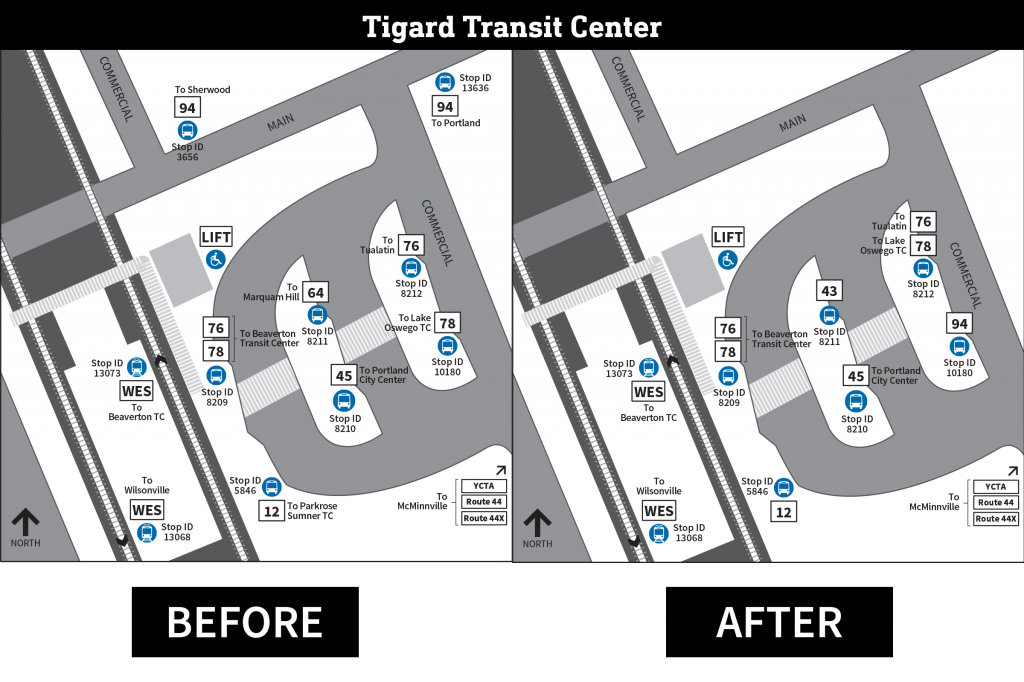 Check the schedule and plan your trip
In addition to increasing service, we're also adjusting schedules on about 30% of our bus lines. By adding or removing time from the schedule in response to traffic patterns, we can help keep buses on time. We're planning adjustments of more than three minutes, to FX2-Division and Line 32-Oatfield.
We encourage all riders to visit trimet.org by Sunday, Aug. 27, and use the online trip planner to see how your travel will change. Some lines will see smaller adjustments to help riders make transfers and give operators breaks.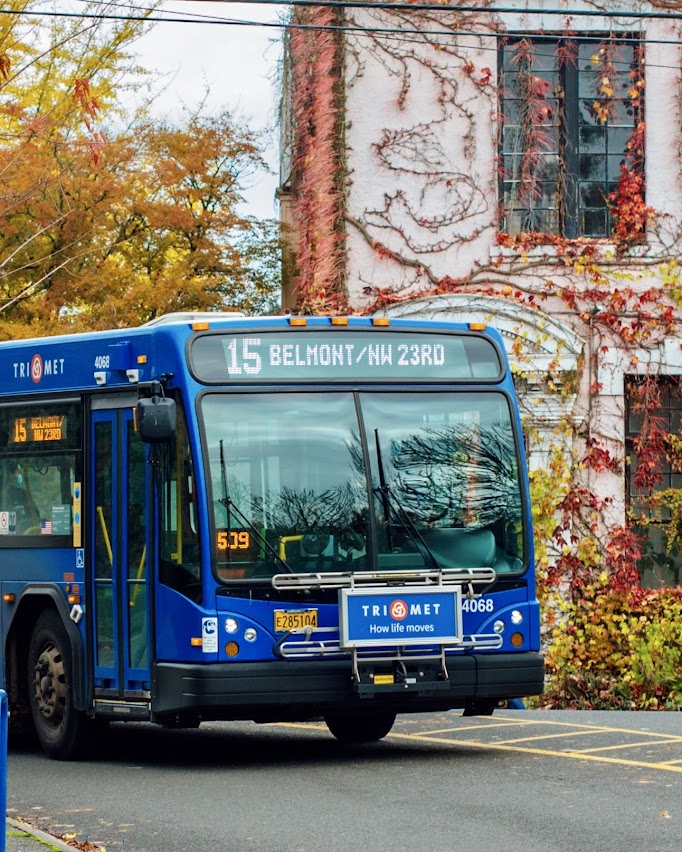 Forward Together
Our Forward Together Service Concept provides a roadmap for increasing service by more than 30% in the coming years. Forward Together focuses on transportation priorities defined by our community: increasing transit ridership and improving connections to destinations for people with low and limited incomes.
We began adopting proposals from the Forward Together Service Concept in May, as we added back service hours that were reduced in 2020 when COVID-19 put the brakes on the largest bus service expansion in our history. We continue our work to overcome a historic operator staffing shortage and now have operators in place to continue adding back service. Watch for more improvements from the Forward Together plan in the years ahead, as provided by adequate staffing and financial resources.