TriMet Administrative Headquarters moves to One Main Place, contributing to Downtown Portland's post-pandemic revitalization with a 10-year lease of 95,000 square feet of office space to accommodate hundreds of employees
TriMet has a new destination in Downtown Portland: One Main Place! We've moved our administrative headquarters to 101 Southwest Main Street, demonstrating a long-standing and unwavering commitment to the city's resilience and Downtown Portland's post-pandemic revival. The lease includes 95,000 square feet of space within the 20-story office tower.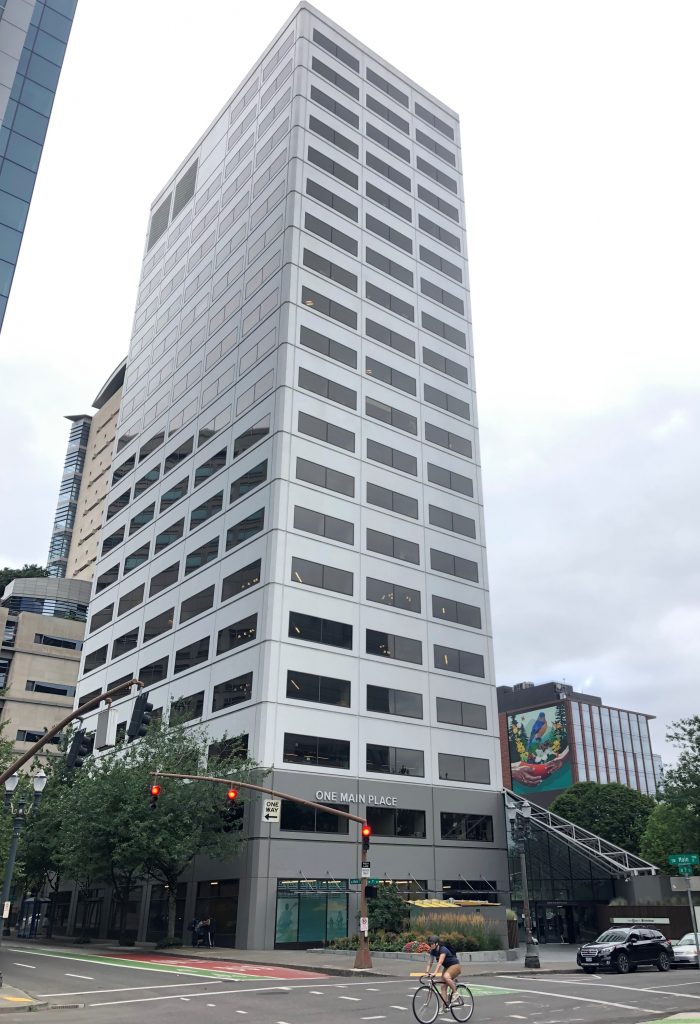 The location of One Main Place, at Southwest 1st Avenue and Main Street, retains TriMet's administrative presence in the heart of the city, where 39% of our buses and trains travel daily. Throughout our 50+ year history, Downtown Portland has been a vital connection point, where people from communities throughout our 533-square-mile service area come together, to work, shop and play!
"For as long as TriMet has existed, we've been part of Downtown Portland, and we're not going anywhere," said TriMet General Manager Sam Desue Jr. "During the darkest days of the pandemic, our buses and trains were some of the only vehicles on those streets. We never stopped, and our commitment to revitalizing the heart of our city will never fade. With 11 years to go on our lease at One Main Place and increasing optimism for the future, we are here for Portland. We are here to stay."
One Main Place includes a lobby with shared common space. TriMet occupies six floors of the building; our reception area is on the seventh floor. Workgroups that report regularly to One Main Place include Engineering, Construction and Planning; Facilities Management; Finance, Labor Relations and Human Resources; Legal Services; Public Affairs; and Inclusion, Diversity, Equity and Access. The General Manager, Chief Operating Officer and members of the executive leadership team also have offices at One Main Place.
The building is located near the Hawthorne Bridgehead. One of the city's first Rose Lanes, installed in 2019 to help speed up buses traveling into downtown, leads to a bus stop right outside. Lines 6-ML King Jr Blvd, 10-Harold and 14-Hawthorne arrive there regularly each day. Hundreds of buses can be accessed on the Portland Transit Mall, just blocks away on Southwest 5th and 6th avenues. All five MAX lines also travel to Downtown Portland, and our Customer Support Center is located at Pioneer Courthouse Square.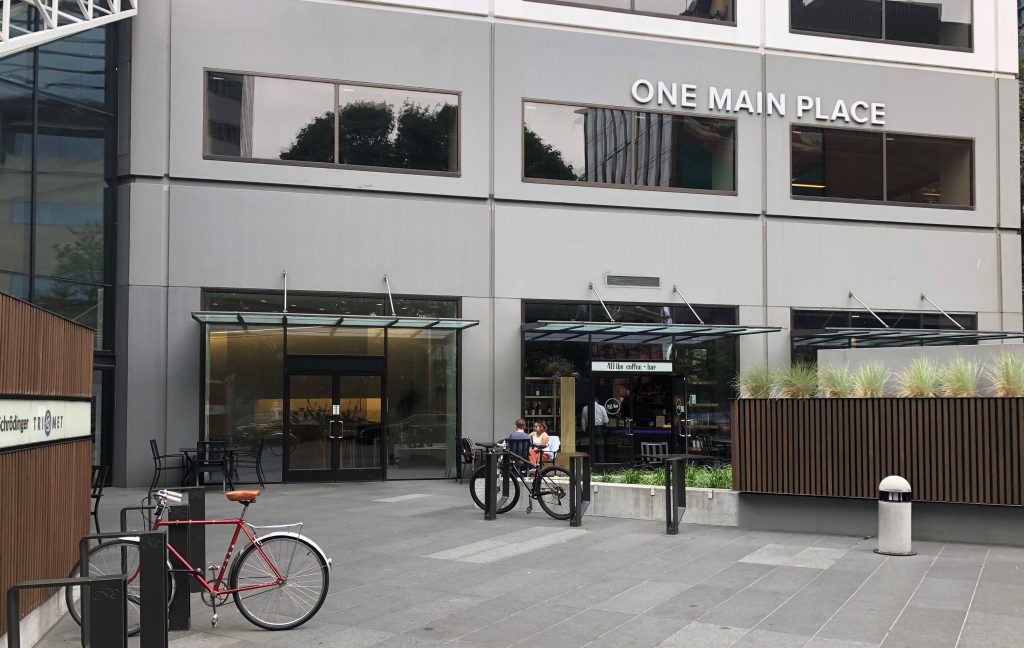 One Main Place is situated in a vibrant section of Downtown Portland, close to coffee shops, restaurants and cafes that bustle with business during the work day, at times resulting in lines out the front door! The location provides easy access to services and shopping. In addition, it is located within walking distance of parks, fountains and the Willamette River. Portland's Wednesday Farmers Market at Shemanski Park is a popular lunchtime destination.
Lease terms leverage advantageous economic conditions
When TriMet negotiated terms for the lease agreement at One Main Place in late 2021, it represented the largest new commercial lease agreement in the state of Oregon. The agency's total investment over the 11-year term of the lease is about $33 million, a total that Board member Thomas Kim described as a "heck of a deal," when the Board approved the terms in early 2022. We were also able to secure advantageous terms for the lease, as the region grappled with the economic realities of the COVID-19 pandemic, including a central city with a growing inventory of vacant office space. TriMet's real estate broker, Cushman & Wakefield, estimates Downtown Portland's vacancy rate was 20%, at that time.
TriMet previously leased more than 50,000 square feet of administrative office at Harrison Square, an office building about a half mile south of One Main Place. The 10-year agreement for that property expired in June. Should TriMet have stayed, the agency would have been responsible for a much larger financial obligation under a longer lease term. It was projected at $44.2 million, compared to $33 million at One Main Place. 
We reviewed 27 potential locations before selecting One Main Place. The building checked many of the boxes in our search criteria, including a location that is well-served by transit, near a vibrant neighborhood and is seismically resilient.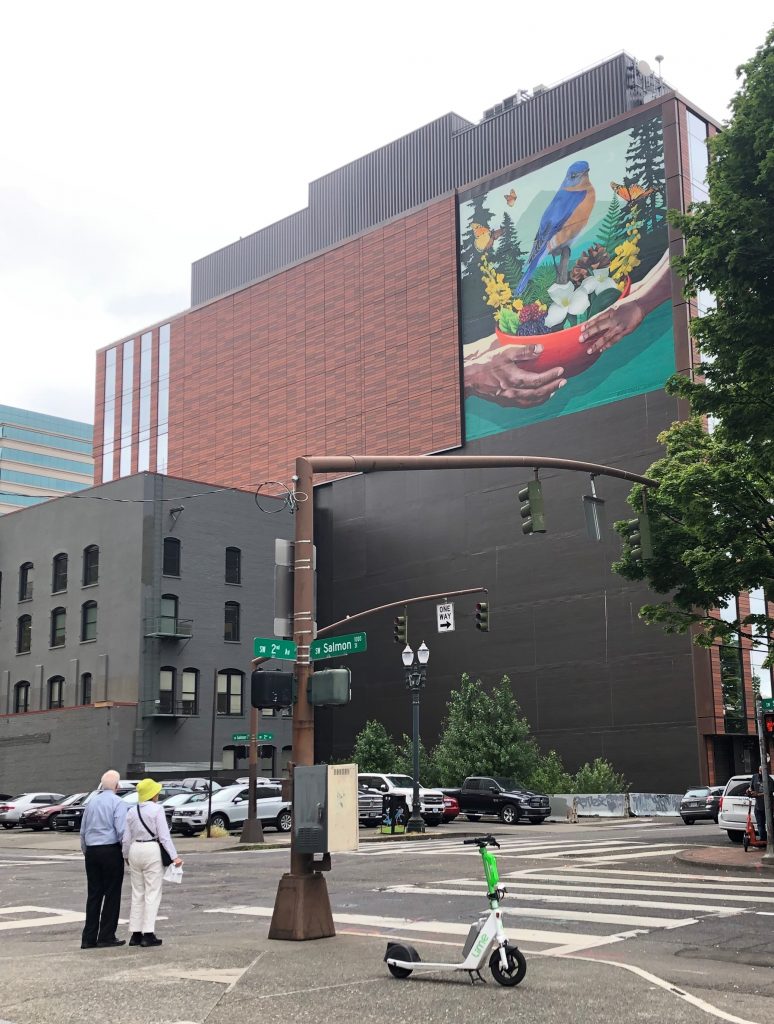 A new home away from home, for our administrative employees
About 275 people, nearly half of TriMet's 600 non-union employees, will report to One Main Place at least one day per week under the revised telework policy that brought administrative workers back to the office in January 2023. Having TriMet staff report to work in person boosts ridership, as many use transit and forms of active transportation, such as biking, to get to the office. While the building provides free bike parking to our employees, we do not have space for employees to park personal vehicles. There is limited access for agency-owned vehicles that are used for work purposes.  
Fare increase revenue dedicated to service
Earlier this year, the TriMet Board of Directors approved the agency's first increase in Adult fare in more than a decade. It takes effect in January 2024. One hundred percent of the revenue that TriMet collects from fares is dedicated to the maintenance and operation of our transit service. None of the funds will be directed toward the lease at One Main Place. Annual payments for the lease at One Main Place are included in TriMet's annual budget for leased facilities.