Major construction to enhance reliability will mean only TriMet shuttle buses will take riders between PDX and Gateway Transit Center for the next four months
TriMet is nearing the start of a 126-day disruption to the MAX Red Line beginning on Sunday, June 18. No MAX trains will run between Gateway Transit Center and Portland International Airport for four months, the longest planned MAX disruption in TriMet's history. If you've already booked plane tickets and were planning to take MAX to PDX, don't worry, we'll still have you covered, with shuttle buses serving Gateway, PDX and all the closed stations between. With shuttle buses taking surface roads to and from the airport, you will want to plan at least an extra 30 minutes for your trip.
The shuttle buses will run the duration of the disruption, June 18-Oct. 21, to match normal weekday and weekend MAX Red Line schedules, arriving and departing about every 15 minutes. Red Line trains will continue running west of the Gateway Transit Center during the duration of the project.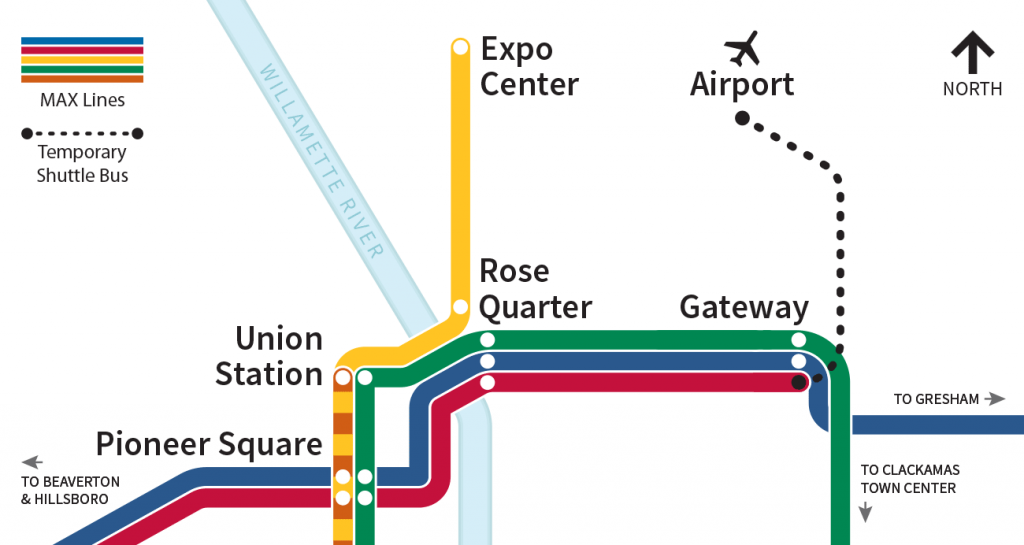 This phase of the project is the most extensive yet for our A Better Red MAX Extension and Reliability Improvements Project. Crews will completely remodel the Portland International Airport MAX Station and build a two-thirds mile long second track near PDX. We're also going to use the closure to perform nearly 20 other upgrade and maintenance projects in the closed section between the Gateway Transit Center and the airport. This will include everything from repairs, inspections and equipment installations to graffiti removal, rail welding and replacement.
Tips for MAX Red Line summer riding
Plan your trip in advance: Whether you have a flight to catch in August or you take the MAX Red Line every day, now is the time to start planning your travel using trimet.org/planner. You can plot your trip in advance with this online trip-planning tool, which will provide an estimated ride time using a shuttle bus. You can also sign up to have service alerts delivered directly via text or email, giving you the information you need, immediately, to make informed travel decisions.
Check trimet.org before you go: TriMet's webpage continues to improve to meet the needs of riders. In addition to being able to sign up for alerts at trimet.org/alerts, you can also see when your next train or bus is arriving. You can even see the real-time locations of all our vehicles. MAX trains are now even color-coded to better help you identify and track the vehicle you need.
Expect fuller shuttle buses: Shuttle buses will be running about every 15 minutes between Gateway Transit Center and Portland International Airport to move riders around the disruption.Because they're smaller, some buses may be more crowded than our trains normally are, especially when people are traveling with a number of suitcases. This may happen at unexpected times, like when flights have landed. We will have On-Street Customer Service at PDX during the duration of the project, and you may also see TriMet supervisors and our Ride Guides assisting riders and managing loads. Thank you for your understanding, and we appreciate your patience and respect of our customer-focused staff, as their goal is to get you around the disruption safely and as comfortably as possible.
Stay alert—and ask questions: Look for signs posted at the Gateway Transit Center and PDX (as well as our closed stations) directing you to shuttle bus locations. A yellow shuttle bus banner will mark the location where buses will load and unload passengers. But when in doubt, ask. We will have personnel at Gateway and PDX to assist riders and answer questions. You can also call or text TriMet's Customer Service team at 503-238-RIDE (7433) daily between 7:30 a.m. and 5:30 p.m. Or you can drop us a message on Twitter by tweeting @trimethelp.
A Better Red

Before it was completed in 2001, light rail to Portland International Airport had been part of regional master planning since the 1980s. Now, more than two decades later, TriMet's esteemed train-to-plane trip is poised to spread its wings and fly farther. This is to meet the growing demands of the region and foster even better connections among how people work, recreate and travel.
Our A Better Red MAX Extension and Reliability Project will extend the MAX Red Line ten stations west, from Beaverton Transit Center to Fair Complex/Hillsboro Airport. It's also adding another track and additional infrastructure near Gateway Transit Center and Portland International Airport to improve train movement and keep trains moving throughout the MAX system
A multi-year project scheduled to complete next year and fully open to the public in fall 2024, A Better Red is now more than 65% completed. For more information on the project, visit trimet.org/betterred.