TriMet's new FX2-Division line uses special signals at key intersections that let buses bypass red lights to skip congestion
When our new FX2-Division bus line opened last month between Downtown Portland and Gresham along Division Street, a lot of people asked: "What makes it faster?"
Everything about FX is optimized for getting people to their destinations efficiently, from the high-capacity bus with multi-door boarding to the station platforms that we placed at key locations, to avoid unnecessary stops. These are the types of tools that are more likely to get noticed by our riders.
What drivers who share the road are starting to note is that FX buses use special lanes and signals that help keep them moving around traffic. The signals are new, and some look a lot different from your standard red/yellow/green traffic signals. That's leading to claims that our buses are running red lights. The fact is they're not. Our FX bus operators are following signals for buses only, that keep our riders moving and make FX the faster, better way to go.
Reports of green buses running the red
FX2-Division has the benefit of transit signal priority. In partnership with transportation teams at the cities of Portland and Gresham and ODOT, we're using next-generation transit signal priority technology at 58 intersections along the route to keep FX buses moving. The technology can keep some green lights green longer or shorten red lights to keep the buses rolling. But at seven intersections between 117th and 162nd avenues, there's a separate signal for our buses that many other drivers are overlooking.
Since FX service launched on Sept. 18, TriMet has received numerous claims that our big green buses are running red lights, among them:
"FX2… talked to him at light and said he is allowed to run them… I was in a dump truck at 122nd heading eastbound." (Submitted Sept. 29)
"I am driving on 148th and Division … The bus operator had his blinker on, went up to the light and stayed in that lane, pulled up to the light and proceeded to go through the intersection at a RED LIGHT. Literally ran the RED light." (Submitted Sept. 30)
Understanding the signals
"It's likely that they can't see the light that our operators are following," said TriMet Bus Training Supervisor Jeff Muceus. "Therefore, it does appear that we're running a red light."

The intersections at Southeast 122nd and 148th on Division are among those with the special transit signals for FX buses. Instead of the traditional red, yellow and green globes, the bus signal shows a white horizontal bar, a flashing triangle and a white vertical bar. Our bus operators are trained to proceed through the intersection on a vertical, prepare to stop when they see a flashing triangle and come to a complete stop for a horizontal bar.
The signals on Division are designed to keep buses moving as part of the faster FX service. Even when an operator is signaled to stop, the bus won't be delayed for long.
"If a signal times out, the triangle will flash, then the horizontal bar will come on, and the bus will wait for another few seconds for the signal to come back on," explained Jeff.
Speeding up buses and riders
While not all intersections along the FX2-Division route have dedicated signals for buses, they are all coordinated to move buses and riders faster. There is a constant stream of technology and communication taking place between the buses, signals, receptors and transmitters. Working together, these components can add up to big travel time savings for bus riders.
"FX means Frequent Express, so what we're trying to do is keep our buses moving. Every one of those lights tries to help the buses keep moving," said Jeff.
FX–Fast, frequent, efficient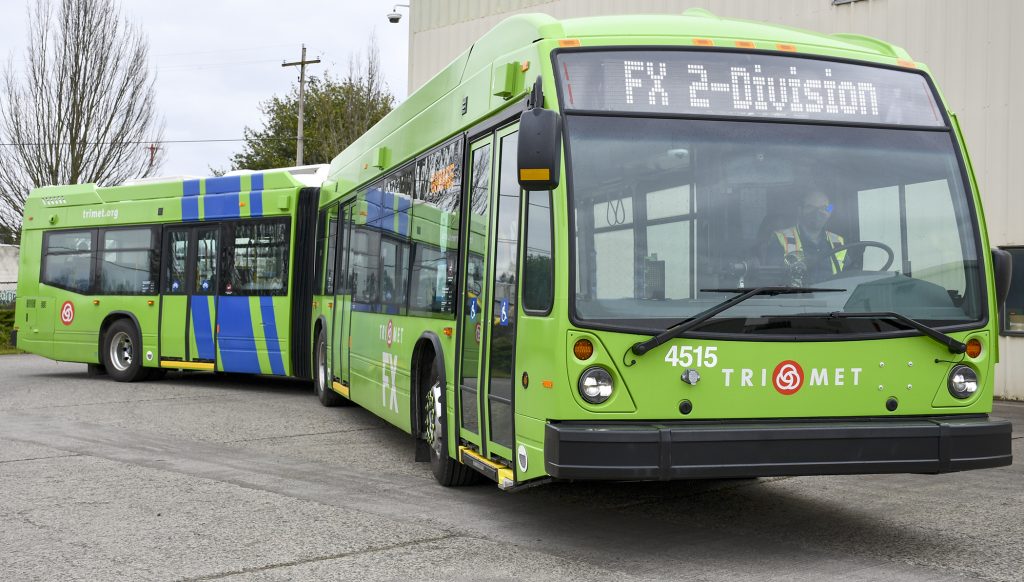 The $175 million Division Transit Project laid the foundation for TriMet FX™—Frequent Express—a faster, higher-tier, high-capacity bus service for the Division Street corridor between Gresham, East Portland, Southeast Portland and Downtown Portland. Service opened on Sunday, Sept. 18, with TriMet's new, 60-foot, articulated buses serving dozens of newly constructed stations throughout the route. Learn more about our service and plan your next trip at trimet.org.