TriMet thanks our partners for helping to make riding the bus to work, school and many other destinations faster and easier with improvements completed during the COVID-19 pandemic
Two years after the COVID-19 pandemic caused thousands of Oregonians to change their daily routines, people are heading back to the office. We're excited to let riders know that some bus trips are now faster, thanks to improvements made during the pandemic to speed up rides and keep buses on time. We appreciate the work of our partners, like the Portland Bureau of Transportation (PBOT), to make transit better by making investments that also make riding faster, more reliable and convenient.
Five options to get there faster
We've been working with PBOT since 2017 to find new opportunities to speed up our buses and keep them out of traffic. Through initiatives such as its Rose Lane Project, PBOT has made key improvements that help riders across the region get to work and back home again more quickly than before the pandemic. In 2019, PBOT became the first transportation bureau within our tri-county district to reduce delays by using red paint to highlight sections of road where transit vehicles get priority. 
These five popular lines offer faster, more reliable bus trips, with improvements completed after March 2020:
Line 6-Martin Luther King Jr Blvd: New, red transit lanes on Martin Luther King Jr. Boulevard and Grand Avenue speed up rides throughout the day.
Line 14-Hawthorne: New, red transit lanes on Hawthorne Boulevard and Madison Street give buses the go-ahead to get around traffic and keep riders moving.
Line 15-Belmont/NW 23rd: A shorter, more streamlined route speeds up buses for trips traveling through Downtown Portland with new bus lanes on Alder Street (coming May 15).
Line 19-Woodstock/Glisan: A shorter, more streamlined route speeds up buses for more trips to Downtown Portland..
Line 35-Macadam/Greeley: New bus-only lanes on Greeley Avenue speed up the morning ride to Downtown Portland.
Partnerships beyond Portland
Recognizing that when more people ride transit, there's less traffic congestion and pollution, partners throughout the region are committed to making the system work better for everyone. In 2021, the Oregon Department of Transportation (ODOT) installed a new left turn signal at Southeast 82nd and Monterey that helped speed up five bus lines – 29, 30, 31, 79 and 152 – that serve Clackamas Town Center and communities across Clackamas County. In addition, riders in Clackamas County benefited from an update to Line 99-Macadam/McLoughlin that removed a half-mile of travel, speeding up trips and keeping riders on time in Oregon City.
Tips for returning to transit
We recognize that it's been a while since many of our regular commuters have been on board. We have tips to make your return to the transit system easier:
Visit trimet.org: Make our new and improved website your first stop! Plan your trip, check the schedule and get news about service alerts and disruptions. The homepage now features an interactive map, where you can check arrival times and watch your bus or train as it travels to your location.
Find your fare: Whether you're using a physical or virtual Hop, an employer or student pass, bankcard or cash, make sure your fare is ready before you ride! The good news is fares have not changed. Ride for 2.5 hours for just $2.50, or $5 for unlimited rides all day. If you're a Youth or an Honored Citizen, ride for $1.25, or $2.50 per day. With Hop you earn a month pass as you ride. Visit trimet.org/fares for more. Please remember to tap with every ride. 
Bring a mask: The Transportation Security Administration (TSA) has extended its COVID-19 mask mandate on board buses, trains and at transit hubs through at least April 18. It's best to bring your own mask, but if you forget, TriMet has free masks on board our buses and trains..
Learn more about returning to transit here.
Making transit better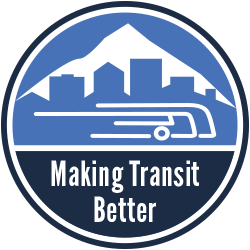 TriMet's mission is to connect people with valued mobility options that are safe, convenient, reliable, accessible and welcoming for all. Since our buses travel on roads owned and maintained by cities, counties or the state, we rely on their partnership to make transit better. We thank agencies across our three-county service district for their support and ongoing commitment to achieving these goals.
As the Portland metro area emerges from the COVID-19 pandemic, the region's population is expected to grow and the economy is projected to expand. However, our roadway space will remain relatively unchanged. If we don't provide better travel options for new residents and commuters, we'll have an additional 110,000 cars on Portland-area streets by 2035, a 54% increase.
TriMet will continue working with PBOT, regional partners and jurisdictions to innovate ways to speed up transit and make it a more viable option to access work, school, shopping and appointments. We thank our local, regional and state partners for helping us make transit better.