Benefit grants active-duty members of the U.S. Armed Forces, veterans and reserves greater access to jobs, educational opportunities, health care and services, at a fraction of the cost
TriMet is expanding our Honored Citizen fare program to honor active and former members of the U.S. Armed Forces in a lasting salute to their courage and sacrifice. We're rolling out this new, reduced-fare military benefit on the day before Veterans Day is observed, but it extends well beyond a single day of recognition. Granting Honored Citizen fare to members of the military who have valiantly served this country is year-round recognition of their heroism and sacrifice.
With Honored Citizen fare, those who currently serve or have been honorably discharged from the military can ride TriMet buses and trains for half price. Frequent riders save even more. TriMet's Hop Fastpass™ system guarantees that riders with Honored Citizen fare pay no more than $28 per month for unlimited rides on TriMet. That's a 72% savings off the cost of an Adult month pass, which is $100.
With this announcement, TriMet became the first large transit agency in the country to offer a reduced fare for both veterans and active duty military.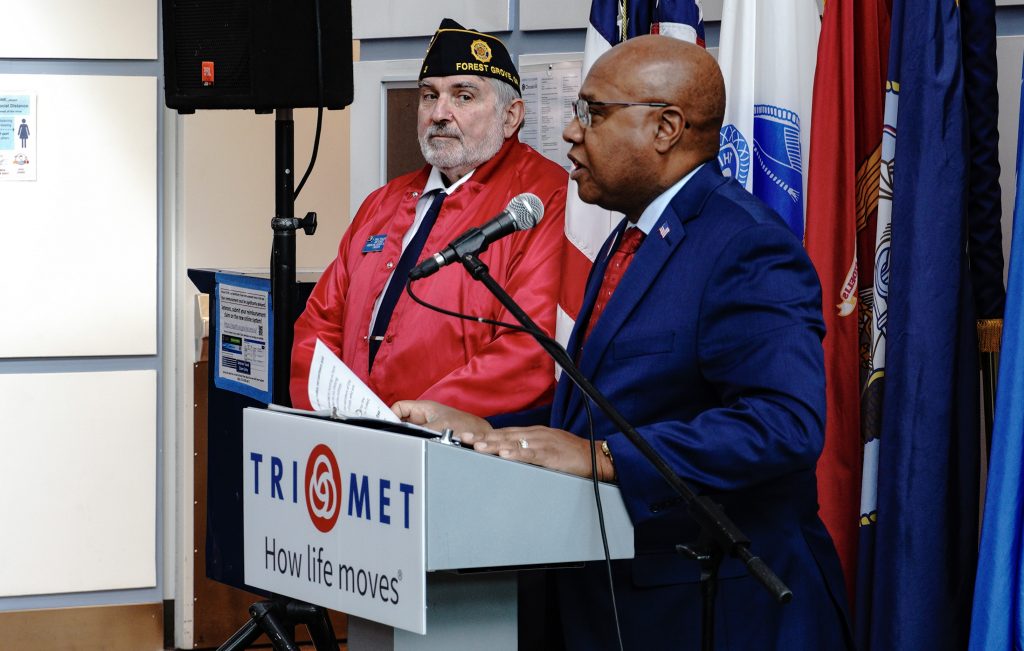 "As a veteran of the U.S. Army and a proud American, this is personal to me," said TriMet General Manager Sam Desue Jr. "With this program expansion, TriMet will give active duty military and veterans recognition and respect, and we will improve their opportunities to access health care, educational services and jobs by providing rides at a reduced cost. I can think of no greater way for TriMet to honor the people who have valiantly served this country."
TriMet's Board of Directors adopted an ordinance at their October meeting that expands the Honored Citizen Program to include veterans and current members of the military. Their action came just six months after Vietnam-era Air Force veteran Dale Thaler first went before the Board to propose the change during the public hearing portion of its April meeting. He gave passionate testimony before the board again, when they began considering the ordinance in September.
"For me, Honored Citizen status isn't about the cost to ride. I don't expect a free ride, and I'm not asking for one," said Thaler. "It's about giving the recognition, the respect and the gratitude to those who are willing to make sacrifices to allow every American the opportunities and unparalleled freedoms that we enjoy."
How to sign up and start saving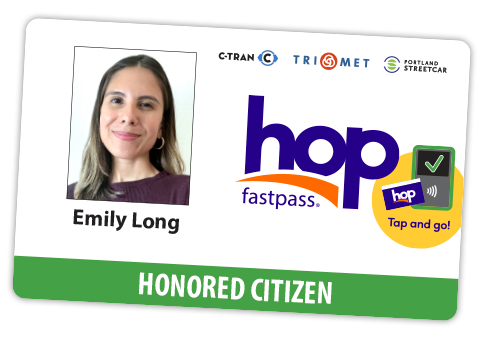 TriMet's Honored Citizen reduced fare program is open to riders based on age, disability, income level or military status. All participants must provide proof of eligibility to receive their personalized Honored Citizen fare card. Veterans, reservists and active duty military members must complete an application and provide any of the following information to the TriMet Customer Support Center in Pioneer Courthouse Square.
CAC card for active duty military
Uniformed Services ID card or driver's license with veteran classification
Copy of DD214 Certificate of Release/Discharged from Active Duty and photo ID
Members of the military will receive their initial Honored Citizen fare card free of charge. Cards will be valid for five years. Once loaded with value, the card must be tapped to a Hop reader with every ride to activate cost savings.
Committed to equity
As a public transportation agency, TriMet serves a broad and diverse community, and we are committed to equity and inclusion. Our values are rooted in ensuring all riders have fair and equal access to transit services. All are welcome on our transit system. Learn more at trimet.org/equity.