Construction activities to make way for hollywoodHUB, a community-centered, mixed-use, transit-oriented development with affordable housing, neighborhood-gathering space and modernized transit facilities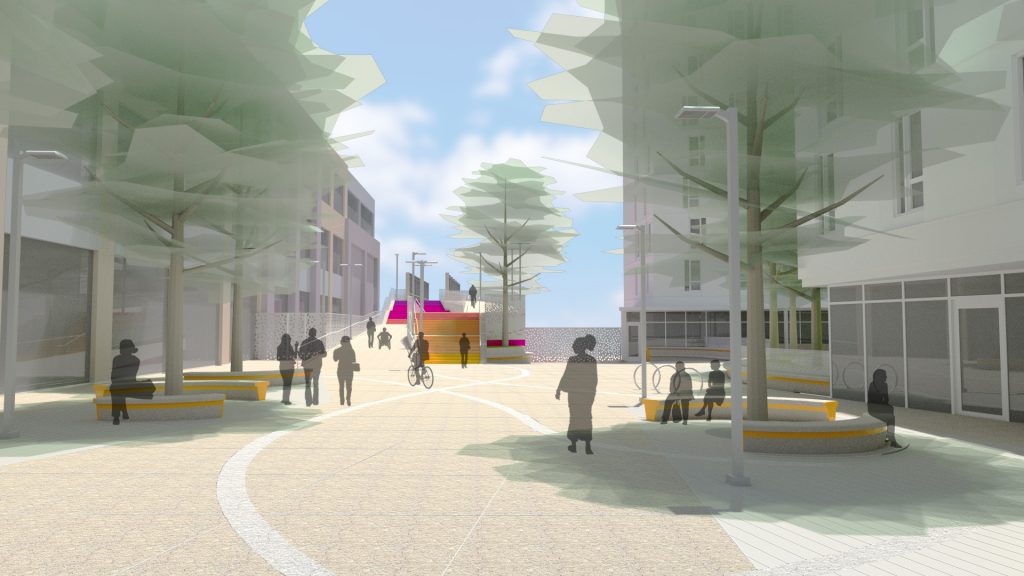 Big changes are coming to TriMet's Hollywood/NE 42nd Ave Transit Center in Northeast Portland. Construction has begun on a series of projects that will transform the transit center into affordable homes, bustling retail and community-gathering spaces – all just feet from TriMet buses and trains.
Turning underused land into homes, community space
In the coming years, what had been nearly 35,000 square feet of underutilized land will become the site of hollywoodHUB, a mixed-use building and community space, with some 224 permanently affordable apartments. The former dead-end portion of Northeast 42nd Avenue will become a new public walkway, featuring a redesigned connection to the Hollywood MAX station.
For TriMet, the project represents an opportunity to fully realize the potential of an underutilized site. The Hollywood Transit Center opened in 1986 as part of the original 15-mile MAX line between Gresham and Downtown Portland. Changes over the past 37 years, including the city's need for more affordable housing, spurred a closer look at the site as a new home for transit-oriented development and modernized transit facilities.
Temporary tribute mural being removed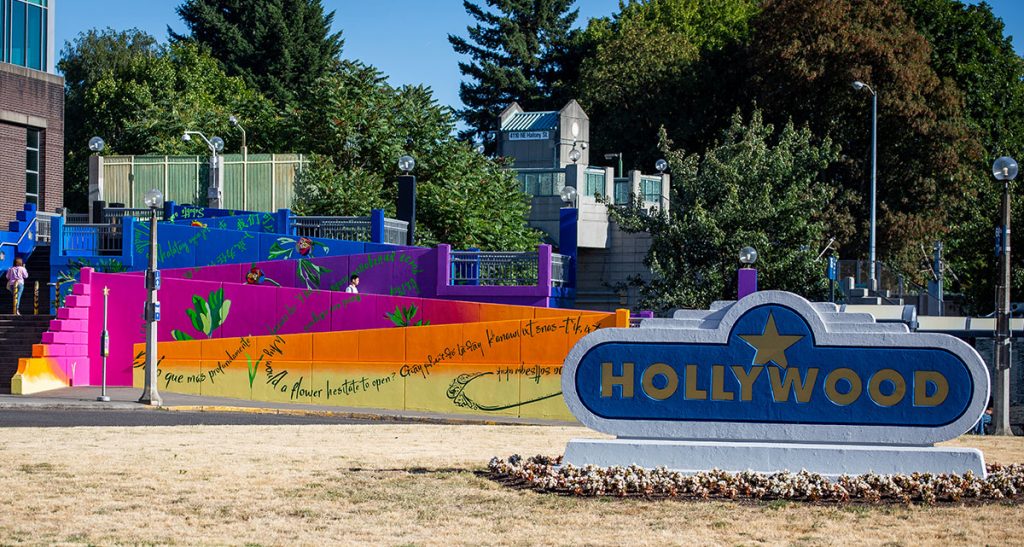 To make way for the hollywoodHUB, TriMet's must first demolish the existing ramp and stairs. A temporary, accessible structure will be installed to maintain access to and from the MAX station before TriMet creates a new, permanent ramp later in the construction. This does mean removing the tribute mural that has graced the walls of the ramp structure since 2018.
The "We Choose Love" mural, designed by artist Sa'rah Farahat, was commissioned as a temporary tribute following the devastating attack on a MAX train pulling into the Hollywood Transit Center on May 26, 2017. Ricky Best and Taliesin Myrddin Namkai-Meche were killed and Micah Fletcher was seriously hurt after coming to the defense of two teenagers targeted by an individual spewing hate.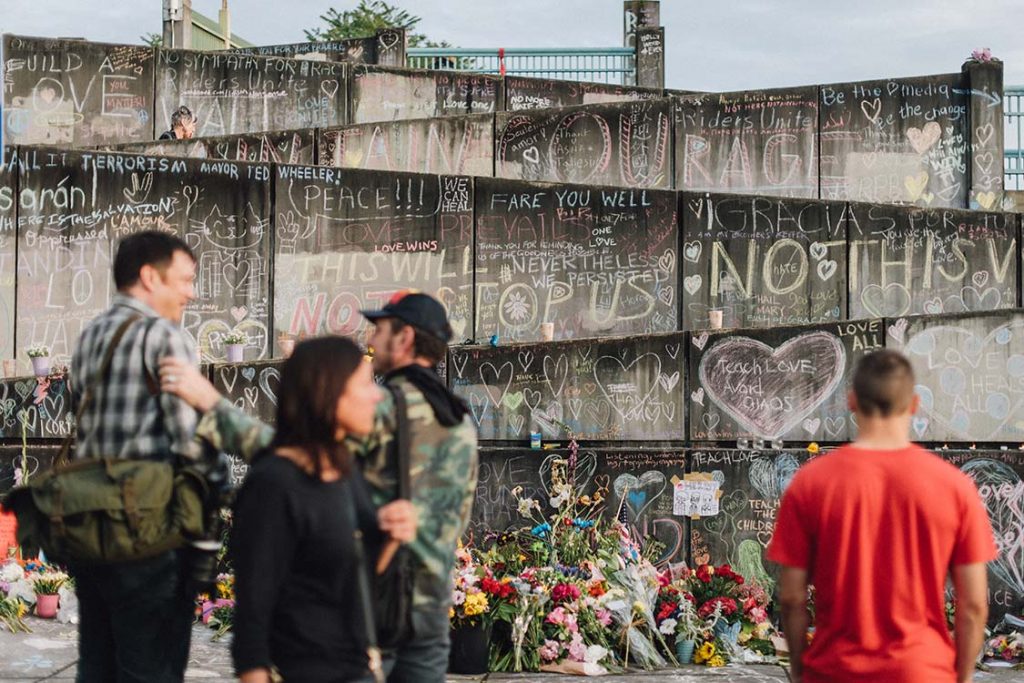 A spontaneous outpouring of emotion, support and community filled the walls of the ramp structure in the weeks after. People shared expressions of grief and gratitude in colorful chalk. That was inspiration for the design of Farahat's temporary mural that weaved together color, text and images across nearly 2,000 feet of wall space at the Hollywood Transit Center.
"I remain committed to the words that were written, spoken and made into action by citizens of Portland who demand safety and love for all," artist Sar'ah Farahat said. "To you who visited We Choose Love as a way to mourn and spread care, may the words sprout like seeds in your heart. Now is your time to bloom."
While the memorial was intended to be temporary, it will be reflected in the design of the final development. The vivid colors and calls for peace will be incorporated into the permanent ramp and walkway area as a long-lasting remembrance of that tragic day and the outpouring of love and community.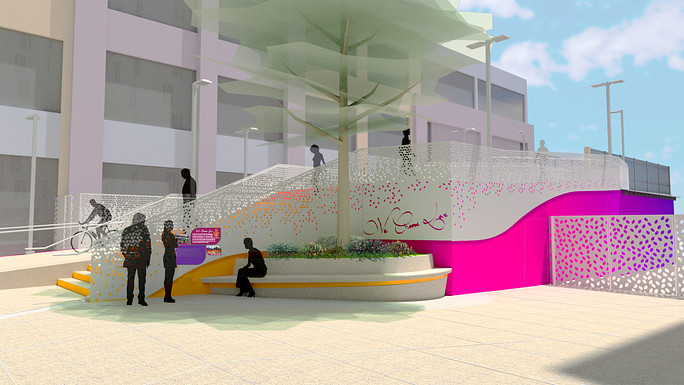 Bringing permanently affordable homes to the heart of Hollywood
The entire hollywoodHUB development project is a partnership between TriMet, developer BRIDGE Housing, and resident services provider Hacienda CDC.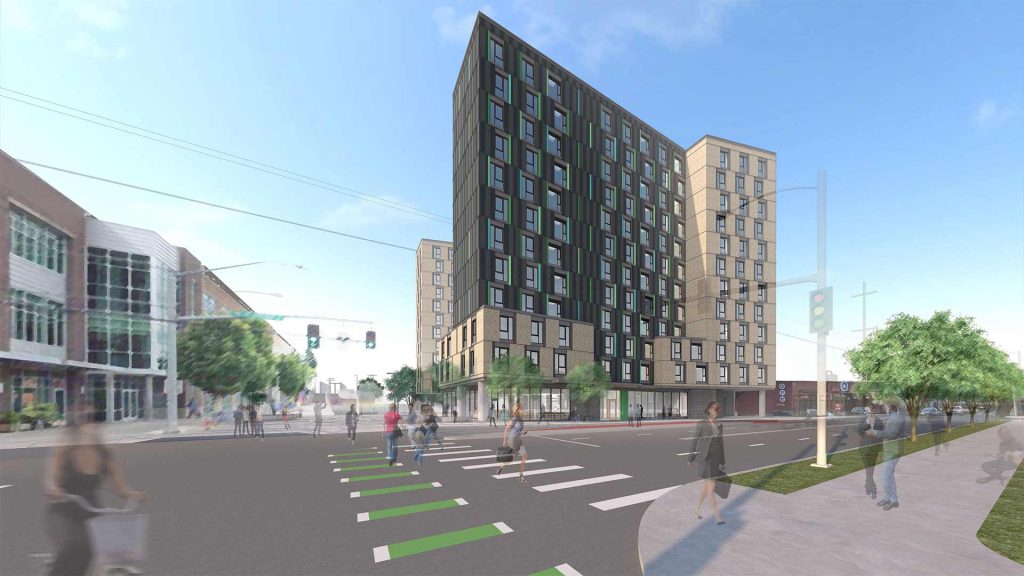 Funding for the affordable housing element comes from many sources, reflecting the building's size and its large number of units. Most notably, Portland Housing Bureau and Metro pooled resources to provide $31.95 million of affordable housing bond funding, sourced from the Portland Housing Bureau's 2016 and Metro's 2018 bond programs. With the combined resources of both bond programs supporting it, hollywoodHUB has received the largest funding award ever issued for an affordable housing project in Portland, an indication of the scale and impact of this project and the urgent need for affordable housing across the region.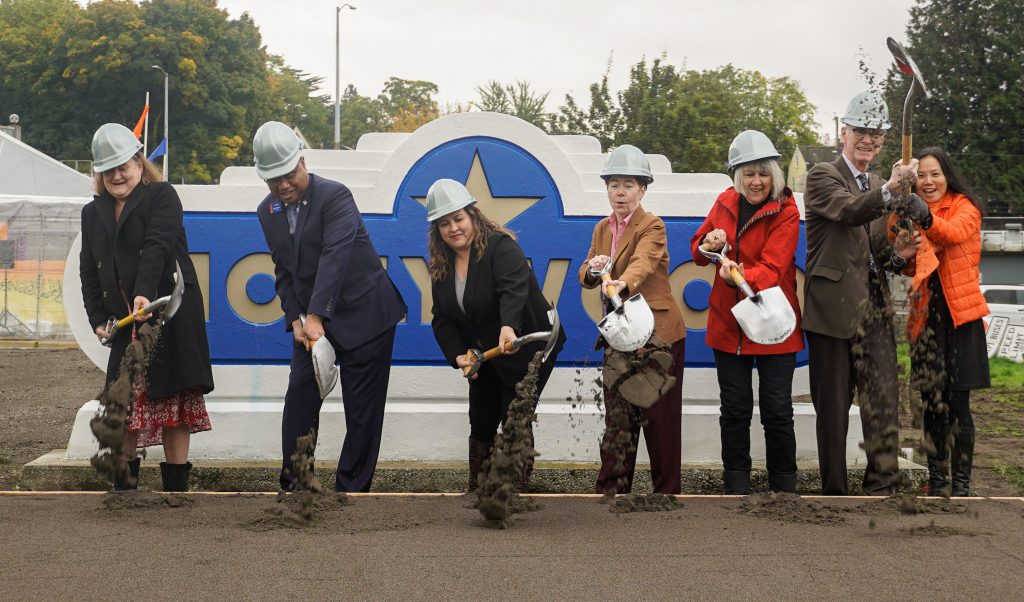 On Thursday, Oct. 26, 2023, TriMet and partners took part in an official groundbreaking to begin TriMet's ramp demolition and construction work. That will be followed, in the summer of 2024, by the first phases of constructing the hollywoodHUB development.
"This project extends beyond mere transit infrastructure. It encompasses TriMet's commitment to making our region one of the world's most inclusive, sustainable and livable places," TriMet General Manager Sam Desue Jr. said. "We're revitalizing this transit center into homes and community space seamlessly linked to TriMet's bus and MAX service and other shared mobility options."
"BRIDGE Housing congratulates our partners at TriMet on reaching this important milestone for the hollywoodHub, laying the foundation for an inclusive, equitable, transit-oriented community in alignment with our commitment to fostering vibrant and accessible neighborhoods," President and CEO of BRIDGE Housing Ken Lombard said. "Today's celebration reflects the power of our collective will to meaningfully address the housing crisis. While much work lies ahead, we're proud to partner with this stellar team to help meet the needs of working families in the City of Portland."
"We believe transit and housing are key elements to maintaining a healthy society," Metro Councilor Mary Nolan said. "This project is an example of all of us working together to take care of one another. Providing families with a stable place to live, grow and thrive is essential in building stronger communities."
"We are thrilled to be working closely with TriMet on this development," Portland City Commissioner Carmen Rubio said. "In just a few short years, hundreds of low-income Portlanders will call the hollywoodHUB home and will be able to take advantage of fantastic transit access to get to work, school and play. Thank you to the voters of Portland for supporting the Housing Bond measures that made this project possible."
The hollywoodHUB will bring 224 new units of affordable housing within steps of TriMet's buses and trains. Overall, 151 of the homes will be at or below 60% of the Area Median Income (AMI), while 71 units will be at or below 30% AMI, including 55 homes with rental assistance vouchers ensuring residents only pay 30% of their income on rent and utilities. Hacienda CDC will serve as the resident services provider, ensuring inclusive supportive services to building residents.
According to data from the National Low-Income Housing Coalition, the region is about 90,000 housing units short of meeting the needs of people living at or below poverty. In 2018, voters approved Metro's $652.7 million bond program, which earmarks money for permanent affordable housing projects across Multnomah, Washington and Clackamas counties.
Housing solutions through transit-oriented development
Once completed in 2026, the project will serve as another example of transit-oriented development in action. Such projects maximize density while creating walkable neighborhoods near transit, relieving congestion, increasing the supply of affordable housing and community resources. TriMet is not a developer, but we work with local partners or third parties to create better purposes for our underutilized properties, such as the Hollywood/NE 42nd Ave Transit Center. Other recent examples include the new East County Library, under construction on the old site of TriMet's Gresham City Hall Park & Ride, and the Fuller Station Apartments. Completed and opened for residents at the end of 2021, the Fuller Station development features 100 apartments for families and individuals who earn between 30% and 60% of the area median income.
For more information about TriMet's Transit-Oriented Development program, visit trimet.org/tod.
Inclusive collaboration in Hollywood Transit Center transformation
TriMet and BRIDGE Housing share ambitious goals for disadvantaged business enterprise (DBE), minority-owned, women-owned, service disabled veterans business enterprises and emerging small businesses (ESB) participation in project design and construction. TriMet's prime contractor for the Hollywood Transit Center Project is Raimore Construction, a federal and Oregon certified MBE & ESB, with minorities comprising more than 80% of its staff, including all supervisory and management personnel. BRIDGE Housing has brought on O'Neill-Walsh Community Builders to construct the hollywoodHUB. The general contractor is 49% minority owned.