FX reduces travel times by up to 20% with transit priority and bigger buses running more often
The first TriMet FX™–Frequent Express–bus line celebrates one full year of service this month with two impressive success stories: increased ridership and proven, faster transit service!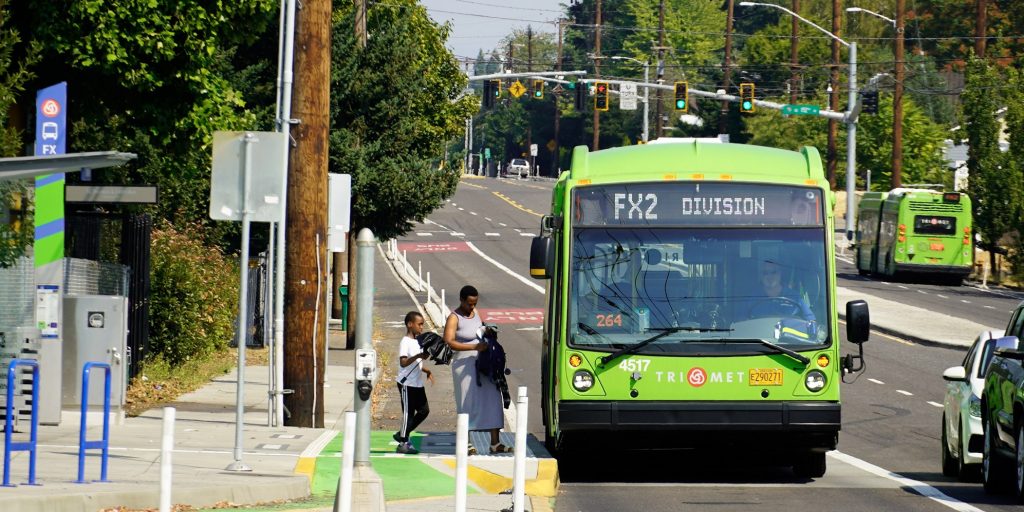 We launched the FX2-Division line on Sunday, Sept. 18, 2022. Our big, green, FX articulated buses rolled along the 15-mile Division Street corridor between Downtown Portland and Gresham. And, FX-Frequent Express–has lived up to its name, delivering fast, frequent and more reliable bus service.
FX also is bringing more people on board. In its first year, the line provided 520,000 more rides than the previous Line 2–that's a 40% increase! While some of that is due to more venues opening and people returning to in-person work and studies following the COVID-19 pandemic, FX2-Division ridership is increasing faster than our system-wide ridership that went up 15% during the same period.
Opening doors to more riders
Data gathered from the first 336 days of service shows that riders took 1.83 million trips on FX2-Division between Sept. 19, 2022, and Aug. 20, 2033. The FX line averaged about 42,000 weekly rides in the spring of this year, making it the third busiest bus line in TriMet's system, outpaced only by Line 72-Killingsworth/82nd Ave and Line 20-Burnside/Stark.

The 15-mile FX2-Division route extends from the Cleveland Ave Park & Ride in Gresham to the Portland Transit Mall. FX buses use TriMet's car-free Tillikum Crossing, Bridge of the People, to cross the Willamette River. Joining several bus lines and the MAX Orange Line, FX expanded options for transit connections to the South Waterfront and Portland State University.
A higher-tier transit experience
Articulated buses returned to our fleet for the first time in about 25 years, with the 60-foot Nova buses that are dedicated to FX. The buses have space for 60% more people on board and other features that make the service more efficient, including all-door boarding and a bike area inside. Like all of the diesel-powered buses in our fleet, FX buses run on R99 renewable diesel. That's a cleaner-burning yet chemically identical fuel that reduced TriMet's greenhouse gas emissions from our fixed-route buses by 61%.
We did have to temporarily pull all the 60-foot buses from service beginning in November 2022. This was due to a mechanical defect that TriMet discovered in the buses that prompted an industry-wide recall. Buses began returning to service in early 2023, equipped with safety fixes that were identified, tested and installed in partnership with TriMet.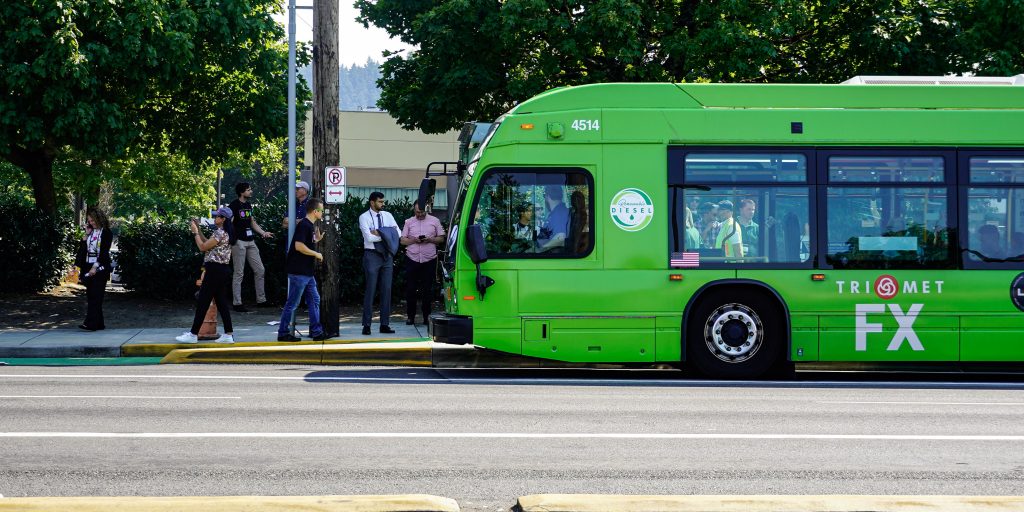 Transit priority signals and lanes save riders time
FX buses move people faster and more efficiently thanks to a next-generation transit priority signal system and bus lanes in key locations. The cutting-edge transit priority signal system is a first-of-its-kind for North America. It's installed at 57 intersections along the Division corridor, between Southeast 11th Avenue and Division and Gresham Central Transit Center.
Earlier this summer, TriMet and the Portland Bureau of Transportation (PBOT) conducted a study to calculate the time savings experienced when transit-signal priority was turned off compared to when it was on. That study, which was commissioned by the Federal Highway Administration, found roundtrip travel times decreased by up to 8.2 minutes when the system was turned on.

Also helping buses move faster are Business Access & Transit (BAT) lanes at key locations. Buses move around traffic, and combined with the transit priority signals, go first when lights turn green. The longest stretch of BAT lanes on FX2-Division spans 12 blocks eastbound between Southeast 110th and 122nd avenues. Many of the transit priority treatments along the route are highlighted with red paint like many of the Rose Lanes in Portland.
Buses arriving every 12 minutes or better
FX2-Division expands on the success of TriMet's Frequent Express service network, which includes 17 bus lines and all five MAX lines, with arrivals every 15 minutes or better. FX buses come even more often, arriving every 12 minutes for most of the day, every day. All-door boarding, bikes on board and stations located where demand is greatest, also make FX more efficient.
We're using the data collected through the transit signal priority system to help keep buses on time. On Aug. 27, 2023, we adjusted FX2-Division schedules up to four minutes as part of our regular, annual service changes. (We also implemented our first big package of Forward Together service improvements in August! Check them out here.)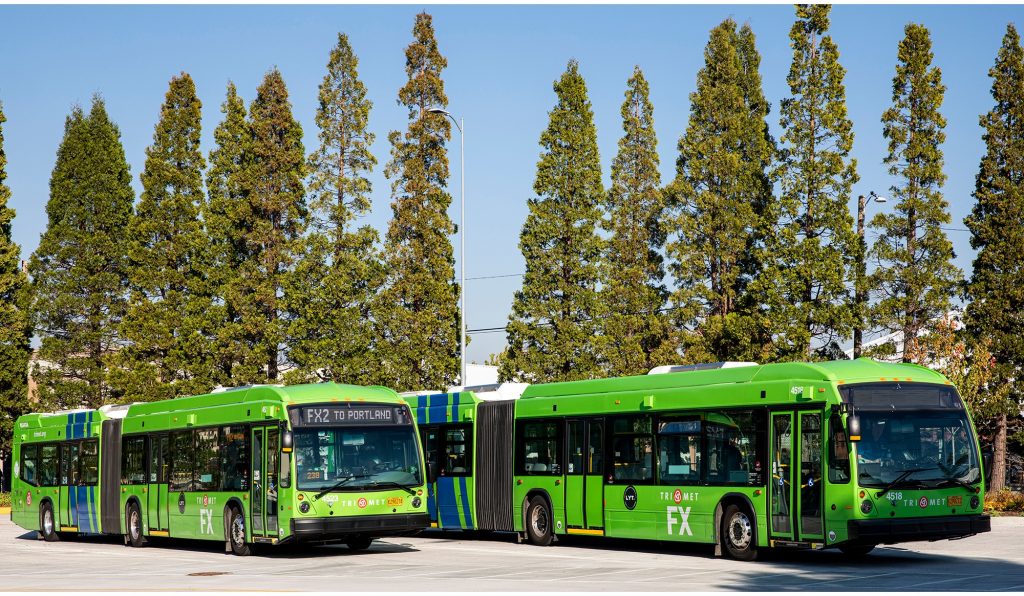 A roadmap for our future
TriMet would like to expand on the success of FX with additional Frequent Express lines in the future. Working with Metro and other regional partners, we are in the very early stages of planning for FX on 82nd Avenue, to put faster, reliable transit at the center of its transformation into a safe, vibrant and thriving corridor.
Earlier this summer, Oregon's Congressional delegation announced a $630,000 Federal Transit Administration (FTA) grant to help TriMet and our partners lay the groundwork for this next project. The grant will fund part of the design work. That, along with safety and accessibility improvements by the City of Portland, will allow TriMet to better compete for funding to build an FX line on 82nd Avenue. The announcement followed U.S. Transportation Secretary Pete Buttigieg's Portland visitto the Portland region in June.