In addition to 'Better Red' construction, TriMet will be upgrading rail, wires, stations and more during the three-week MAX disruption
A great deal can be achieved in just three weeks. Take for example TriMet's upcoming 21-day disruption of MAX Blue, Green and Red lines, which will see rail construction and rehabilitation work, along with other improvements, stretch from the Gateway Transit Center to NE 7th Ave. The project will close that five-mile section of the MAX system from April 16 through May 6, with shuttle buses running to serve closed stations.
Shuttle buses will depart about every five minutes from the closed stations during peak hours. During the disruption, MAX Green and Red Line trains will not travel west of the Gateway Transit Center. Riders should use MAX Blue Line for trips between NE 7th Ave and Beaverton and the MAX Orange and Yellow lines in Downtown Portland. During the disruption, there will be no service impacts to MAX Orange and Yellow lines or bus service.
All told, 15 projects will be underway concurrently, the biggest of which will be the installation of special track work at the Gateway/NE 99th Ave Transit Center. Part of the Better Red MAX Extension and Reliability Improvements Project, the special track work component will play a critical role in moving MAX Red Line trains through the new light rail configuration being built in and around the Gateway Transit Center once work is completed in 2024
Project upgrades: cleaner, newer and better
In addition to the installation of a special track component at Gateway/NE 99th Ave Transit Center, TriMet will take advantage of the three-week shutdown to complete maintenance work at the Hollywood/NE 42nd Ave Transit Center and a curved section of track at NE 43rd Ave. Running along I-84, these sections are part of the original MAX system, built in 1986. Crews will replace rail and ties and maintain the track ballast for a smoother, more reliable ride once trains return to regular service on Monday, May 7.
Elsewhere, between Gateway Transit Center and NE 7th Ave, work will include:
Cleaning the track from Gateway to NE 7th Ave.
Clearing brush and removing graffiti between the Lloyd Neighborhood and Gateway
Cleaning and pressure washing platforms from Gateway to NE 7th Ave.
Replacing the overhead contact wire that powers trains, along with the weight stacks that maintain wire tension during extremely hot days.
TriMet will also install new LED lighting, part of a system-wide move to both improve the lighting around our stations and to reduce energy consumption. LEDs are significantly more efficient than incandescent lighting, which will reduce our carbon footprint. Plus, these lights will come with controls, allowing TriMet to adjust the lighting levels as needed.
Getting around the disruption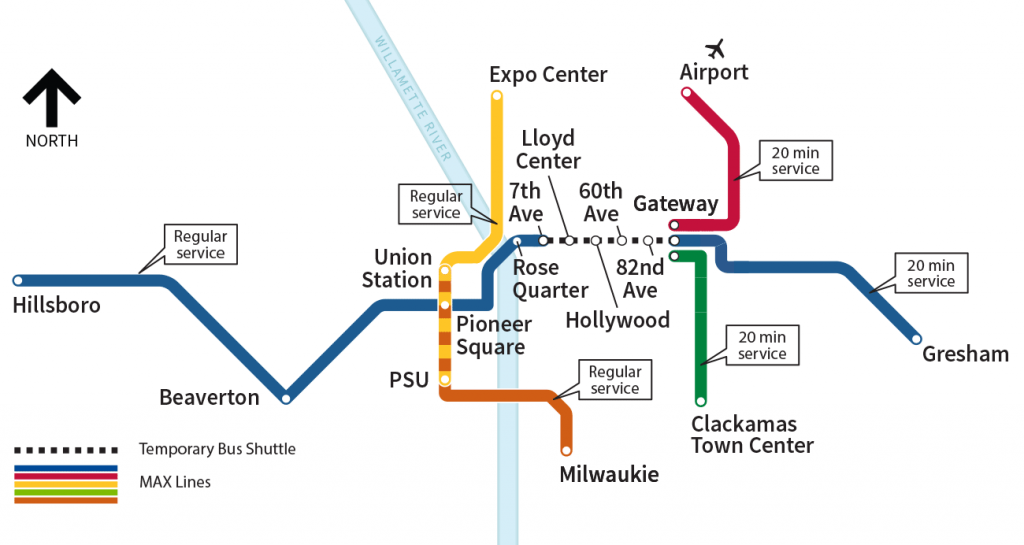 Riders will want to plan extra time during the disruption. A typical MAX trip between Gateway/NE 99th Ave Transit Center and NE 7th Ave takes about 13 minutes, while a trip on a shuttle bus will take about 30 minutes. We suggest riders plan at least an extra 30 minutes for their trips to factor in this extra time and to ensure they catch their connections, or consider using other bus service or transportation during the disruption.
Riders can plan their trips now by going to TriMet.org/planner and setting their travel date to a time during the April 16-May 6 disruption.
While our website is one way to plan your trip in advance, if you want to connect directly to a person, we have you covered. You can reach TriMet's Customer Service team by calling or texting 503-238-RIDE (7433) daily between 7:30 a.m. and 5:30 p.m. You can also drop us a direct message on Twitter by tweeting @trimethelp.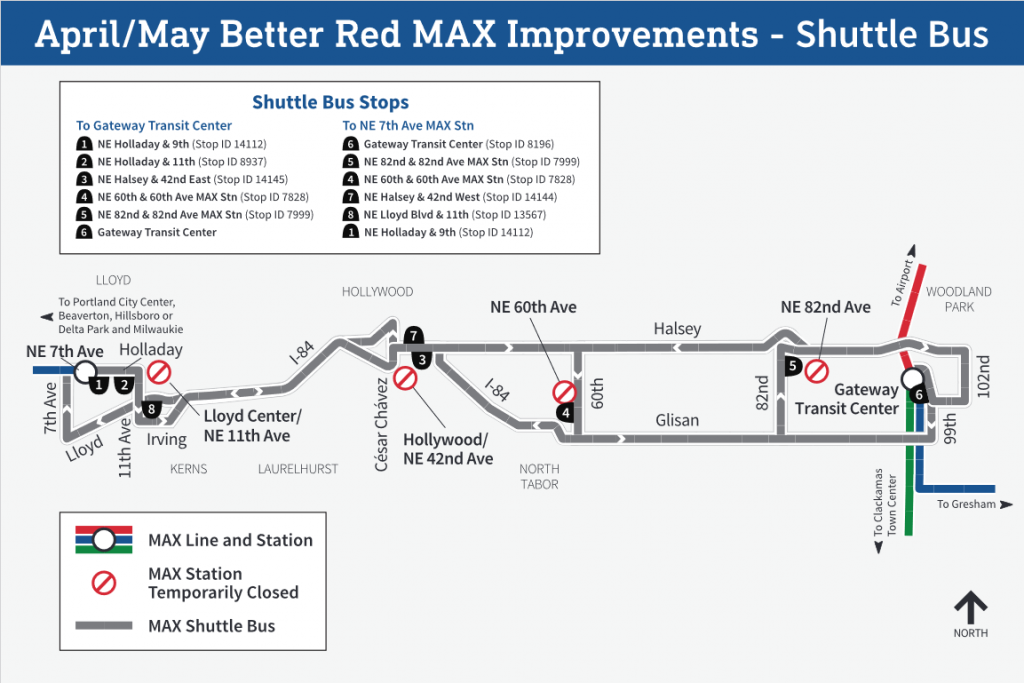 We also will also have extra staff located at Gateway Transit Center, NE 7th Ave and other closed stations to help you make your connections during the disruption. They'll help guide you to shuttle bus stops and answer any service-related questions you may have. Thank you for your patience and understanding during the disruption. For more information about the project, go to trimet.org/improvements.
A Better Red

A Better Red is right around the corner. We have finished more than 60% of the project, which is on track to be fully completed in fall 2024. Once it's done, A Better Red will extend MAX Red Line west 10 stations to Fair Complex/Hillsboro Airport, add a second track and new infrastructure to sections near the Gateway/NE 99th Ave Transit Center and Portland International Airport and add a new station, Gateway North, to serve westbound Red Line riders.
For more information about A Better Red, including a timeline of key milestones, go to trimet.org/bettered.