TriMet's reduced fare program saved riders on low incomes about $13.4 million in less than five years; sign up today and reduce costs immediately, plus receive a month of free rides
Late last month, TriMet signed up the 50,000th person to ride TriMet, C-TRAN and Portland Streetcar at a reduced rate, based on their income. The milestone came just three months shy of the five-year anniversary of when we expanded our Honored Citizen fare program to those struggling financially. This allowed thousands of Oregonians living with limited means to access vital transportation services for less. In fewer than five years, riders living on a low income saved almost $13.4 million through our reduced fare program! 
Earn less? Sign up to save big
Our Honored Citizen fare program allows qualified participants to pay half price for 2 ½-hour tickets and day passes, and enjoy additional savings the more they ride. It is available to seniors, age 65 and older, people on Medicare and people with disabilities, as well as Oregonians, ages 18-64, who qualify based on their income.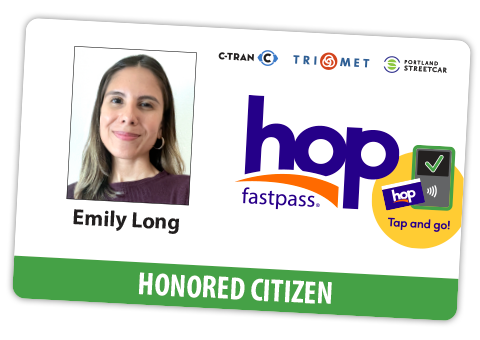 When you use an Honored Citizen Hop Fastpass® fare card, you will never pay more than $28 per month. That means you can take unlimited rides on TriMet buses and trains, as well as C-TRAN and Portland Streetcar, for 72% off the cost of Adult fare, which can add up to annual savings of $864 or more! 
TriMet began offering enrollment in the Honored Citizen reduced fare program to people with qualifying incomes in July of 2018, with new funds from Keep Oregon Moving (HB 2017). Participants qualify if they earn up to double the federal poverty level, which equals $29,160 per year for an individual or $49,720 for the head of a three-person household. Riders already enrolled in programs such as Oregon Health Plan (OHP) or Free & Reduced Price Lunch can immediately qualify with proof of participation. Photo I.D. is also required.
During the COVID-19 pandemic, we made some changes to make enrollment easier. You can now apply online, in person at the TriMet Customer Support Center at Pioneer Courthouse Square, or with one of our trusted community partners. All participants receive a personalized Honored Citizen Hop card. Once the card is loaded with funds, you can start saving right away! Remember to tap your card with every ride, and Hop adds up the savings for you.
One month of rides free!
Once you complete enrollment for Honored Citizen fare based on income, we'll set you up to ride TriMet for free for one month. Here's how. Using funds from Keep Oregon Moving, we'll load your new Honored Citizen Hop card with a "TriMet Transit Assistance" pass. Tap the card to activate the pass, and remember to tap with every ride to show proof of valid fare. You will not be charged during the month-long period in which the pass can be used.
Partnerships provide a safety net
TriMet understands that for some, $28 per month is a hardship. That's why we partner with more than 160 community-based organizations, agencies and service providers throughout our region, to put free and reduced fare into the hands of those who need it. Since 2015, we have provided more than $30 million to our Access Transit Fare Programs, including $12.1 million in assistance to community and government agency partners. These programs were designed to increase independence, improve access to employment and employment resources, and provide community connections for thousands of people in our community with low and limited incomes.
Proposed fare increase
TriMet's Board of Directors is considering a fare increase proposal that, if approved, would take effect on Jan. 1, 2024. Currently the proposal calls for increasing Adult 2 ½-hour tickets and LIFT single ride tickets by 30 cents to $2.80. Honored Citizen and Youth 2 ½-hour tickets would increase by 15 cents to $1.40. Adult day passes would go up by 60 cents to $5.60, and Honored Citizen and Youth day passes would go up by 30 cents to $2.80. 
The proposal calls for no change to monthly and annual fares and caps. TriMet's Honored Citizen fare would remain at $28 per month. As a result, riders using the Honored Citizen Hop card will reach their monthly fare cap faster. After tapping for 10 day passes, they'll ride free for the rest of the month. The Board is scheduled to vote at its May meeting on May 24, 2023.