TriMet can take you to and from many of the season's celebrations, but always plan ahead before you go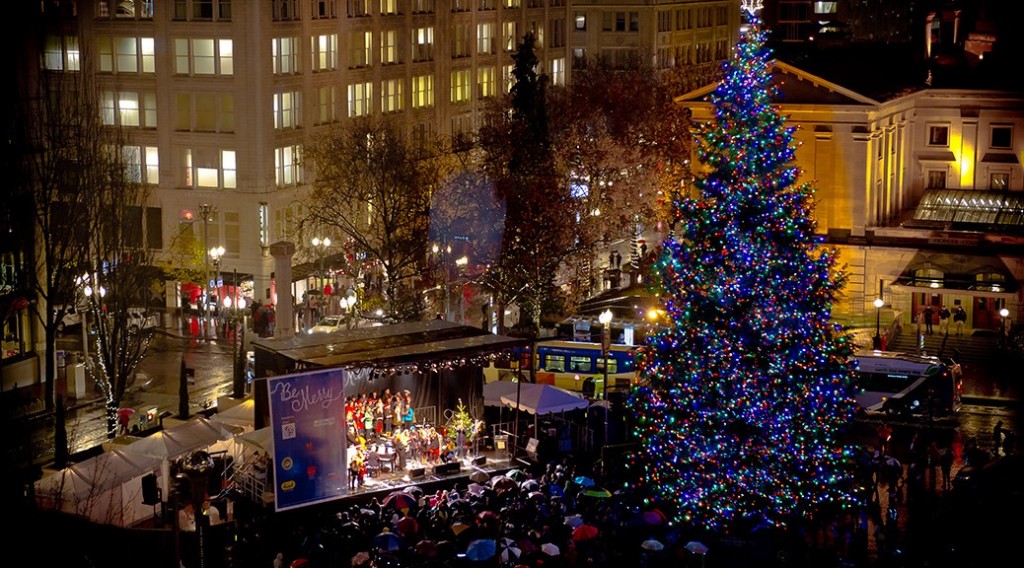 Following two years of virtual winter holiday events, TriMet is excited to welcome you back for this year's tree lighting when it returns to Pioneer Courthouse Square in person on Friday, Nov. 25. Expect Portland's living room to be bustling with holiday cheer beginning in the afternoon ahead of the 6 p.m. lighting.
With thousands anticipated to pack into Downtown for the event, we've got you covered and can help you get there and back home conveniently. But the crowd will also mean some adjustments to our service will be needed to help keep everyone safe and moving. Before leaving, check trimet.org and plan some extra time in case you experience delays.
Plan ahead, go early
In past years, as many as 15,000 people have made the trip Downtown for the tree lighting. A big crowd is expected this year as well, to catch 14,000 lights blink to life on a 75-foot-tall Douglas Fir —and all the fanfare surrounding it!
We suggest planning your trip in advance and heading to the celebration early.
MAX service
Starting Friday afternoon, TriMet will be adjusting MAX service through Downtown due to crowds. From 3-7 p.m., MAX Blue and Red line trains will stop serving both the north and south Pioneer Courthouse Square stops, while the MAX Green and Yellow lines will bypass the Pioneer Courthouse/SW 6th Ave MAX Station. During the closures, trains will stop at the stations for safety but will not open their doors.
Bus service
Bus stops along a portion of Portland's Transit Mall will also be affected. From 4-7 p.m., all bus lines on SW 6th Avenue (1, 2, 4, 8, 9, 12, 17, 19, 35, 36, 43, 44, 54, 56, 94 and 99), along with C-TRAN buses, will not serve stops between SW Salmon and Washington streets. Buses will detour via SW 4th Avenue.
Around the time that Santa Claus flips the light switch at 6 p.m., riders should expect delays extending into the evening. Trains will stop for longer to allow people to safely leave the square. We'll get the trains rolling and back on schedule as soon as possible!
Other sparkling holiday events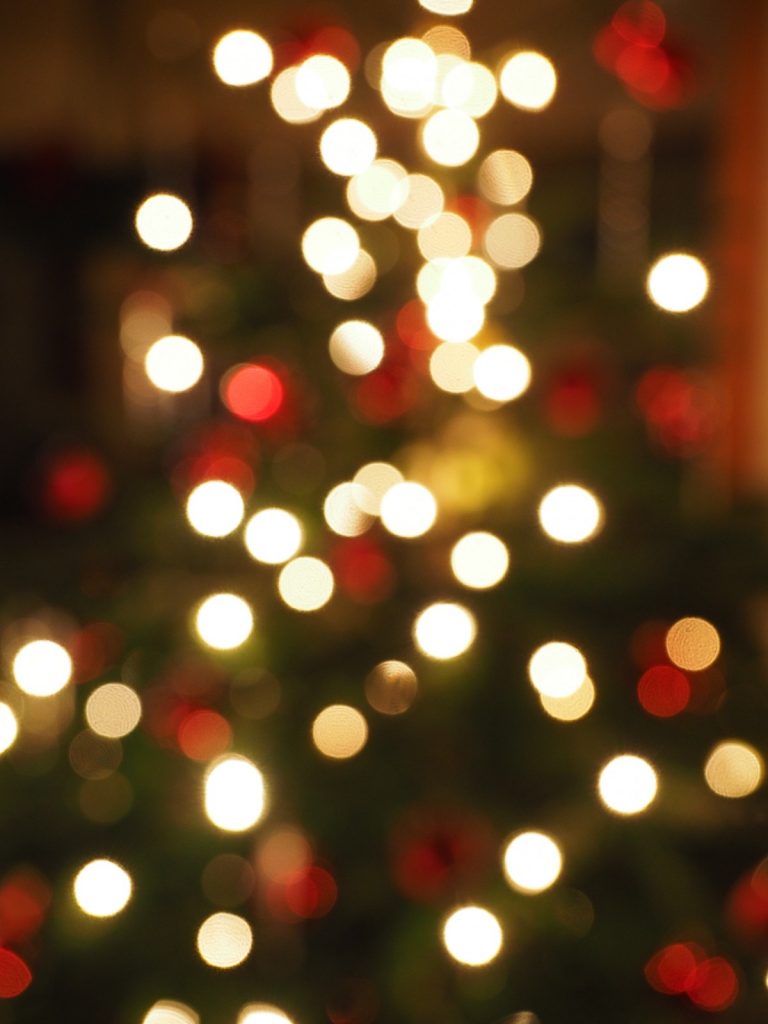 Downtown's Pioneer Courthouse Square celebration won't be the only holiday tree-lighting event this year. And for many of the others, TriMet can be your safe, reliable and convenient travel option. Here are a few events where TriMet provides quick and easy access:
Spirit of Gresham Tree Lighting: 5-6:30 p.m., Saturday, Dec. 3, Gresham's Arts Plaza, 401 NE Second St.
Gresham is kicking off the holidays with its annual tree lighting at the Arts Plaza, located within walking distance of the Gresham Central Transit Center, served by MAX Blue Line.
Beaverton Winter Lights Holiday Bazaar and Tree Lighting Event: 2-7 p.m.,Beaverton City Park, SW Hall Boulevard and SW Third Street.
Beaverton's celebration promises to be a day filled with festivities culminating in the tree lighting ceremony at 7 p.m. at Beaverton Central Park. The park is located about a half mile from Beaverton Central MAX Station, served by MAX Blue Line. A number of bus lines also stop near or around the park. To plan your trip, go to trimet.org/planner.
Milwaukie Umbrella Parade and Tree Lighting: 4-6 p.m., Saturday, Dec. 3, South Downtown Plaza, 11222 SE Main St.
Milwaukie's tradition of decorating umbrellas and parading them through downtown before the tree lighting continues this year at the South Downtown Plaza. The plaza, located at 11222 SE Main St, is just a three minute walk from Milwaukie/Main St MAX Station, served by MAX Orange Line.
Just remember, a day pass costs $5 for adults and $2.50 for youth (ages 7-17) and honored citizens (ages 65+). Kids 6 and younger ride free. Make sure you tap the Hop reader with your contactless credit/debit card, phone equipped with a mobile wallet or your physical or virtual Hop card (stored on your phone) every time you board. It's your proof of payment.  
Be safe and courteous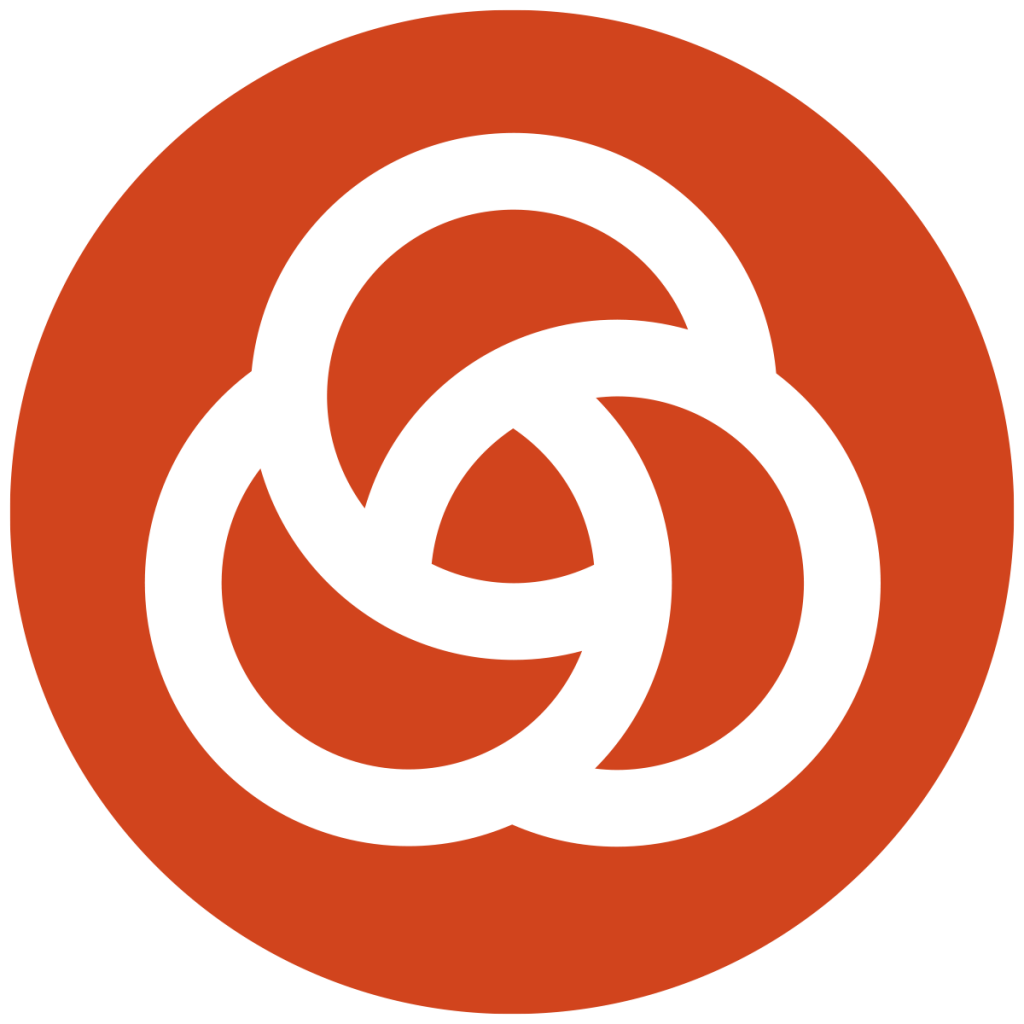 We hope you have a happy and safe time at whatever holiday celebration you attend this year. With more people out and about, remember to be aware of your surroundings and courteous to others. Pay special attention while crossing MAX tracks and streets. Bring a light or wear reflective clothing if you can to help stay visible, and above all have a great time!