While levels of drugs detected in University of Washington's first-of-its kind study of air and surfaces on transit described as "extremely low," TriMet urges regional crackdown on public drug use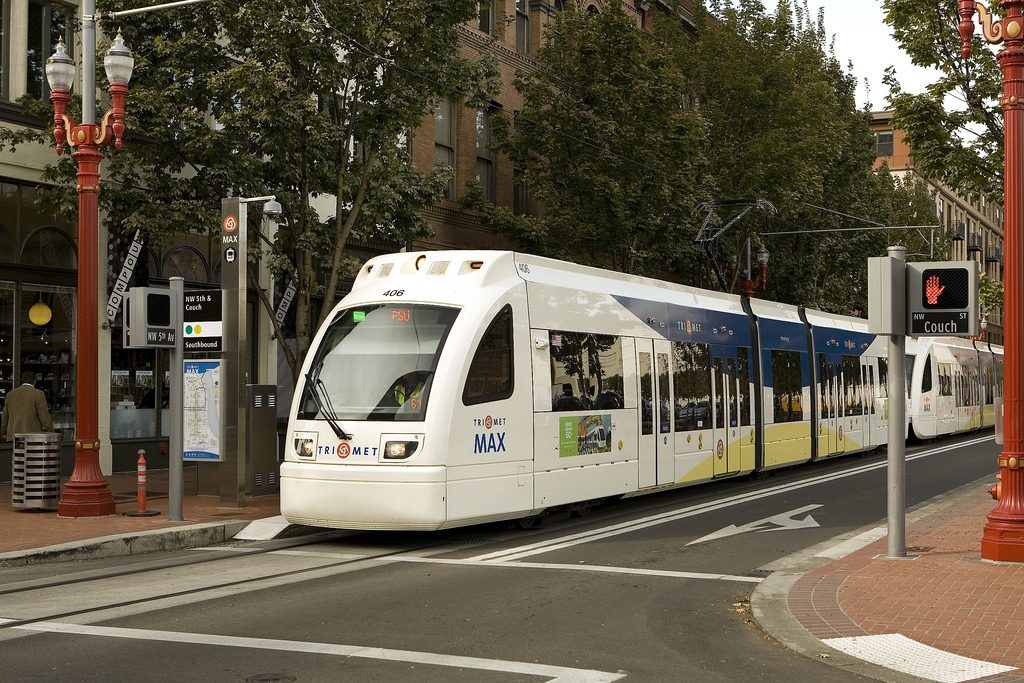 TriMet values the health and well-being of riders and employees, and that's why we have been working to keep the rampant use of illicit drugs in our community off our buses and trains. In the past two years, our general manager and other leadership have testified before Oregon lawmakers, city councilors and county commissioners asking state and regional leaders to address drugs and crime before they extend onto our transit system.
We also:
Significantly increased security personnel for more on-board presence,
Updated the TriMet Code to address illicit drugs however we can,
Updated standard procedures for when someone is seen smoking drugs on board,
And now we've taken part in a first-of-its kind study of fentanyl and methamphetamine in the air and on surfaces of transit vehicles.
Today, the University of Washington released the results of that study, which included testing on some TriMet MAX trains. The study did not assess the health impacts on our riders and operators from the traces found in air and surfaces samples, so TriMet sought the expertise of health experts. Among them, Dr. Robert Hendrickson, a professor of emergency medicine and medical toxicologist at OHSU and the Medical Director of the Oregon Poison Center.
"The concentration of drugs detected in the air and on surfaces in this study were extremely low and would not cause harm to TriMet riders and operators," Hendrickson said. "There is no threat to the public related to these study results, and individuals who use public transportation for travel needs should continue to feel safe doing so."
Read the full public health assessment
Despite the low levels of drug residue found in the University of Washington research, TriMet wants to keep drugs off our transit system completely. But Oregon law poses challenges for keeping the smoking of fentanyl and meth out of public spaces, such as transit.
TriMet and our union, the Amalgamated Transit Union (ATU) 757, continue our call to state and local officials and lawmakers to deliver the policy changes and enforcement necessary to curb what has become an epidemic of rampant public consumption of drugs in our region.
"Our riders, operators and other employees deserve to use our system without being exposed to drug use," said TriMet General Manager Sam Desue, Jr. "More needs to be done to ensure that transit and other public spaces are safe and comfortable for everyone."
Desue stressed, "TriMet stands ready to be part of the solution to this region-wide drug epidemic, but we urge state and local leaders and our law enforcement partners to continue to address drugs and addiction in our community."
In addition to collecting air and surface samples on transit, UW researchers tested three Downtown Portland locations*. Three of the samples tested positive for very low levels of meth and none tested positive for fentanyl, yet the challenges of the public consumption of drug use are well known in the communities we serve.
* SW 10th Ave & SW Harvey Milk St, SW Taylor St & SW Broadway, SW 9th Ave & SW Alder St St.
Overdose deaths from synthetic opioids have increased by 533% in Multnomah County alone from 2018 to 2022. In June 2023, Dr. Teresa Everson, M.P.H, interim Multnomah County Health Officer, told the Multnomah County Board of Commissioners that the region is in "an unprecedented time with fentanyl" and that the sharp upswing in overdose deaths, "reflects the rapid and radical change in local drug supplies towards fentanyl and other potent synthetic opioids, which began in 2019."
While the UW study looked at illicit drug residue levels specifically, smoking of any substance—whether nicotine or drugs— is not allowed on TriMet. That includes inside our buses and trains, on rail platforms, at transit centers or in elevators and Park & Rides. Those caught smoking face a citation and fine of up to $175 or exclusion. If riders see someone smoking drugs on board, they should alert the operator immediately.
UW study on secondhand drug smoke on transit
With the use of illegal use of fentanyl skyrocketing across the U.S. and here in the Pacific Northwest, TriMet joined four transit agencies in Washington State in inviting researchers from University of Washington's Department of Environmental and Occupational Health Sciences to come on board to determine what level of drug residue could be detected.
"The transit agencies share rising concerns about illegal substance use and untreated behavioral health conditions that are common in their communities and throughout the nation. The agencies proactively commissioned this study to identify what levels of drug smoke and surface residue transit employees and riders might encounter on transit vehicles, with a goal of helping to identify responses. The agencies join in thanking the University of Washington's research team for its work to execute the study."

– Joint statement from Sound Transit, King County Metro, Community Transit, Everett Transit and TriMet
Overall findings
Researchers placed air pumps on board and collected surface samples from seats, windows and doors in *30 transit buses and train cars across four of the agencies. In total, 180 samples (78 air samples and 102 surface samples) were collected.
*This represents 1% of the 2,743 transit vehicles operated by the agencies.
The measurements found may be challenging to comprehend as they are small and abstract. A microgram is a millionth of a gram and one-thousandth of a milligram. A nanogram is one-billionth of a gram, one-millionth of a milligram and one-thousandth of a microgram. Some liken a microgram to a single cell in the human body. Or, consider a grain of sand. While the size of a grain of sand can vary, generally a grain of sand weighs approximately 23 micrograms. Another comparison could be a crystal of sugar. A single fine sugar crystal in those little packets you find at restaurants generally is about 20 milligrams. That's 20 million times larger than one nanogram and 20,000 times larger than a microgram
Extremely low levels of fentanyl were detected in 25% of the air samples. Extremely low levels of fentanyl also were detected in 46% of the surface samples, ranging from one-hundredth of a nanogram to under a nanogram.
UW researchers also tested the 180 samples taken on the transit agencies' buses and trains for remnants of methamphetamine. All the air samples tested positive for very low levels of meth and 98% of the surface samples found very low levels of meth as well.
TriMet findings
In Portland, on TriMet, researchers collected samples on MAX trains. They gathered the air and surface samples from *eight two-car trains and one single-car train over a two-day period (June 20-21) between 7 p.m. and 12 a.m. The trains traveled through areas where we've had incidents of drug smoking reported.
*Correction: Previous version incorrectly state ten two-car trains and one single car train. Samples were taken on 17 of TriMet's 142 train cars or 12% of our light rail vehicles.
The air samples were collected by pumps installed on the ceiling of the train cars, just inside the door to the operator cab and on the outside of the door, in the passenger area. Surface samples were mainly taken on the outside of the operator cab door, in the passenger area, as well as on seats/dividers in the middle of the trains and in the bench seating at the back of the vehicles. Overall, very low levels of fentanyl, meth and cocaine were detected in the air (less than two-tenths of a microgram) and on surfaces (less than two and a half nanograms). A few samples were also tested for cocaine. As with the positive fentanyl and meth results, the level of cocaine found was very low as well.
TriMet Air Samples – 16 Total
| Drug type | Operator side of cab door | Passenger side of cab door |
| --- | --- | --- |
| Fentanyl | 3 positive samples | 3 positive samples |
| | 0.005-0.077 μg/m3 | 0.005-0.14 μg/m3 |
| Meth | 8 positive samples | 8 positive samples |
| | 0.011-0.024 μg/m3 | 0.011-0.039 μg/m3 |
| Cocaine | | 1 positive sample |
| | N/A | 0.144 µg/m3 |
Note: all air samples were paired samples, meaning the samples were taken just outside the door to the operator's cab, on the passenger side, and just inside the cab door at the same time.
TriMet Surface Samples – 26 Total
| Drug type | Passenger side of cab door | Mid train car | Rear of train | Front seatback |
| --- | --- | --- | --- | --- |
| Fentanyl | 3 positive samples | 2 positive sample | 7 positive samples | 1 positive sample |
| | 0.015, 0.13 ng/cm2 | 0.014 ng/cm2 | 0.022-0.17 ng/cm2 | 0.117 ng/cm2 |
| Meth | 8 positive samples | 8 positive samples | 9 positive samples | 1 positive sample |
| | 0.035-0.93 ng/cm2 | 0.081-1.32 ng/cm2 | 0.020-2.23 ng/cm2 | 0.79 ng/cm2 |
| Cocaine* | 2 positive samples | 2 positive samples | 2 positive samples | N/A |
| | 0.018-0.024 ng/cm2 | 0.011-0.02 ng/cm2 | 0.011-0.88 ng/cm2 | N/A |
* Only 6 surface samples tested for cocaine
** Researchers collected a surface sample from a seatback in the front section (elevated section near the door to the operator cab) of a single LRV. That single sample tested positive for traces of both fentanyl and meth.
Public health experts assess findings
TriMet asked Dr. Hendrickson, as well as Multnomah County Public Health officers, to analyze the findings and help us understand them.
These health experts said the study results aren't surprising: If someone smokes on transit or comes on board after smoking drugs with the residue clinging to their clothes, then that residue can be detected on board. However, the experts determined that the concentrations found in this study are so low that they would not pose a threat to the health of our riders, operators and other employees and that people should continue to feel safe riding.
"Unfortunately, whenever drugs are being used or handled in a community, very small amounts of drug will be detectable with today's laboratory technology", said Hendrickson. "For example, small amounts of cocaine can be found on the surface of paper money."
The UW study took air samples over a 4-5 hour period on MAX Green and Orange/Yellow Line trains. The testing did not determine how long fentanyl or meth may linger in the air, and it did not evaluate ventilation systems or filters. But for those who have longer rides and our operators who are on trains for hours, Hendrickson says the amount of fentanyl in the air samples is thousands of times lower than a dose that would be used to treat pain in a hospital. He also noted that the highest concentration of meth found in air samples was extremely low—0.039 micrograms—which is just 78-thousandths of the medical dose for treating ADHD (5000 micrograms).
Fentanyl fueling national epidemic
Nationally, health and drug enforcement experts say illicit fentanyl is primarily responsible for fueling the ongoing opioid crisis in the United States. While illicit fentanyl clearly poses a risk for those who abuse it, health experts say secondhand or third hand exposure does not.
Among published information about fentanyl dangers:
Studies have looked at fentanyl concentrations in the bloodstream after someone has had secondhand fentanyl exposure from smoke. The levels are extremely low or not detectable. So, there's no real risk for the everyday person being exposed to secondhand opioid smoke. – Dr. Scott Phillips, Medical Toxicologist and Medical Director of the Washington Poison Center; Public Health Insider, April 2022
Illicit fentanyl cannot be absorbed through the skin or by touching an item or surface where it is present. – Tennessee Department of Mental Health and Substance Abuse Services
Fentanyl must enter the system through the mucus membrane or the bloodstream. It
is not a volatile drug, so when it is left undisturbed, it can't cause harm. It cannot
enter through the skin, only through ingestion. – Denver Public Health and Environment
Also, TriMet received 61 workers compensation claims between February 2021 and June 2023, in which employees immediately sought medical treatment after concerns of exposure to secondhand drug smoke. While it was up to emergency room doctors to determine whether toxicology/blood tests were warranted, no tests completed ever came back positive for drugs.
Combatting drug use on board
"We saw this wave of fentanyl and meth use rolling through our community, and we took action," said TriMet Chief Safety Officer Andrew Wilson. "We have taken a number of steps to try to keep drug use off our buses and trains, and we won't stop. It will be a continuous effort."
TriMet has doubled the number of personnel on our security teams since the start of 2022, to increase presence on board. Our security teams will inform anyone seen smoking on board that it is not allowed and supervisors and/or police will be contacted if the person refuses to leave or stop smoking. Our Customer Safety Supervisors enforce TriMet Code, including issuing citations or exclusions for smoking. A year ago, we had 18 Customer Safety Supervisors; today, we have 46.
In addition to increasing security personnel, we changed the TriMet Code in early 2022, to include non-criminal violations of laws or ordinances as actions prohibited on TriMet. Since possessing a small amount of drugs and drug use are now categorized as a violation under Oregon law (ORS Chapter 153), by prohibiting violations of those activities, security personnel can further address the behavior, with a citation or exclusion.
TriMet has added a Safety Response Team, which has now expanded to 58 personnel. Team members connect people in need on and around our transit system with social services such as shelters, mental health resources and addiction services.
In recent years, TriMet has updated our standard operating procedures. Workers focused on cleaning our vehicles wipe down touch points each night, before the bus or train goes into service the next day. We also have procedures to address smoke when it is reported on board. We upgraded the filters in our buses and trains during the COVID-19 pandemic. The HVAC system on our fixed-route buses uses a MERV-12 rated filter and our FX articulated buses use a MERV-13 filter. Our MAX trains use the highest level of filter possible for their HVAC systems, a MERV-10. All the air in the MAX car passes through the HVAC unit about every 74 seconds. The frequent opening and closing of bus and train doors provides additional ventilation. While on-board air is recycled, the fresh air from opening and closing doors and from windows, as well as the air passing through the ventilation filters, helps to clean it.
See something. Say something
TriMet has long had signs and announcements that if you see something suspicious, say something to an operator, other TriMet employee or police. The same is true for riders if they see someone smoking on board. Please alert the operator, whether or not you know they are smoking drugs. Smoking of any kind is prohibited on TriMet. If you are on MAX, you can go to the other end of the train car to use the intercom to talk to the operator. Or, if time allows, you can go to the other car of the train and use the intercom.
TriMet and health experts also urge people to continue practicing good hand hygiene. While handwashing and the use of hand sanitizer became common during the pandemic, it is good practice to always wash your hands after being in public spaces and touching items that others may have touched.