TriMet invites you to join in our day-long celebration of the people who help keep our region moving; take a moment to recognize the hard work of our bus and train operators on Friday, March 17, for Transit Driver Appreciation Day
Let's face it. You'll have a better chance of seeing a TriMet bus or train operator on Friday, March 17, than you will a leprechaun. After all, TriMet employs close to 1,400 operators and zero leprechauns. So, this Friday, March 17, we're asking you to add Transit Driver Appreciation Day to your list of reasons to celebrate. We're sharing the excitement with St. Patrick's Day this year, as we move our observation up one day, to conclude the traditional work week. Please join us for our 10th annual observation of Transit Driver Appreciation Day, which we set aside to honor our operators and what they do to improve the lives of so many people, day after day.
Riders: Show how appreciation in multiple ways!
Our bus and train operators always go the extra mile. They're up early and out late, maneuvering giant vehicles, often through challenging conditions. They can be the first and sometimes the last person riders see in their day. They help move millions, yet welcome one at a time, for a safe, reliable ride. 
TriMet riders are known for sharing a friendly "thank you" as they step off the bus. For Transit Driver Appreciation Day, we're asking everyone to do their part, to help our operators have a good day, from start to finish:
Shine a light! If your operator is coming to your stop early in the morning when it's still dark, use your cell phone as a light to help them see you and stop to pick you up! Take care not to flash bright lights directly at the operator.
Say hello! Consider sharing a kind word when you step on the bus, to let the operator know that you're a nice person and appreciate their work.
Help make their day! Show common courtesy for our operators and others, by following the rules for riding and helping create a pleasant atmosphere for everyone on board.
Consider a not-so-random act of kindness! It's Transit Driver Appreciation Day! Say thanks in your own way – with a wave, a smile or a nice note. Visit trimet.org/hello to leave a digital note for an individual operator or the entire team! We'll also have banners at transit centers throughout our 533-square mile service district, available to anyone who'd like to leave a message of thanks. 
Heading Downtown? Join the 'tunnel of appreciation'
This year, TriMet is taking our Transit Driver Appreciation Day celebration to the Transit Mall in Downtown Portland on March 17! We're building a human "appreciation tunnel," from 6 a.m. through 6 p.m. along a nine-block stretch of Southwest 5th and 6th avenues, between Jefferson and Washington streets. We'll be waving signs for our coworkers and creating excitement as they travel through a stretch of the central city where many of our transit lines run or cross. Stop by and join the fun!
Mark your calendar for Friday, March 17!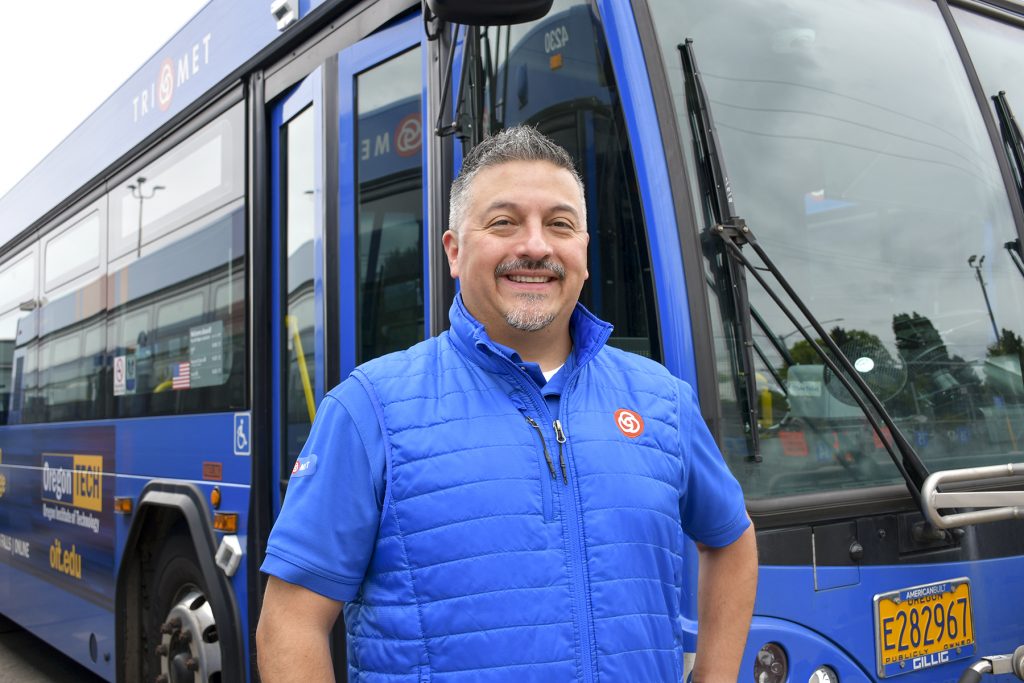 Inspired by a movement in Seattle to establish "Bus Driver Appreciation Day," TriMet observed our first Transit Driver Appreciation Day back in 2013. Normally, the celebration is March 18, the day selected to commemorate the first bus line in Paris back in 1662. This year, we're recognizing the service of public transit operators a day early and inviting everyone to join us. We even found an old Irish Blessing that could apply to our operators, as we share our special day with the St. Patrick's Day tradition, in 2023: "May your pockets be heavy and your heart be light; may good luck pursue you both morning and night!" ~Irish Blessing