The strategic alliance helps small businesses obtain or increase bonding for the performance of TriMet construction contracts over $100,000
A strategic alliance between TriMet and the Small Business Administration (SBA) is helping smaller contractors establish themselves in a competitive field. TriMet's alliance with the SBA clears the way for small businesses to obtain or increase their bonding through surety bonds, allowing them to participate in TriMet construction contracts over $100,000.
Surety bonds are risk management tools that help small businesses win contracts. The SBA steps in to guarantee the surety bonds, effectively assuring that the work will be completed. It then passes them on to small businesses. This means more businesses like Bratton Construction, owned by Sharon Maxwell, can take advantage of opportunities. Bratton Construction is a woman-owned firm that's been working out of Northeast Portland since 1999.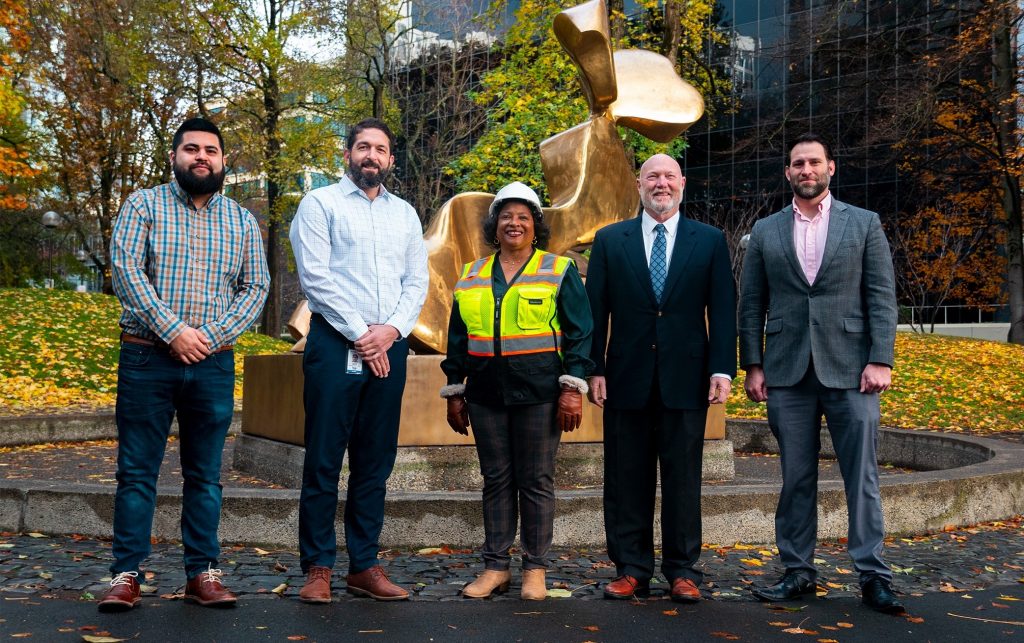 "This helps make sure there's a continuum of work and cash flow available for smaller businesses like ours," Maxwell said of her construction firm, which has completed more than 1,000 projects and created more than 200 local jobs since 1999. "It's especially important for minority- and women-owned businesses and the BIPOC community. When we're given access to capital, we throw down."
"We are optimistic that this partnership with the SBA will help reduce bonding barriers and create more opportunities for small businesses looking to participate on our public contracts, resulting in a more diverse vendor pool," TriMet's Senior Contracts Equity Administrator Alfonso Romero said. "By initially having the SBA guarantee the surety bond, the objective is to enable small businesses to eventually become bondable on their own and grow their capacity."
"We're here to help small businesses do business with the government," said SBA Portland District Director Martin Golden. "What makes today's partnership important is that often public agencies such as TriMet have difficulty finding qualified small businesses to partner with. We're excited to work with TriMet to increase the pipeline of small businesses who can take on these important infrastructure projects."
Embracing growth
About 47% of the private sector workforce either owns or works for a small business. Providing more opportunities to that sector of the economy, particularly at a time when the labor market is tight, allows these businesses to continue thriving amid economic uncertainties.
Contracts with minority- and women-owned businesses like Bratton Construction let TriMet help lift up these firms and the people who work for them. Since 1982, TriMet has been working to break the barriers of entry for Disadvantaged Business Firms (DBE), Minority Business Enterprise and Women Business Enterprise firms to foster a more diverse workforce. The alliance with the Small Business Administration also helps furnish TriMet with a previously untapped pipeline of qualified firms capable of taking on construction projects that will improve the transit system.
TriMet's five-year contract with Bratton Construction will result in the firm completing bus layover repairs and upgrades, with the firm eligible for up to $1 million of work per year. First off, Bratton Construction will be working at the Gateway Transit Center to remove a bump-out curb for buses, providing better, more convenient access for riders and buses.
"This helps us to build capacity and to hire more people from the local community, provide living-wage jobs and opportunities, and bring on more executive management staffing that has the experience to manage these projects," Maxwell said.
Partnering to spread opportunities
TriMet's strategic alliance with the Small Business Administration is intended to develop and foster mutual understanding and a working relationship to strengthen and expand small business development in the Portland metro area. Generally, in order to be eligible for the surety bond guarantee program, a business must:
• Be a small business according to SBA's size standards
• Have a small contract or can show your small business is bidding on a contract (up to $6.5 million for non-federal contracts and up to 10 million for federal contracts)
• Be able to meet the surety's credit, capacity and character requirements
For more information about working with TriMet, go to trimet.org/procurement/sba-bonding. And to learn more about the SBA surety bond program here: sba.gov/osg.
Working with our community
TriMet's DBE program is a nationally recognized model for improving diversity in transportation contracting. As we believe the businesses and people building our transit system should reflect the diversity of our region, our DBE program supports businesses owned by women and people of color. Through the programs DBEs have opportunities to serve as lead contractors and subcontractors on capital transit projects, especially those that receive federal funding. Learn more about our program at trimet.org/dbe.