In partnership with ODOT, free rides begin at 8 p.m. on December 31, with extended late-night MAX service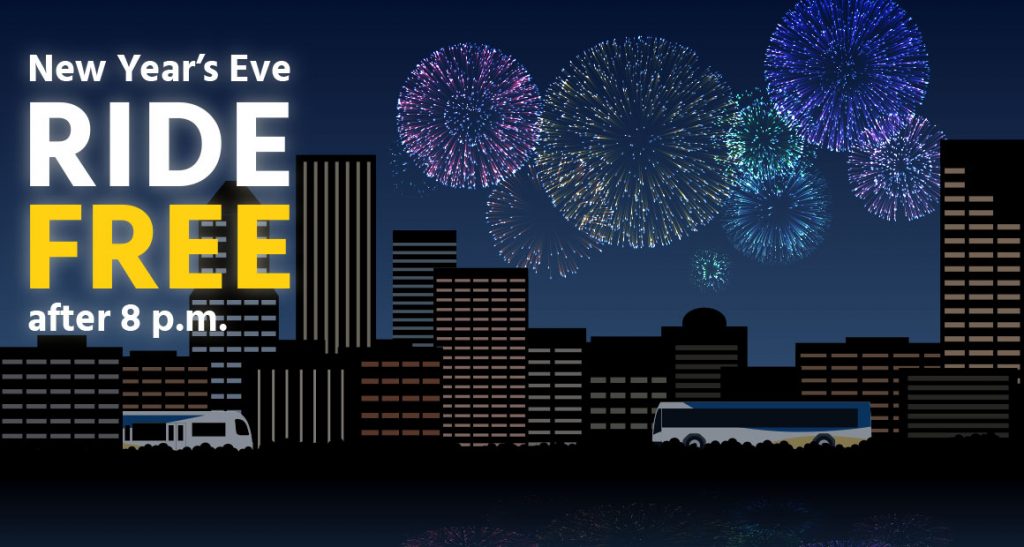 Relax, kick back and leave the driving to TriMet this New Year's Eve. Free rides return this year to get you to and from the night's celebrations the safe way. In partnership with the Oregon Department of Transportation (ODOT), all TriMet buses and MAX trains, as well as Portland Streetcar, will be providing free rides from 8 p.m. until the end of service.
Free rides, extended MAX service
MAX
All MAX trains will run on their regular schedules with extended late-night service on most lines going until at least 2 a.m.
The last MAX Blue Line trip to Gresham leaves Pioneer Square South at 2:23 a.m., and the last trip to Hillsboro leaves Pioneer Square North at 2:47 a.m.
The last MAX Green Line trip to Clackamas Town Center leaves from Pioneer Courthouse/SW 6th at 2:18 a.m., and the last trip from Clackamas Town Center to Gateway Transit Center leaves at 3:12 a.m.
The last MAX Orange Line trip to SE Park Ave leaves Pioneer Place/SW 5th Ave MAX Station at 2:02 a.m., and the last trip from SE Park Ave leaves at 2:52 a.m.
The last MAX Red Line trip to Portland International Airport leaves Pioneer Square South at 12:42 a.m., and the last trip from PDX at 1:56 a.m.
The last MAX Yellow Line trip to Expo Center leaves Pioneer Courthouse/SW 6th at 2:27 a.m., and the last trip from Expo Center to Interstate Rose Quarter leaves at 3:05 a.m.
Buses
TriMet buses will run on regular Saturday schedules on New Year's Eve. No fare will be collected after 8 p.m. However, buses will not have extended service hours. Riders who are staying out late may want to plan a trip home on MAX, if service on their bus line ends before midnight.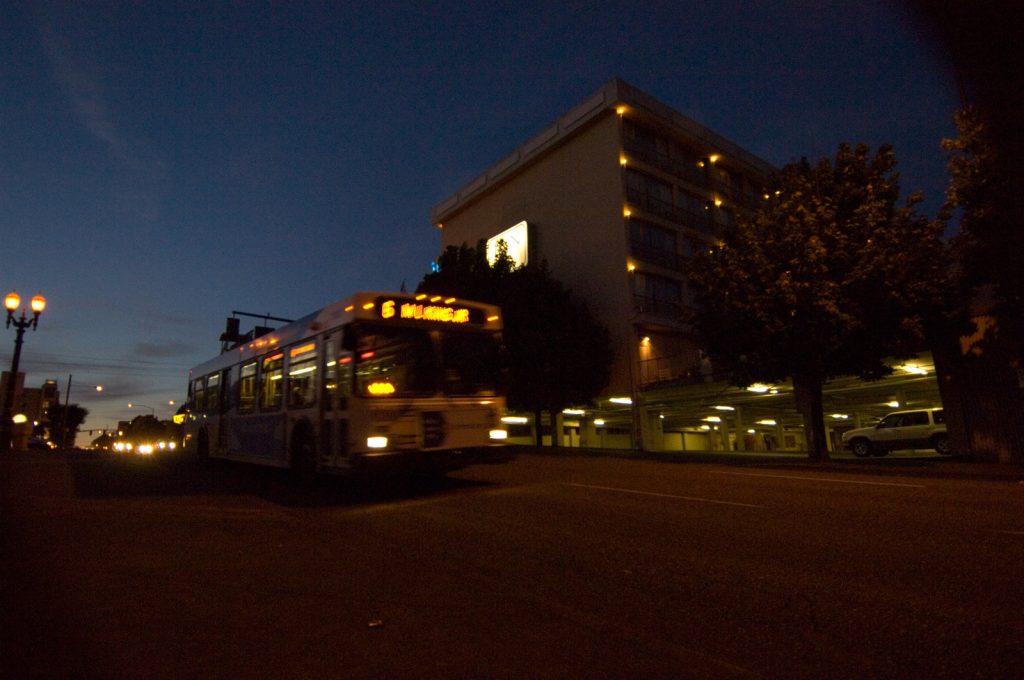 Plan ahead and stay safe
By working with ODOT to help keep impaired drivers off the road, our goal is to bring some extra peace of mind to drivers, pedestrians and those looking to take in the festivities. Offering free rides on New Year's Eve has been a TriMet practice for years, and we're excited to be bringing it back.
Before heading out, we suggest riders check schedules and make travel plans in advance by going to trimet.org. And remember, if you plan on making a trip after the clock strikes midnight, make sure you set the date for Jan. 1!
On New Year's Day, which falls on a Sunday this year, TriMet's Rider Support team will not be available, and the TriMet Ticket Office at Pioneer Courthouse Square will be closed. TriMet will observe the New Year's Day holiday on Monday, Jan. 2. Buses and MAX will follow Sunday schedules. There will be no WES service. Visit trimet.org/holidays to learn more.
With more people expected to be traveling after a night out, we encourage everyone to:
Be alert and pay attention around buses and trains.
Pause devices and look both ways when crossing streets or tracks.
Be respectful of operators and other riders.
If you see something suspicious, say something to a TriMet employee or call 911.
Check your surroundings for personal items before you leave.
If you believe you lost something on board, you can contact our Lost and Found as soon as Monday, Jan. 2, by calling 503-238-7433, option 6, to file a report between 7 a.m. and 7 p.m. You can also do so on our webpage: trimet.org/lostandfound.
For more information about free rides on New Year's Eve, go to trimet.org/nye.