One of TriMet's very first trains has traveled farther than any other after more than 35 years of service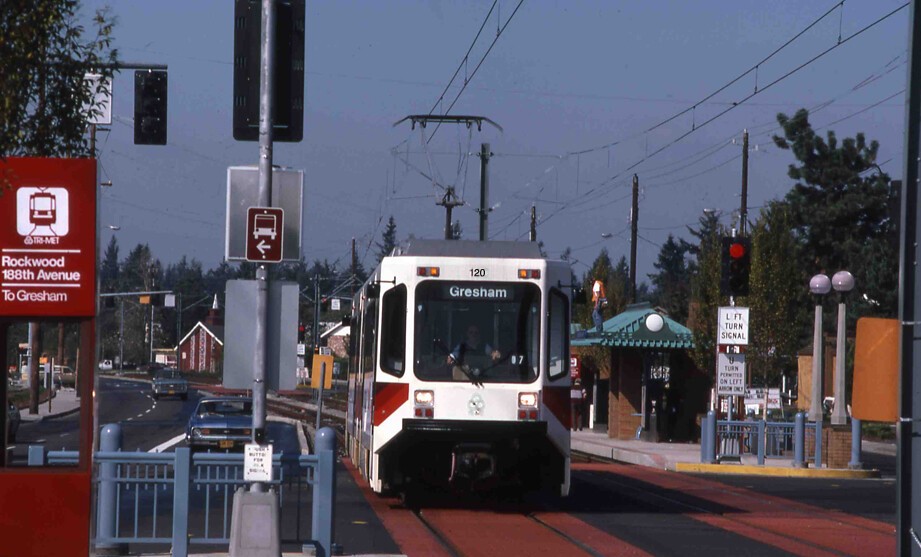 It took more than 35 years, but one TriMet MAX train has traveled the equivalent of the world's entire rail network—twice. Train 120, as it's known, zipped past 2 million miles this month on its way to becoming the most-traveled vehicle in our MAX fleet.
The train is one of our originals—Type 1s as we call them—distinctive for having high floors and being the only of our five types manufactured by Canadian company Bombardier. Each successive generation of MAX has been manufactured by Siemens Mobility and has included low floors and other updated features over the years.
Switching from steps to low floors on MAX
One of the distinguishing features of our original Type 1 MAX trains are the three steps going up. Among light rail trains of the 1980s and early 1990s, these high-floor trains were typical, but they also presented a challenge for some riders. To accommodate people in mobility devices, TriMet built what were known as "wayside lifts" onto our platforms. Riders would enter the lift–essentially a small elevator a wheel chair could ride onto–that would be activated and rise up after a train stopped. While this was commonplace across the country for several years, these lifts were cumbersome and time consuming to operate. By the 1990s, TriMet made the decision to introduce the first stairless light rail train model in North America, which became our "Type 2." It began running in 1997. Since then, all of our Type 1s have been paired with a stairless model, and the wayside lifts have become a thing of the past.

The 26 original MAX trains arrived in 1985. They were tested and underwent maintenance until the Banfield light rail line (now known as MAX Blue Line) opened on Sept. 5, 1986, a day which gave riders their first of many congestion-free trips between Gresham and Downtown Portland.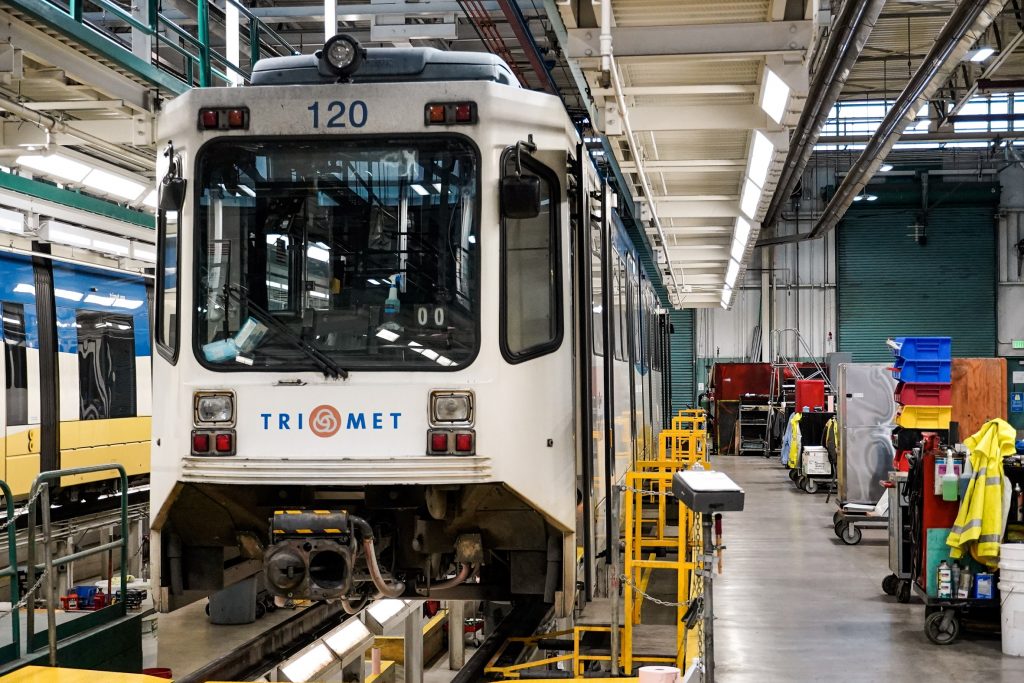 "For us, it's a pretty special milestone," TriMet Rail Equipment Assistant Manager Alisha Tallon said. "It just goes to show you that we have managed to maintain and keep that car running for 2 million miles, which is more than what I think we ever expected when we first got it. I think every single mechanic that works here has worked on that car at one point."
Decades of reliable service
Where would 2 million miles take you? You could blast off on two round trips to the moon, or travel the circumference of the Earth 80 times. But if you're looking for a more practical destination, there are dozens to choose from locally. Train 120, the dependable veteran, has been taking riders to them all since 1986.
The number of boarding rides it's been responsible for is too many to count but likely falls in the millions. That means hundreds of thousands, if not millions of trips where no automobile was needed, greatly reducing greenhouse gas emissions and congestion. It's brought an incalculable number of people to sporting events, work, shopping centers and other destinations, which has added to the local economy.
Spanning seven presidencies and more than two-thirds of TriMet's existence, it's been a reliable and trusted form of transportation for those who rely on public transit and would have trouble getting around without it.
And it's not alone. Of the original 26 Type 1s, 25 continue to carry riders, and some are nearing the same impressive milestone as 120. Keeping them in working order for more than three decades has been a mission of our rail maintenance team. They perform regular preventative maintenance and fix issues that arise, which sometimes requires making new components for the Type 1s. This is due to the scarcity of parts for an older vehicle whose production has been discontinued.
Within the next year, TriMet will begin the process of retiring the Type 1s and replacing them with the Type 6, something rail mechanics like Alisha feel nostalgic about.
"I'm someone who likes older cars. I like older technology," she said "At the same time, it's going to be exciting to get the Type 6s, and that's going to be another set of technology for us to learn."
New trains coming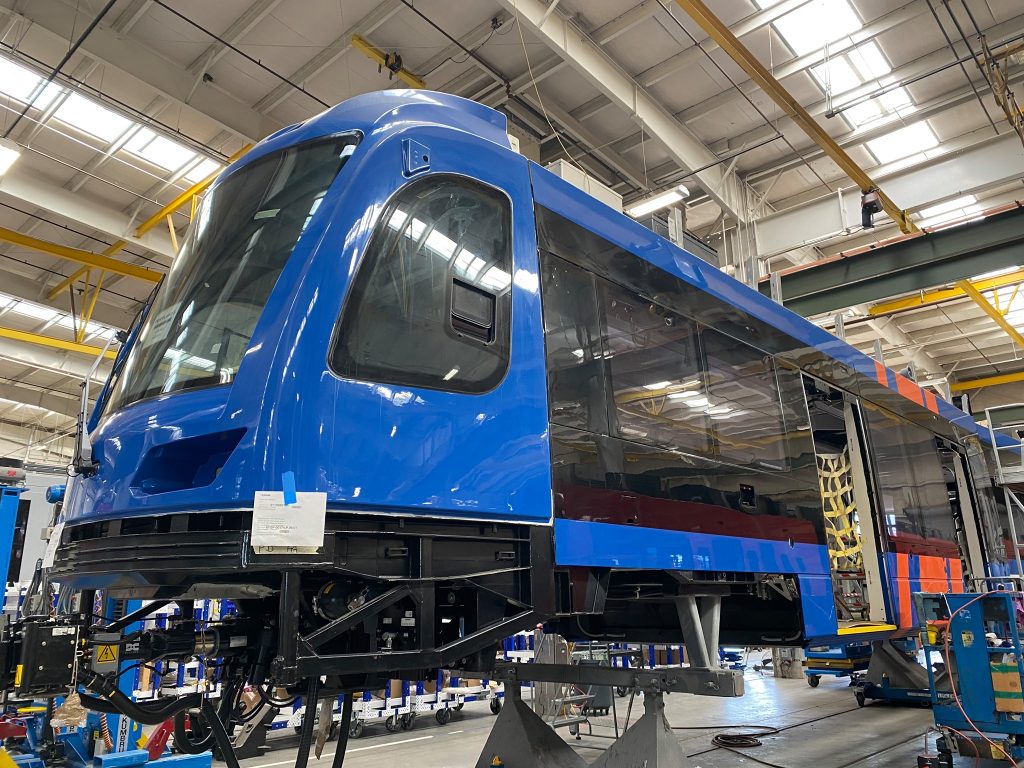 The newest MAX trains are taking shape now. They're currently in production at a Siemens facility in Sacramento, Calif. They'll start arriving in Portland later this year. We will be receiving 30 of the trains—26 to replace the original Type 1s and an additional four as part of our A Better Red MAX reliability project, which is expanding MAX Red Line service west.
As we prepare for the Type 1s to take their final bow, we applaud their longevity and look forward to the next generation of MAX train. As train 120 has done, they'll serve future generations of riders as TriMet continues looking for ways to keep people moving.