Oregon Secretary of State's Office requires balancing of districts inside TriMet service area based on population and consistent with diversity, equity and inclusion and accessibility principles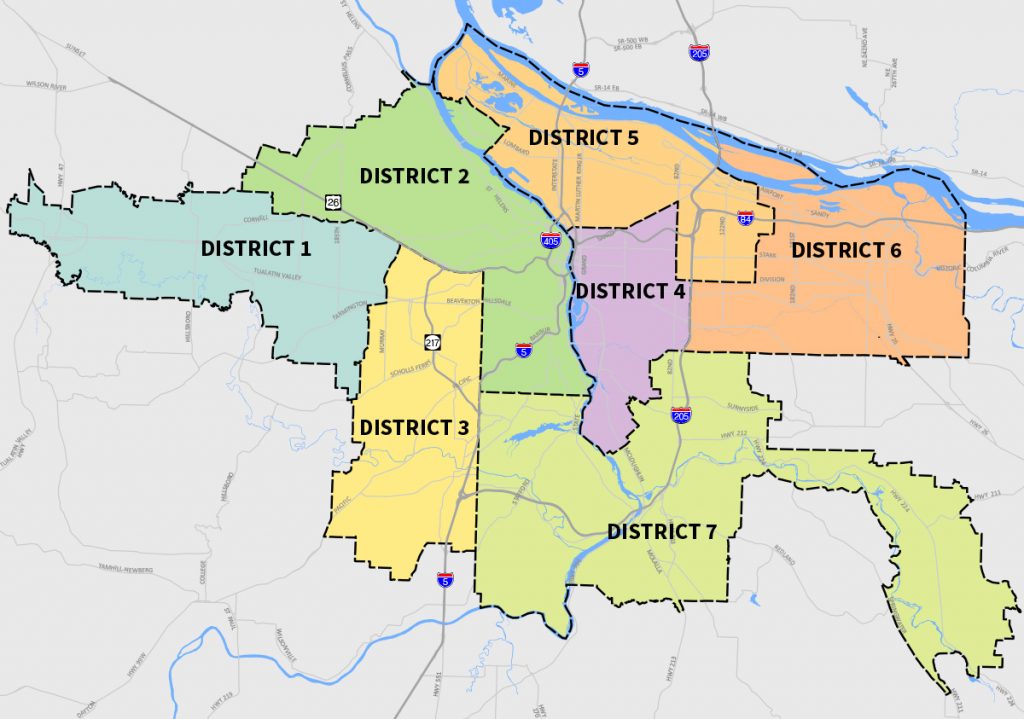 TriMet will host two virtual open houses in April 2022, as we seek community feedback on the new boundaries proposed for the districts represented by our Board members. On Tuesday, April 5, we'll hold an open house from 5 p.m. to 6 p.m. in Spanish. On Wednesday, April 6, the open house from 5 p.m. to 6 p.m. will be held in English. ASL interpreters will be available at both events.
Find links to the meetings at trimet.org/board/redistricting.
After each new federal census, under the direction of the Oregon Secretary of State, TriMet must reassess the boundaries of the seven districts that make up our service area. This is to make sure the districts are balanced when it comes to population. This process is referred to as redistricting.
With new data from the 2020 census showing that 1,655,186 people now live in the TriMet service district—an increase of 182,855 people from the previous census—TriMet staff created three scenarios that redraw our district map to roughly balance the populations in each district.
Three district map scenarios
Based on the Secretary of State's direction, TriMet has developed three possible scenarios that adjust district borders to roughly balance out the districts by population. In all of the scenarios, all current Board members still reside in their assigned districts.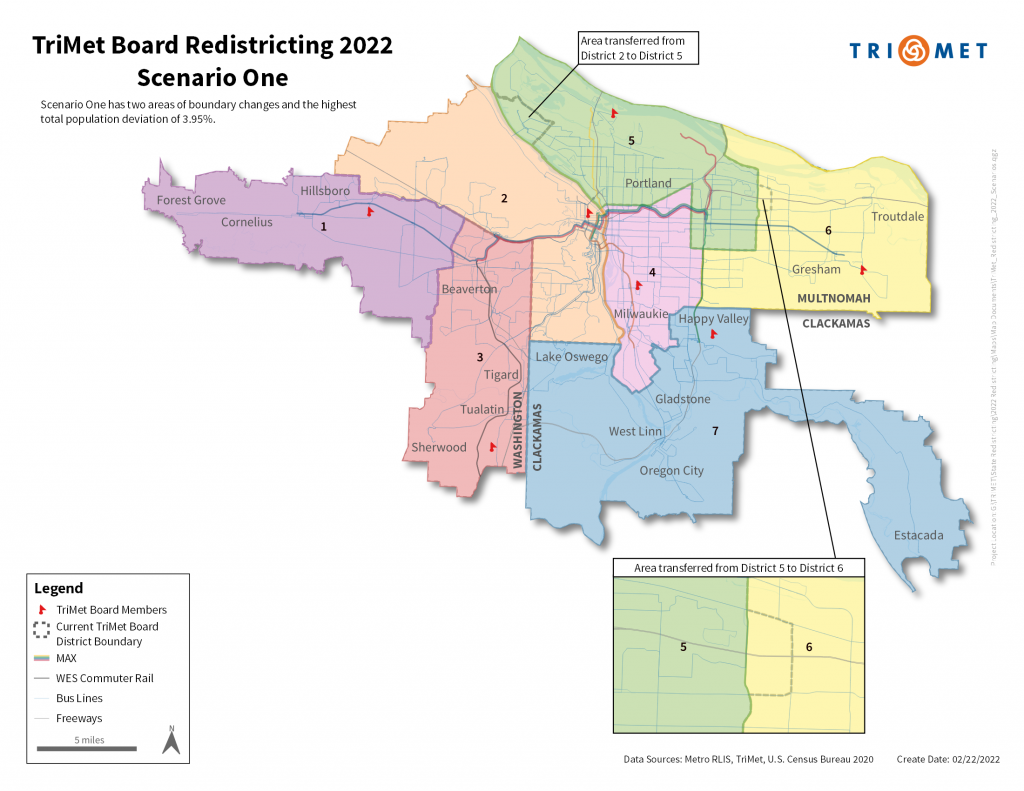 The first scenario represents the simplest change, with two areas of border changes. It moves a portion of District 2 to District 5 and a portion of District 5 to District 6.

While equal population would be about 236,000, in scenario one District 1 would have the largest population at 240,900 and District 6 would have the smallest at 231,552. A difference of 9,348 people.
The second scenario has three border changes that affect five districts, but it gets closer to the target of about 236,000 for equal population distribution.

In scenario two, District 2 would have the largest population at 240,600. District 4 would have the smallest population at 232,347. That's a difference of 8,253 people.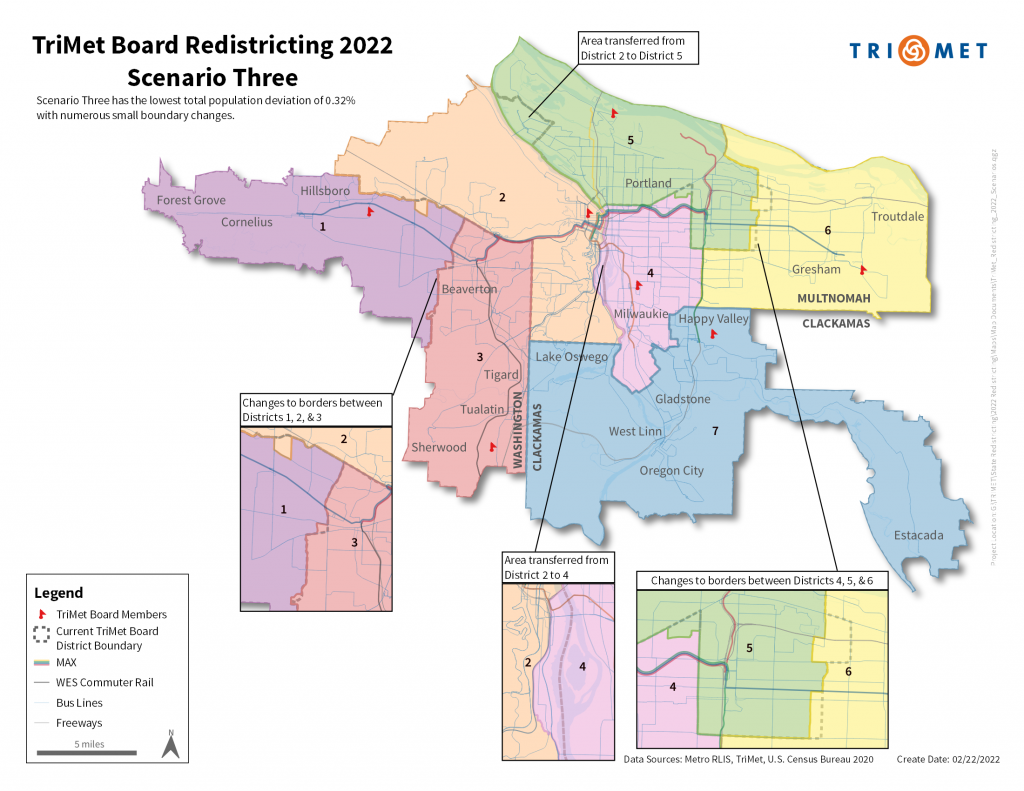 Scenario three brings us the closest to equal population by district, but comes with numerous border changes and adjustments to all districts except District 7.
In this third scenario, District 2 would have the largest population at 236,846 and District 3 would have the smallest at 236,103. A difference of 743 people.
Provide feedback through April 15
In addition to the open houses, TriMet encourages people to submit feedback about the redistricting proposals by emailing feedback@trimet.org or calling 503-238-7433 (RIDE). TriMet will collects public comment on the different scenarios through April 15. All the feedback will influence a final district map that will be presented to the TriMet Board of Directors at its meeting on Wednesday, April 27, 2022. If approved, the new district plan will go to Oregon's Secretary of State for her consideration. A final map must go to the Oregon Secretary of State no later than May 15, 2022.
Guidelines for districts and adjustments
The Secretary of State has given TriMet and the two other mass transit districts in Oregon, Lane Transit and Salem Cherriots, guidance on how we should approach the redistricting.
The districts must:
· Be contiguous;
· Be of equal population;
· Use existing geographic or political boundaries;
· Not divide communities of common interest; and
· Be connected by transportation links.
A new requirement by the Secretary of State is that any changes made to the districts must be, "consistent with the diversity, equity and inclusion and accessibility values of the Secretary of State, as outlined in the agency's mission, vision and values."