At TriMet, we're celebrating 2021 as a year of action on causes that matter and make our community a better place to live. We tackled issues like climate change, equity and inclusion, innovation and overall system improvement. We took steps to stand up for transit and share its many benefits with the tri-county region that we proudly serve. We share our biggest accomplishments of 2021 with the communities we serve daily, by connecting people with opportunities and vital services, providing alternatives to driving that help reduce climate impact and working to foster a transit system that is safe, accessible and welcoming to all.
Action for climate
The year 2021 was a game changer on TriMet's road to becoming a climate champion. We slashed our carbon footprint, reducing carbon greenhouse emissions by more than 63% in just six months' time. So, how did we do it?
· First, we transitioned our MAX light rail system and all TriMet-owned facilities to run on 100% renewable energy. Our MAX trains have always been powered by electricity, and now, in partnership with Portland General Electric and Pacific Power, they are fueled with clean energy from sources like the sun and wind, reducing carbon emissions and eliminating pollution from electricity generated from fossil fuels.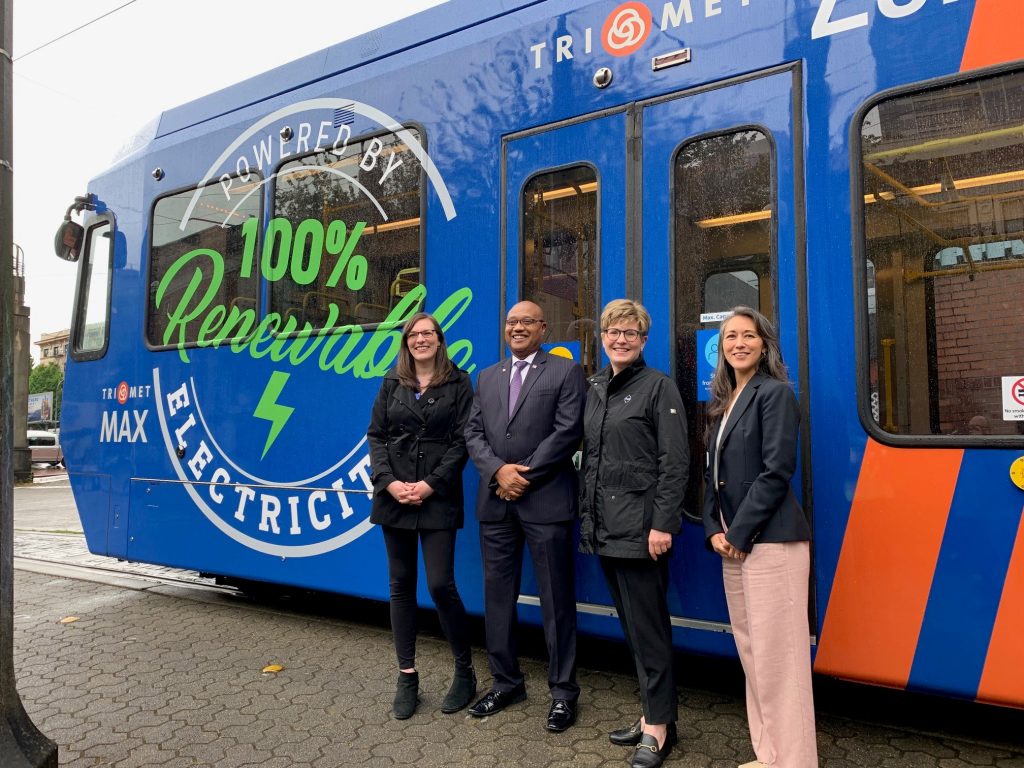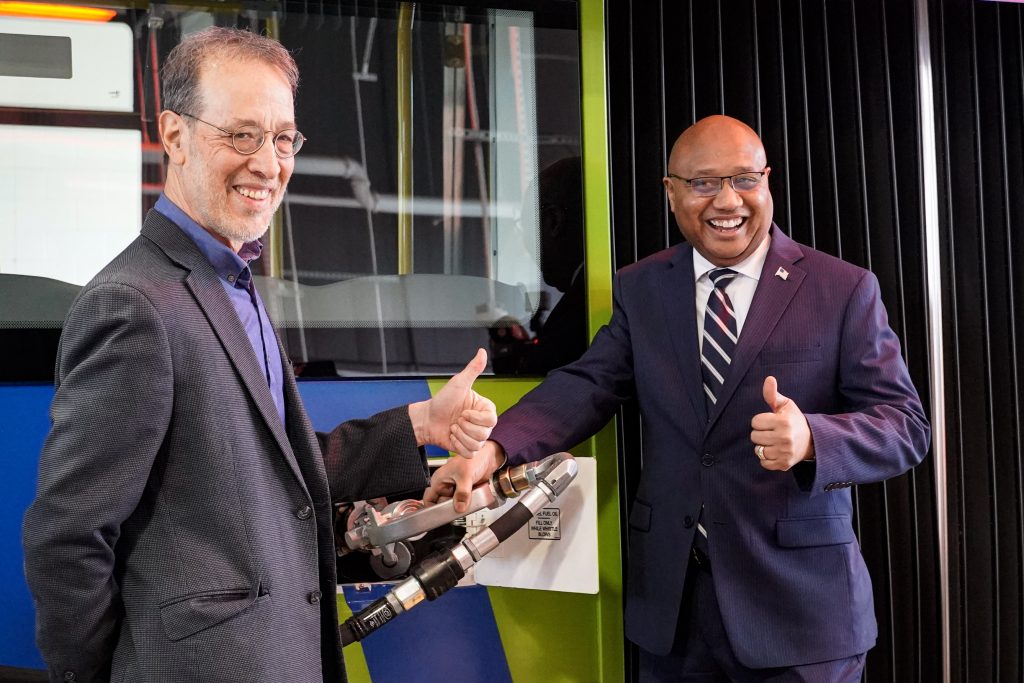 · Second, we converted our fleet of about 700 fixed-route buses to cleaner burning R99 renewable diesel. With this change, TriMet, formerly Oregon's largest consumer of petroleum-based diesel, leads the state's transportation industry in our march toward a cleaner-air future.
· TriMet expects to avoid more than 155 million pounds of greenhouse gas emissions every year with these investments. That's the equivalent of taking more than 15,000 cars off the road!
· We also expanded our fleet of battery-electric buses from five to 12. In 2021, we added five long-range electric buses, as well as two buses that were converted from diesel to electric fuel systems. The 60-foot, articulated version of the diesel-to-electric conversion bus is believed to be the first of its kind in the world.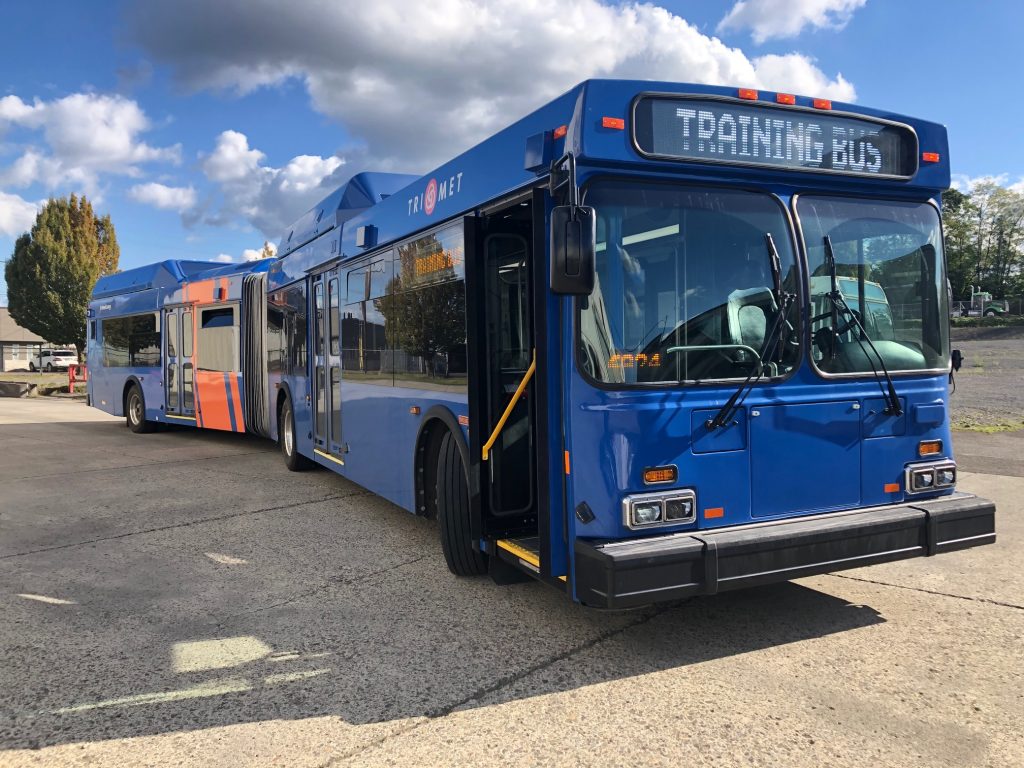 Action to build the future of transit
The region that emerges from the COVID-19 pandemic will be different in many ways, and as more riders return to the transit system, they'll experience the benefits of upgrades that helped make our system more reliable and resilient.
· In 2021, our crews and contractors were able to complete more than 80% of construction for the Division Transit Project. On track to begin service in 2022, the $175 million Division Transit Project will bring a new type of bus service to the Division Street Corridor. It will use longer, articulated buses with more room inside and have the assistance of wireless technology that gives transit priority over autos when there's traffic.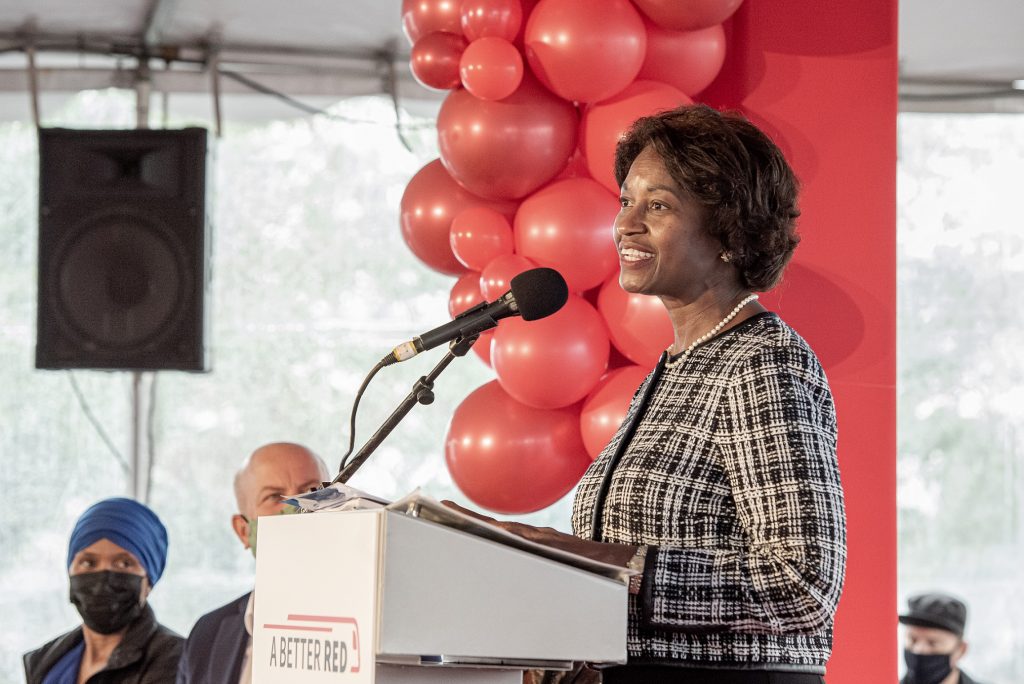 · In September, Federal Transit Administration (FTA) Administrator Nuria Fernandez helped TriMet and our partners break ground on "A Better Red" MAX Red Line Expansion and Improvements Project. The FTA awarded a nearly $100 million construction grant award to TriMet, covering a substantial portion of the approximately $215 million cost of the project. Scheduled for completion in 2024, "A Better Red" will extend the MAX Red Line into Hillsboro, serving 10 existing Blue Line stations, and build new sections of track near Portland International Airport and Gateway/NE 99th Ave Transit Center for a more reliable MAX system overall.
· We also completed the Lloyd MAX Improvements Project, revitalizing some of the original areas of TriMet's light rail system, rebuilding track, creating a smoother rider and improving system resiliency for years to come.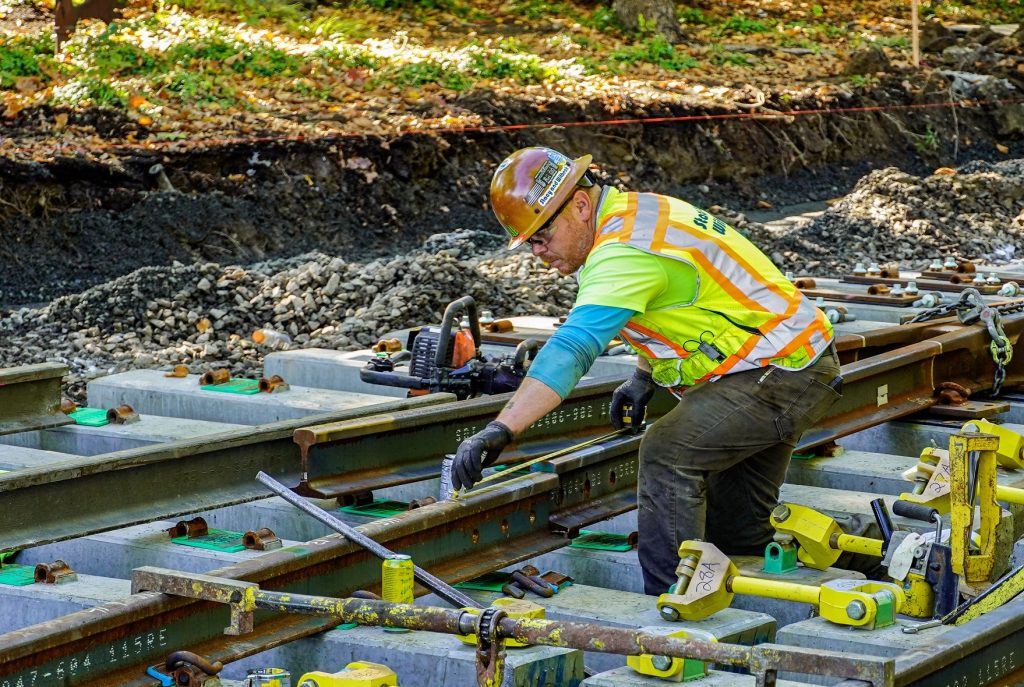 Action to make riding more comfortable, convenient and safe
We recognize that riding transit becomes a lot easier when it's safe, comfortable and convenient. Throughout 2021, we worked with our partners to make improvements that make the transportation system work better for everyone.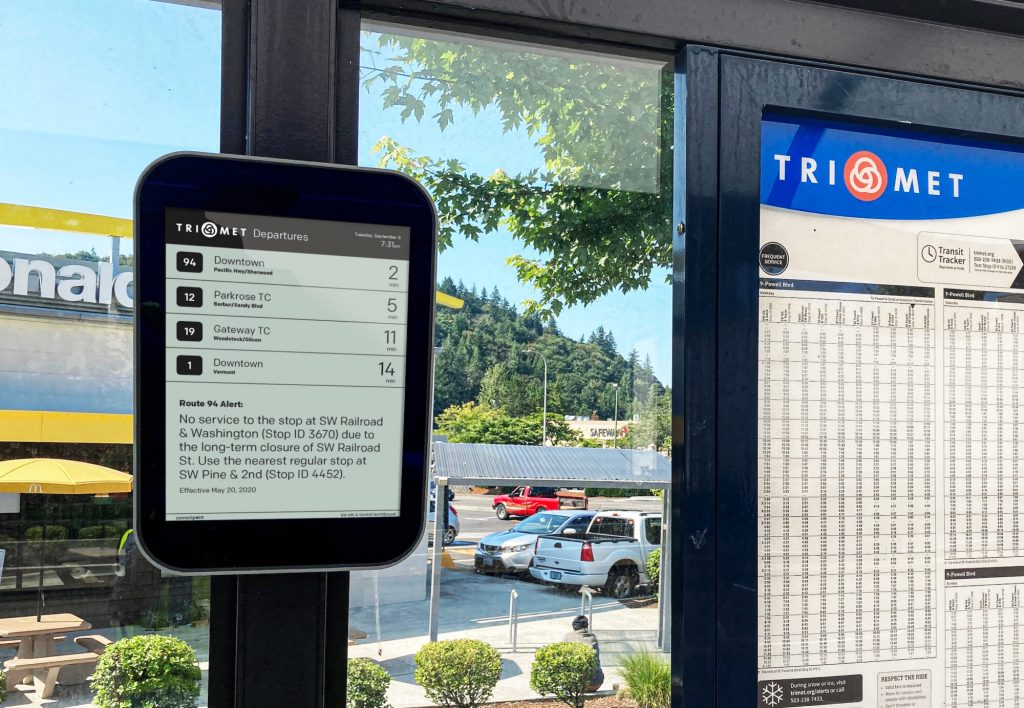 · We installed more than 120 TransitTracker™ display screens at bus stops and transit centers, to give riders a quick and easy way to see when the next bus will arrive. These solar-powered electronic signs bring conveniences typically found at MAX stations and major transit hubs to bus stops throughout our service area.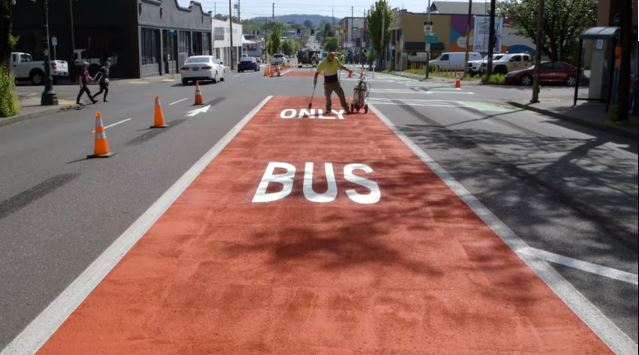 · We also worked with city, county, regional and state partners to speed up transit. With their help and continued support for transit priority projects, our buses and riders reach their destinations faster and are more likely to stay on time. Some of those improvements, like new turn signals and designated turn lanes, not only make way for buses but keep autos moving too.
· And, we made a big change on our buses and trains, introducing our new Safety Response Team. Developed through our ongoing Reimagining Public Safety process, the Safety Response Team provides an additional layer of safety and security across the TriMet system. These front line employees discourage inappropriate behavior and help those in need, providing assistance including connecting people to vital social services.
Action to uplift our community
As a public transportation agency, TriMet serves a broad and diverse community, and we are committed to equity and inclusion. Our values are rooted in ensuring all riders have fair and equal access to transit services, and we took deliberate steps to advance in 2021.
· On July 11, 2021, TriMet celebrated the selection of Sam Desue Jr. as the agency's first Black General Manager. Desue, who served as Interim General Manager following the retirement of Doug Kelsey in March, joined TriMet in 2019 as Chief Operating Officer. His decades of experience in the transportation industry include leadership roles for transit agencies in the Seattle and Kansas City metropolitan regions. He is also a U.S. Army veteran.
· To honor one of the nation's most iconic civil rights leaders, TriMet held our first Rosa Parks Day on Feb. 4, 2021. No fares were collected during the observance, which was adopted in support of transportation equity. Rosa Parks Day will be held annually in early February, on or around Parks' birthday.
· All are welcome on our transit system, and we paid tribute to the diversity of the vibrant communities that we serve with a series of special buses. Each design, made to coincide with a specific cultural heritage month, featured community leaders and history-makers. Each special bus will remain in rotation for nine months.

· And, for the second year in a row, we partnered with Toy & Joy Makers to help make the holidays special for thousands of children across the Portland metro area. We donated access to and use of a secured building at the future Columbia Bus Base to serve as a giant toy box, holding more than 30,000 gifts to be distributed to local social service organizations. What a way to put a bow on a very busy year!
While we head into the New Year still facing challenges, we are determined to provide transit service that will keep our community moving toward a better future. We look forward to seeing you in 2022!