ODOT grant helps bring back the annual tradition, intended to help people celebrate responsibly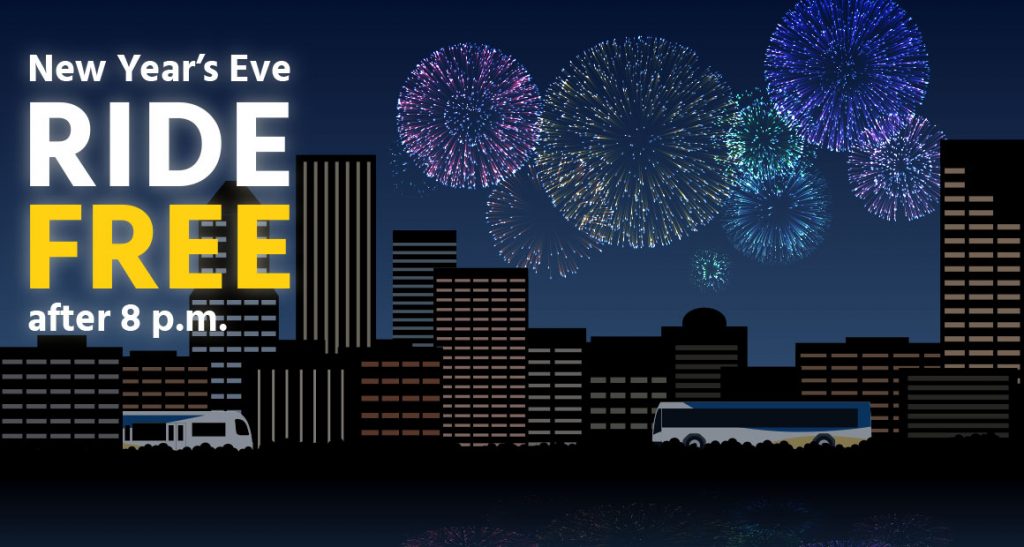 TriMet is bringing back free rides on New Year's Eve in 2021 in partnership with the Oregon Department of Transportation (ODOT). With the return of the annual tradition, which was temporarily halted in 2020, TriMet and ODOT hope to encourage people to avoid driving impaired, which is the leading cause of crashes involving serious injuries and fatalities.
Kick back and enjoy the free rides starting at 8 p.m. on Friday, Dec. 31, with extended MAX service running into the early morning of Saturday, Jan. 1. Portland Streetcar will also be offering free rides after 8 p.m. until the end of their service as well. During those hours, simply board any TriMet bus, MAX train or Portland Streetcar to travel to your destination. Remember, masks are required on all transit vehicles.
By working with ODOT to help keep impaired drivers off the road, our goal is to bring some extra peace of mind to drivers, pedestrians and those looking to take in the festivities. Offering free rides on New Year's Eve has been a TriMet practice for years, and we're excited to be bringing it back.
Starting on New Year's Eve, MAX Blue, Green, Orange and Yellow line trains will run every 30 minutes until about 3 a.m. on Jan. 1. Red Line trains will end service earlier, with the last train to Portland International Airport departing Pioneer Square at 12:48 a.m. on New Year's Day.
"We want people to be safe as they celebrate the ringing in of a new year," TriMet General Manager Sam Desue Jr. said. "We appreciate ODOT's support as we provide free service so more people will chose to celebrate responsibly and use transit respectfully this New Year's Eve."
 "We want to make sure everyone has a safe and secure holiday," said Rian Windsheimer, ODOT manager for the Portland area. "Providing these free services will help keep our roads and our communities' safe on New Year's Eve. Do your part and take advantage of these free options to ensure we all have a safe and happy holiday to start 2022."
Stay safe and healthy this NYE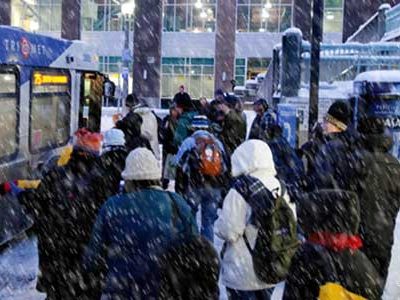 New variants of COVID-19 mean the pandemic is still in flux. This is why it's still important to remember to stay respectful of the health guidance that remains in effect. This includes when you're riding a bus or train. Masks are still required while riding by federal law. Please bring your own, but if you do happen to misplace it during the course of the evening, you can grab a fresh one as you board.
Please be careful when you're around trains or buses, or around stations and stops. Especially if traveling by bus, consider bringing a light so you're more visible to bus operators and other drivers. While celebrating, be respectful of our operators, vehicles and other riders. If you see something suspicious, say something to a TriMet employee, a police or security officer, or call 9-1-1.
Our 503-238-RIDE Customer Service office and our Customer Support Center at Pioneer Courthouse Square will be closed Jan. 1 for the New Year's holiday. The Online Trip Planner and TransitTracker will reflect the appropriate holiday schedules.
Get on board this New Year's
With events happening throughout the Portland area, we're committed to helping you get to one of the many gatherings easily and safely. There are dozens of events spread throughout TriMet's service district, many accessible by bus or train.
Champagne Ball: For more than 30 years, the Champagne Ball has been making New Year's extra bubbly, bringing top entertainers and hosting 18 bars at the Hilton, 921 SW 6th Ave. The Hilton is just a short walk to downtown bus lines, the Pioneer Place/SW 5th Ave and Pioneer Square North and South MAX stations, as well as Portland Streetcar.
The Governor's Ball: Located at the Sentinel Hotel, 614 SW 11th Ave, the Governor's Ball promises to offer a sophisticated New Year's Eve experience, with live music, dancing, food and drinks. The Sentinel Hotel is within just a few hundred feet of the Galleria/SW 10th Ave station, serving MAX Blue and Red Line trains, and is close to other stations and bus stops as well.
New Year's is a Drag!: Ring in 2022 with New Year's is a Drag!, located at the Pharmacy PDX, 2100 NW Glisan St. The show will go on through the night, along with dancing and, of course, champagne for when the clock strikes midnight. Pharmacy PDX is within walking distance of Providence Park MAX station, along with several bus lines.