The two-week project, Oct. 10-23, will make improvements to MAX tracks and other systems near the Lloyd Center
More improvements are coming to one of the most frequently used sections of the MAX system as part of TriMet's Lloyd MAX Improvements project. The two-week project kicks off this weekend on Sunday, Oct. 10, and will last through Saturday, Oct. 23, with regular service returning on Sunday, Oct. 24.
The work will take place east of the Lloyd Center/NE 11th Ave MAX Station, in an area where eastbound trains begin picking up speed as they enter our exclusive right of way next to I-84. This is a well-traveled area, carrying MAX Blue, Green and Red line trains. It's also among the oldest sections of the light rail system, opening to the public in 1986 and seeing more traffic over the following 35 years as the MAX system has grown.
Building a better MAX system
Work will take place around MAX tracks located to the east of the Lloyd Center Station. Principally, the work will center on replacing tracks and improving drainage, efforts that will boost the overall resiliency of the MAX system.
Over the decades, runoff from heavy rain has spilled directly into the trackway and pooled, carrying with it leaves, branches and other debris that can end up softening our wooden rail ties more quickly. Our crews will install two new drains to catch the roadway runoff and direct the water away from the tracks. Crews will also replace about 250 wooden ties with more durable ones made of concrete. These improvements will not only help keep MAX trains moving, they'll create a smoother ride.
With these types of maintenance projects, we know our riders' time is valuable, and our goal is always to pack in as much work as we can to reduce future rider impacts. As part of the project, we'll be upgrading our signals system and replacing a switch machine. Crews will also be performing rail grinding, picking up litter and replacing the tactile pavers on closed platforms, all of which is work that's best performed when trains aren't running. We appreciate our riders' understanding and patience as we get this important work done, and we look forward to rolling out these improvements once the project wraps.
Five tips for riding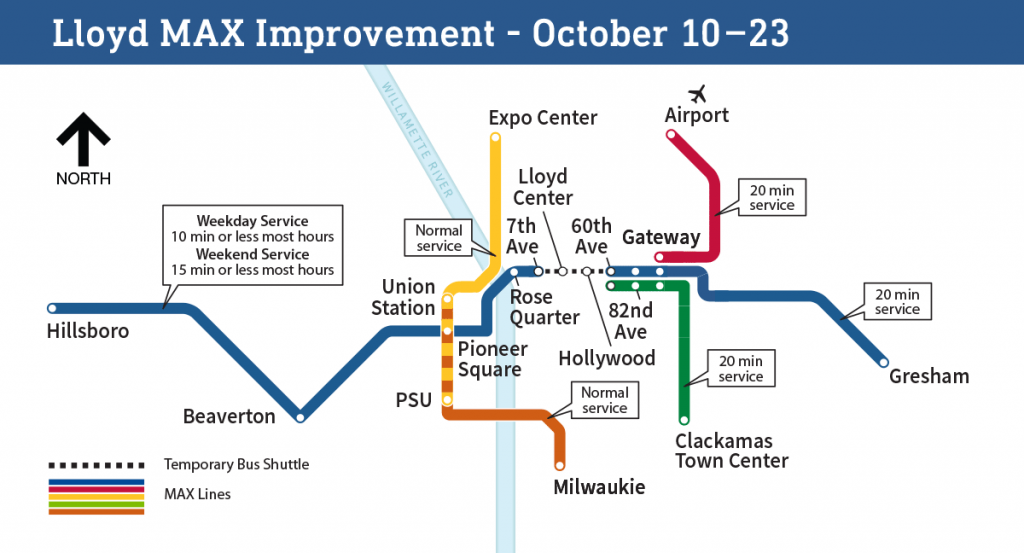 During the project, MAX Blue, Green and Red line trains will be disrupted between NE 7th Ave and NE 60th Ave, with shuttle buses replacing MAX service. Getting our riders to work, appointments and other destinations safely is our top priority, so we will be working to move people around the disruption. Shuttle buses will be arriving about every 10 to 15 minutes to locations near the closed platforms.
Here are our top five tips to help keep you moving and in the loop about the project.
Those riding MAX during the improvement project should plan at least an extra 45 minutes for their trips.
Follow us on social media. We've got several Twitter accounts that can keep you informed with the latest developments, news and service information, which include @trimet, @trimetnews and @trimetalerts. You can even tweet your questions to @trimethelp.
If possible, consider using alternative modes of transportation during the project. As much as we want to welcome you on board, we also understand if different options may work better for you during the project.
Spin Scooters will be offering a discount code, "LLOYD", during the project, from Oct. 10-23. They will also be offering Spin Access, five 30-minute free rides for Honored Citizen card holders, along with Everyday Heroes, five 30-minute free rides for health care professionals. Click the links to sign up now!
Please stay patient as we work to make your trips as efficient as we can. For Blue Line riders, trains will travel between Hatfield Government Center MAX Station in Hillsboro and NE 7th Ave MAX Station, as well as between NE 60th Ave MAX Station and Cleveland Ave MAX Station; Green Line trains will travel between Clackamas Town Center and NE 60th Ave MAX Station, with no service farther west; Red Line trains will only run between Portland International Airport and Gateway Transit Center, with no service farther west; Orange and Yellow Line trains will run on their regular schedules.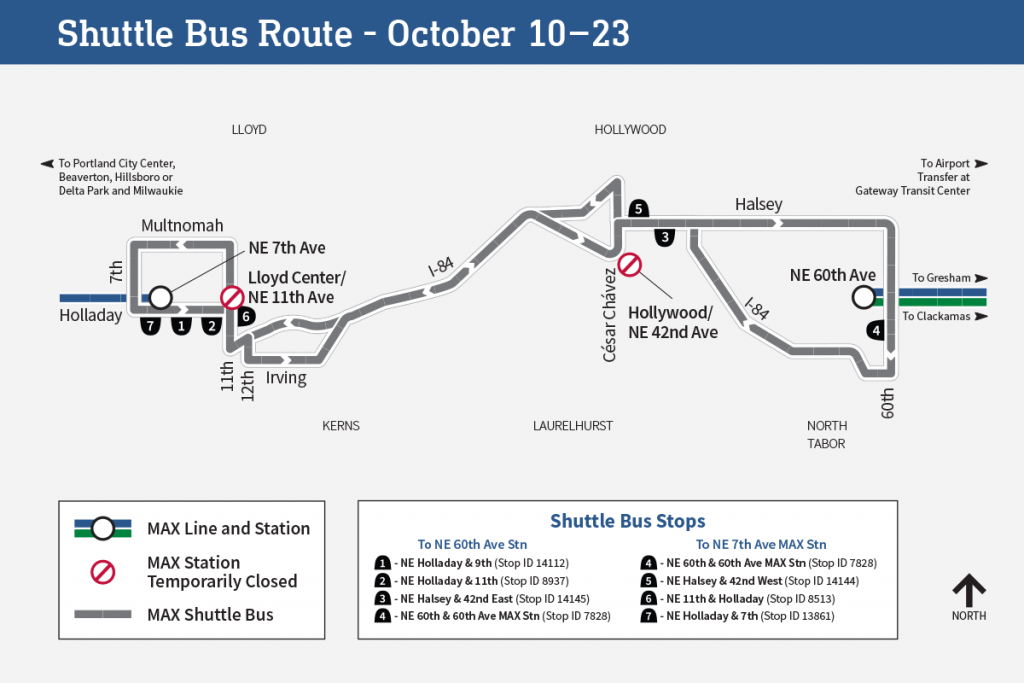 Making Transit Better
Performing regular maintenance is a vital part of keeping trains moving every day. We can sometimes do smaller projects when trains aren't running, but for bigger projects, crews need extra space and time to operate. Investing in infrastructure yields noticeable returns—a safer, more efficient MAX system with increased durability. It's a critical way of maintaining MAX, the second oldest of the modern light rail systems on the West Coast and third in the nation. For more about how we're making transit better, visit trimet.org/bettertransit.