Buses and trains may be fuller than they've recently been on Oct. 4, as fans flock to catch the Blazers pre-season home opener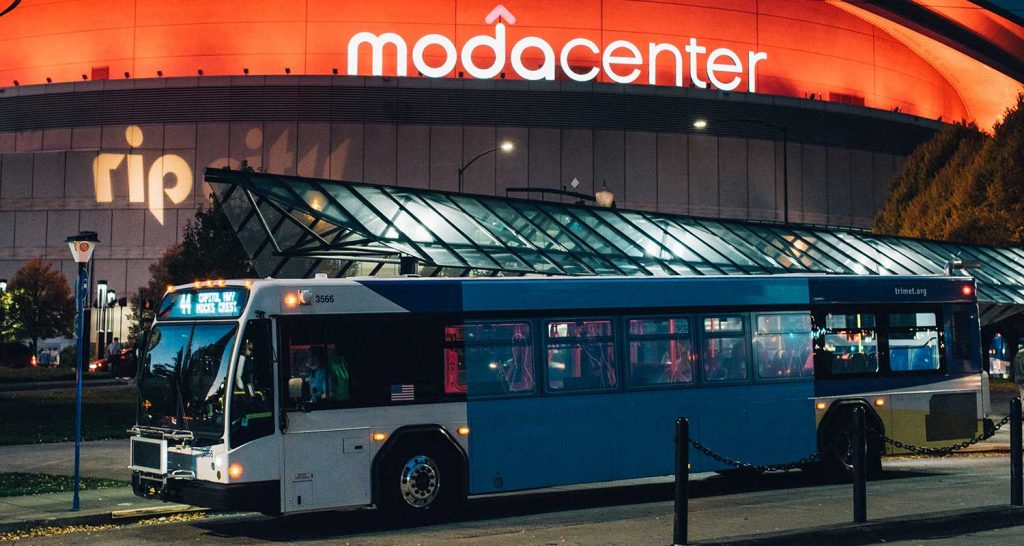 For basketball fans, each new season brings a fresh start, a sense of hope and a belief that miracles do indeed happen on the hardwood. And for the diehard Trail Blazers faithful, TriMet knows you don't want to miss a moment of the action. With the Blazers returning to the Moda Center on Monday, Oct. 4, for their pre-season home opener, many fans are going to focus their attention on something they've been anticipating for weeks— the game — and leave the driving to us.
Taking TriMet to home games is convenient and affordable. But with the COVID-19 virus still affecting the region, we also want everyone to remain safe and healthy as more people ride. The Moda Center is requiring guests 12 and older to provide either proof of vaccination or a negative COVID-19 test. Whether vaccinated or not, riders are still required to wear masks on TriMet's buses and trains, per federal mandate.
The starting five reasons to ride
Following their first-round playoff exit last season, here's to hoping the Blazers rebound and stay red hot and rolling as they thrill the Rip City faithful. And of course you can count on us for the rolling part — to and from the two preseason home games, 41 regular season home games and whatever the postseason brings.
Here's our starting five line-up:
Point Guard — Assisting you to relax
Beer, wine and spirits are a part of the game-watching experience for many. And while most fans don't overdo it, even a couple drinks is enough to impair your driving and land you in deep trouble. By taking the bus or MAX, you can enjoy a beer or cocktail and feel content knowing you're doing so responsibly.
Power Forward — Driving the lane, dunking on parking
All it takes is a tap from your Hop FastpassTM to get you to the game. It's fast, affordable and convenient. A two-way trip costs $5 compared to double-digit parking prices at the Moda Center or one of the nearby parking lots. The price is only $2.50 for youth and honored citizens.
Center — Screening out traffic
Getting to weeknight games before the 7 p.m. tipoff can be a challenge. Leave it to us to protect you from the bumper-to-bumper grind of the rush hour commute. All MAX lines serve stations within only a few feet of the Moda Center. Six bus lines also serve stops next to the Moda Center.
Shooting Guard — Building camaraderie with fellow fans
MAX trains are electric in more ways than one, with the energy palpable following home wins. It's in this setting where strangers become quick friends recalling buzzer beater shots and heart-stopping steals.
Small Forward — Doing our part to keep driving lanes clear
By taking transit instead of your car, you're doing your part to keep traffic lanes clear for everyone else.
Getting to Moda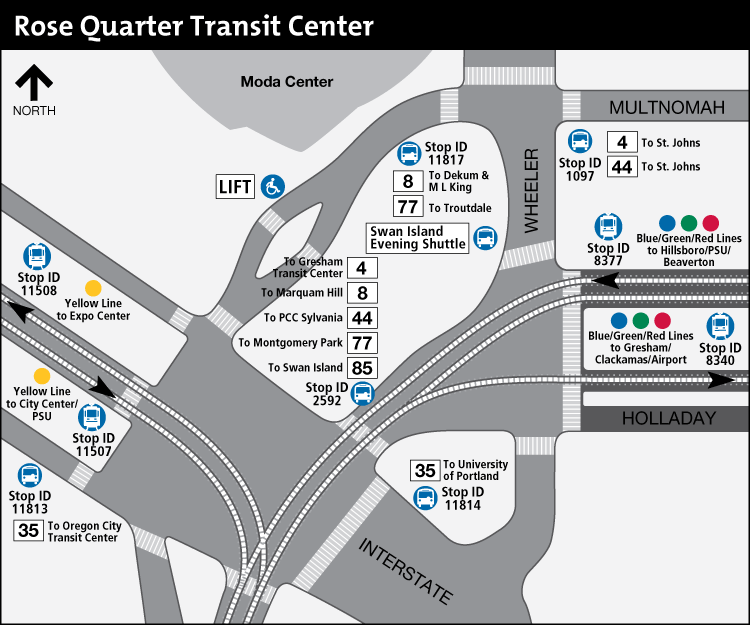 All MAX lines serve the Rose Quarter and will get you to the Moda Center. The MAX Blue, Green and Red lines stop at the Rose Quarter Transit Center, and the MAX Orange/Yellow Line connects you to the Interstate/Rose Quarter Station. Both are just steps from the Moda Center entrance.
If catching a bus works better for you, we have at least six lines that serve the Rose Quarter.
Line 4-Fessenden
Line 8-Jackson Park/NE 15th
Line 35-Macadam/Greeley
Line 44-Capitol Hwy/Mocks Crest
Line 77-Broadway/Halsey
Line 85-Swan Island
Riders should expect TriMet buses, MAX trains and platforms to be more crowded than usual, and bustling. We encourage planning a little extra time and heading to games early. If you need help with your travel plans, you can go one-on-one via text message or over the phone at 503-238-7433 between 7:30 a.m. and 5:30 p.m. and on twitter at @trimethelp.
Stay safe and healthy
With nearly 80% of the metro area's adult population vaccinated against COVID-19, the region continues to address the challenges of the pandemic. However, the last few months have seen some significant increases in cases. We urge that anyone traveling now consider their options and continue to take precautions. On TriMet, that means always wearing a mask.
Since the start of the pandemic, we've been taking active measures to help protect our riders and employees from the virus. We're continuing that approach by providing face masks on board along with cracking some windows on our buses to let in more fresh air. For more about riding now, visit trimet.org/health.