Shuttle buses will take riders around the disruption from NE 7th Ave to NE 60th Ave, with MAX Green and Red line service restricted to the eastside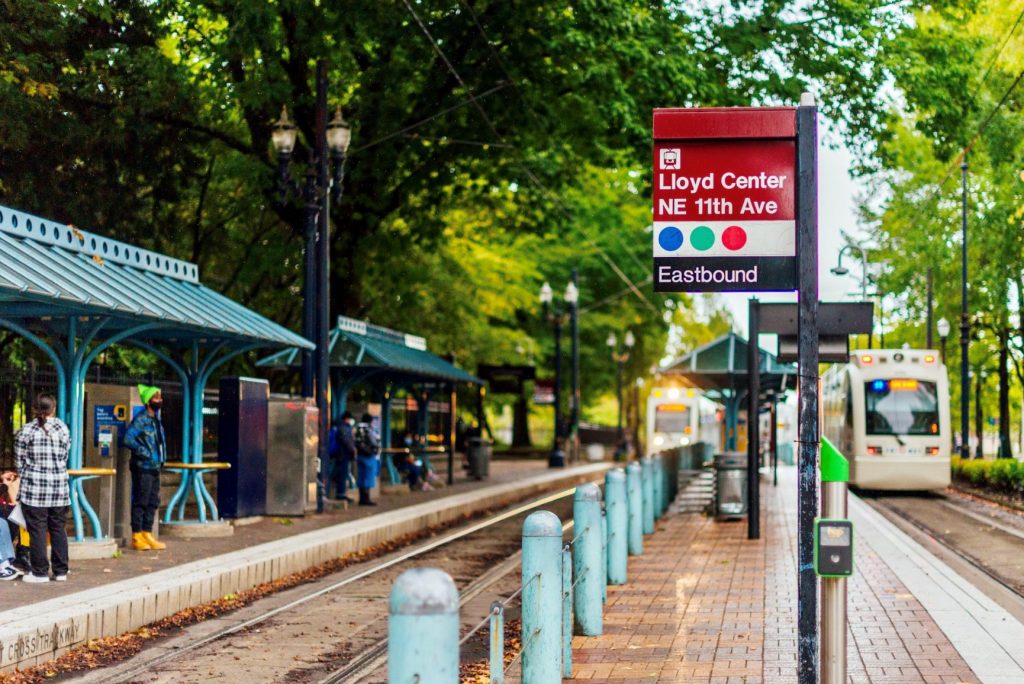 More upgrades are on the way for the MAX system this October with the Lloyd MAX Improvements project. During the two-week project, crews will continue to revitalize some of the original areas of TriMet's light rail system. To create a smoother ride and improve resiliency, the work will rebuild a section of track just east of the Lloyd Center/NE 11th Ave MAX Station.
Starting Sunday, Oct. 10, through the end of service Saturday, Oct. 23, MAX Blue, Green and Red lines will be disrupted. Shuttle buses will replace MAX service between NE 7th Ave and NE 60th Ave stations. During the project, MAX Green and Red line trains will be limited to the eastside of the Willamette River, with MAX Blue Line trains running more frequently on the westside to replace Red Line service. 
Shuttle bus service, Oct. 10-23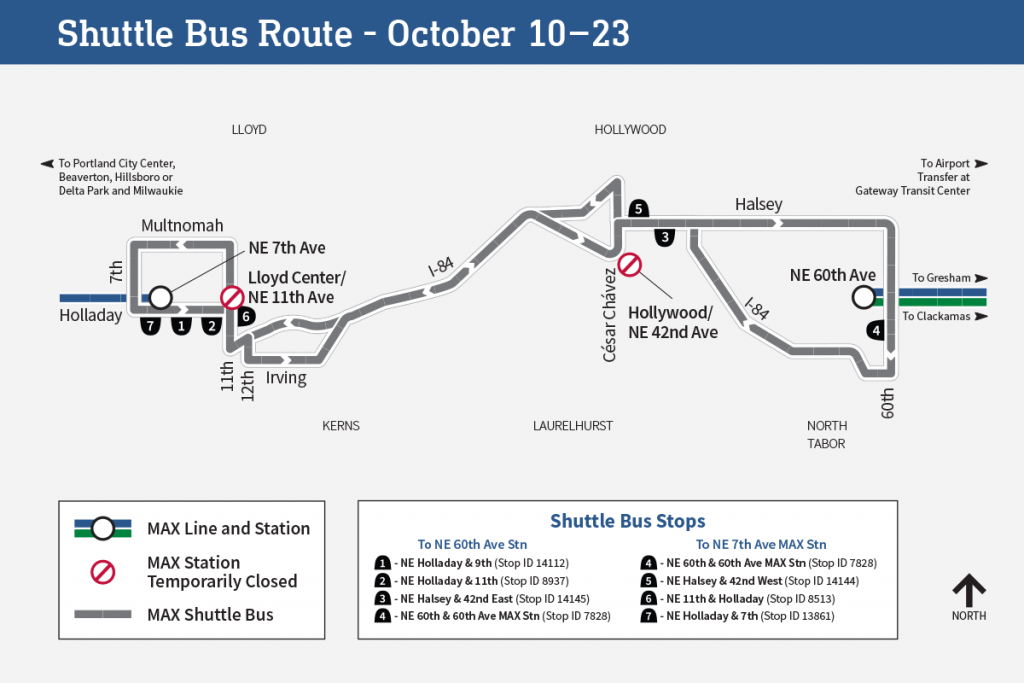 Shuttle buses will connect with trains at the NE 60th Ave MAX Station and the NE 7th Ave MAX Station, serving stops near the closed stations in between. On weekdays, shuttle buses will arrive about every 10 minutes or more often at times, while on weekends they'll arrive about every 15 minutes.
TriMet customer service employees and Ride Guides will be at closed stations and shuttle bus locations to help riders make their connections. These employees are available to answer questions about service, help riders find their next bus and hand out masks if you need a fresh one.
Riders will want to remember that some COVID-19 guidelines remain in place. Per federal law, face masks are required when riding. We continue to make disposable masks available on board for those who need them.
Changes to MAX service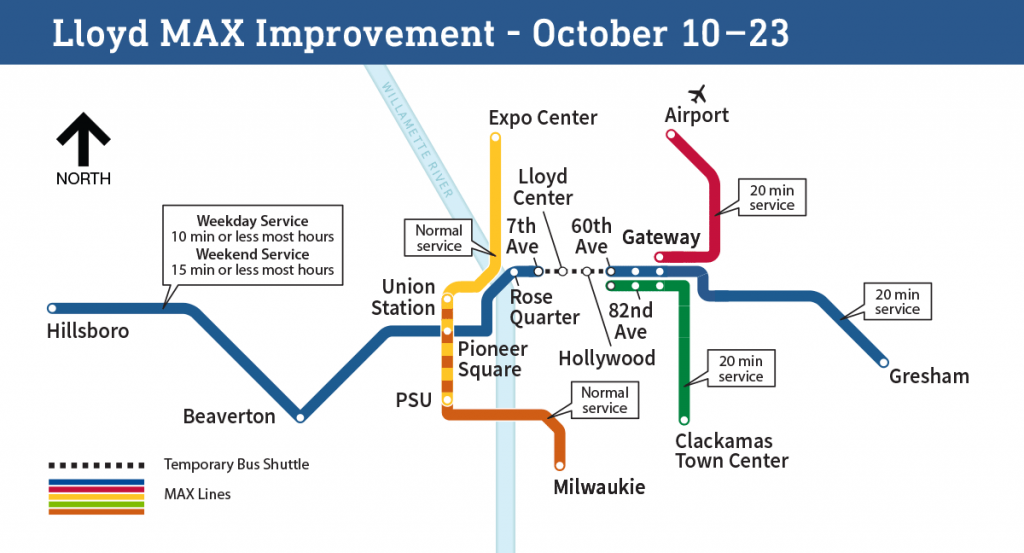 Due to the construction site's location—in an area that typically carries MAX Blue, Green and Red line trains— there will be some impacts to MAX service.
MAX Blue Line: The Blue Line will travel between Hatfield Government Center MAX Station in Hillsboro and NE 7th Ave MAX Station, where riders can connect with shuttle buses for trips farther east. Heading west, the Blue Line will travel between Cleveland Ave MAX Station in Gresham and NE 60th Ave, where shuttle buses will be waiting at the street-level bus loading location above the station.
MAX Green Line: The Green Line will only run between the Clackamas Town Center and NE 60th Ave MAX Station. Riders heading farther west can catch a shuttle bus at NE 60th Ave, which will take them to NE 7th Ave where they can take a Blue Line train to Downtown or to the Moda Center area to transfer to the MAX Orange Line southbound at Interstate/Rose Quarter.
MAX Red Line: Red Line trains will only run between Portland International Airport and Gateway Transit Center.
For trips to the airport from the west side, board an eastbound MAX Blue Line to NE 7th Ave MAX Station and transfer to a shuttle bus at NE Holladay & 9th Ave. At NE 60th Ave MAX Station, board any MAX and transfer to a Red Line train at Gateway Transit Center.
For trips from the airport to Downtown Portland and Beaverton, board a MAX Red Line to Gateway Transit Center. At Gateway, transfer to a westbound MAX Green or Blue line. At NE 60th Ave MAX Station transfer to a shuttle bus and exit at shuttle stops nearby closed MAX stations, or connect with a MAX Blue Line at NE 7th Ave MAX Station, with service to Portland City Center and Hillsboro.
MAX Orange/Yellow lines: Orange and Yellow line trains will travel their normal routes with regular service.
On the eastside, Blue, Green and Red line trains will run every 20 minutes. However, on the westside, Blue Line trains will run every 10 minutes or more often on weekdays, and every 15 minutes or less on weekends, because Red Line trains are not running west of Gateway Transit Center.
Plan ahead, stay informed
We apologize for the delays and are working to minimize them. But with shuttle buses running on 10-to 15-minute intervals, riders should plan an extra 45 minutes for their trips during construction. Ahead of the work, TriMet is here to help you plan ahead and stay on schedule.
Consider using alternative means of transportation, including regular bus service if possible. If riders have questions, they can call or text 503-238-7433 (RIDE) between 7:30 a.m. and 5:30 p.m. daily. 
Go to TriMet.org/planner ahead of the disruption to know whether you need to make extra transfers due to the construction. You can also check out our web page, trimet.org/lloyd for information about the project.
Follow TriMet on social media for updates on the project and to receive alerts when service is disrupted. You can follow us on Twitter at: @trimet, @trimetnews and @trimetalerts. Or, you can sign up for service alerts to receive emails about disruptions and changes to service.
Making Transit Better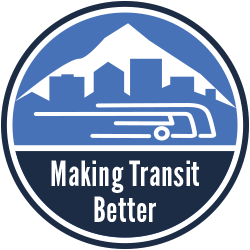 Over the past 35 years, TriMet's MAX system has grown, spreading to new areas to improve transit and decrease congestion. Maintenance projects are occasionally necessary to replace older components of the track and update the signal system. The Lloyd MAX Improvements project is part of TriMet's agency-wide efforts to make our transit service safe, convenient and more efficient. In the past year and a half, these efforts have led us to make investments in older sections of the MAX system that have served our region well for the past three decades.
In August 2020, we completely rebuilt the light rail system over the Steel Bridge. This was the largest improvements project we'd ever done, as we replaced thousands of feet of old rail and installed a new-and-improved signal system.
This spring saw the completion of a multi-phase effort to make improvements to older sections of the MAX system. In part, the project involved replacing 2,600 feet of rail near Northeast 33rd Avenue and upgrading the rail crossings at the Gateway Transit Center.
In March, we closed a portion of the Red Line between Portland International Airport and Cascades Station for a weekend so crews could replace rail along a 200-foot stretch. More work will be coming to the Red Line later this month. On Saturday, Sept. 25, and Sunday, Sept. 26, the section of Red Line between the airport and Gateway Transit Center will be closed to allow crews to resurface rail and improve drainage. Shuttle buses will be running during that weekend to move riders around the disruption.
Learn about other ways TriMet is making transit better.