Now riders on a low income have more convenient ways to sign up and pay less to ride more
TriMet's Customer Support Center at Pioneer Courthouse Square is now the one-stop spot for those living on a low income to sign up for our Honored Citizen reduced fare.
At this one location, enrollment is quick, as people can have their income verified and Honored Citizen Hop card printed and loaded with value within about 10 minutes. Customers will want to remember to bring government-issued ID—it can be state or federally issued ID, like a passport—along with supporting income verification documents and proof of Oregon residency.
More options for saving
Customers can also use the online application form by going to trimet.org/lowincome, where they can learn about income thresholds that qualify for the program. Those applying online will need to bring their application receipt with them to the Customer Service Center, where their photo will be taken and their Hop card issued on the spot.
Since beginning two years ago, more than 35,000 people have been enrolled in the low-income fare program. Oregonians continue to be affected by a fluctuating economy and job market, making reduced fares an important tool in keeping more money in the pockets of the people who need it most. Although the unemployment rate dropped to 5.2% in July, as the state added 20,000 more jobs, many people around the region are in need of assistance. Under the program, we issue a personalized Hop card that lets people ride buses, MAX, WES, Portland Streetcar and C-TRAN for $1.25 for a single ride, $2.50 for a day and $28 for unlimited rides within a calendar month. That's a 72% discount.
Riders can enjoy the benefits immediately, as soon as they're issued a Hop card at the Customer Support Center. People can load funds there using cash, credit or debit card. They can also load money at myhopcard.com, through the mobile Hop app or at stores in our retail Hop network.
In addition to the low-income fare program, TriMet offers Honored Citizen reduced fare to seniors 65 and older, as well as to those who are experiencing a mental or physical disability. Contact TriMet at 503-962-2455 or accessible@trimet.org to learn more.
Privacy is important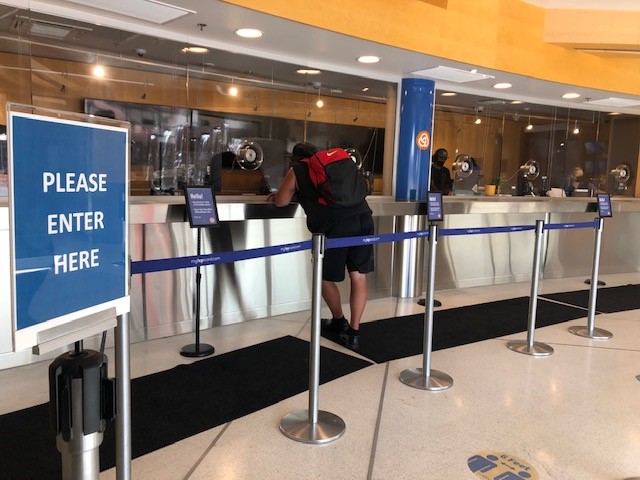 Our customers' information is important, so we take strides to protect it. TriMet is using a secure web form and encrypted database to collect information and supporting documents for any Oregon resident who would like to apply.
Qualifying for low-income fare
The program is open to Oregonians who are between 18 and 64 years old and live on an income up to double the federal poverty level. Currently that means individuals who earn up to about $25,500 a year qualify. As the family size increases, so too does the maximum annual income. For a family of four, for example, annual earnings could be as high as $51,500. Proof of income can be verified in a number of ways, but commonly income tax returns, recent pay stubs or an Oregon Health Plan card are used.