As science around COVID-19 evolves, TriMet's refined approach to system-wide cleaning creates new jobs for some, new opportunities for nearly 40 cleaners hired for limited-term positions in 2020
Throughout the pandemic, TriMet has adapted and innovated as we do our part to keep our community moving. Now, as the science about how COVID-19 spreads has changed, TriMet is shifting the approach of our limited-term cleaners, for a more consistent cleaning of our transit system, while preserving jobs.
Back in June 2020, we initially hired 124 temporary cleaners to focus on disinfecting commonly touched surfaces on our buses and trains during the day. But the Centers for Disease Control and Prevention (CDC) now says the risk of contracting COVID from surfaces is low as the virus primarily transmits from person-to-person through respiratory droplets. TriMet is now adjusting the work of our cleaners and extending their positions through June 30, 2022, as we focus more on the overall cleanliness of our system.
Beginning Oct. 3, the cleaners' role will prioritize the daily overall cleanliness of our buses, trains, transit centers and rail platforms. Most MAX trains will have additional cleaning on board before leaving from the start of a line. This adjusted approach will improve the customer experience while keeping the limited-term cleaners employed.
Temporary cleaners find long-term employment
While more than 120 people have come to TriMet for the temporary cleaning positions, 38 of them have found permanent positions with us, taking their careers in a new direction.
Tamara Holiday and Marlon Nino came to TriMet for different reasons and with different goals but it turns out they have a lot in common. They both started out as cleaners and landed permanent positions within months of joining the agency. They also both have experience in the service industry, went to school for culinary arts and moved to Portland to pursue a career in the restaurant scene.
"I cook a lot of different stuff, but my favorite thing to cook is Cajun. I love making gumbo." said Marlon as he stood outside of a bus at TriMet's Center Operating Facility. "A lot of people ask me why I'm not cooking. I tell them that cooking will always be there, but I wanted to do something else."
Marlon and Tamara were among more than 120 people hired by TriMet in 2020 to support cleaning and sanitization efforts in response to COVID-19. Tamara applied to be a cleaner after losing her job due to the pandemic.
"I was thinking this would be a good place to stay busy and help support my family," she remembered. "It wasn't always my intent to find a really good job with TriMet. I was open to all outcomes."
Changing roles
Marlon's path couldn't have been more different. Eager for the generous health and retirement benefits offered by TriMet, he set a goal to work for the agency several years ago. When he accepted a position as a limited-term cleaner, he left a 22-year career with a national grocery store chain.
"I was hesitant to leave," he admitted, "but I said, why not take the risk? That's how you move up. You take the risk. I'm totally happy with what I did."
Marlon worked as a cleaner for just a few months before applying for and getting a permanent job as a Service Worker. The experience he gained along the way made for a seamless transition.
"I have a great team. We work together really well. I have fun," he said with a smile.
Marlon says landing a permanent position with the organization was a dream come true.
"I felt like I was on top of the world," he said. "I had one foot in the door when I was a cleaner, but now I have two feet because I'm a service worker."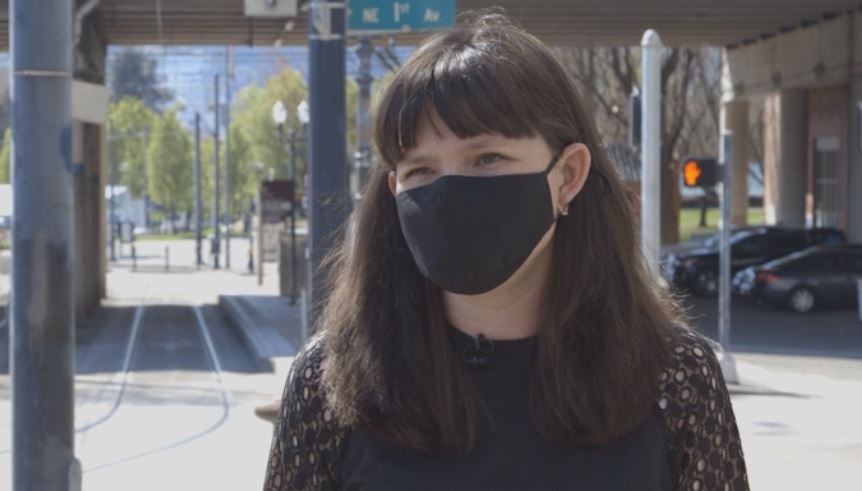 Tamara was equally thrilled when she landed a permanent job with the agency – Senior Administrative Assistant with TriMet's Safety and Security Division.
"I was very excited. I was running around my apartment. I couldn't sit down," she recalled. "There is a lot of opportunity and room for growth. You could also recommend a friend or a family member. I keep telling my husband, 'They're hiring for operators!'"
Marlon is happy with where he is, but his long-term goal is to become a bus operator. In the meantime, he's taking a look at other options at TriMet that could open new doors. He's encouraged by all of the possibilities and eagerly waiting to see what happens next.
"I wouldn't mind doing IT, so right now, I'm taking some IT courses so I can move up," he said with optimism. "There's lots of opportunities at TriMet."
Learn more at trimet.org/careers.