The clothing collection dedicated to bus line 44 is a callback to Brennan's youth and his journey toward professional sports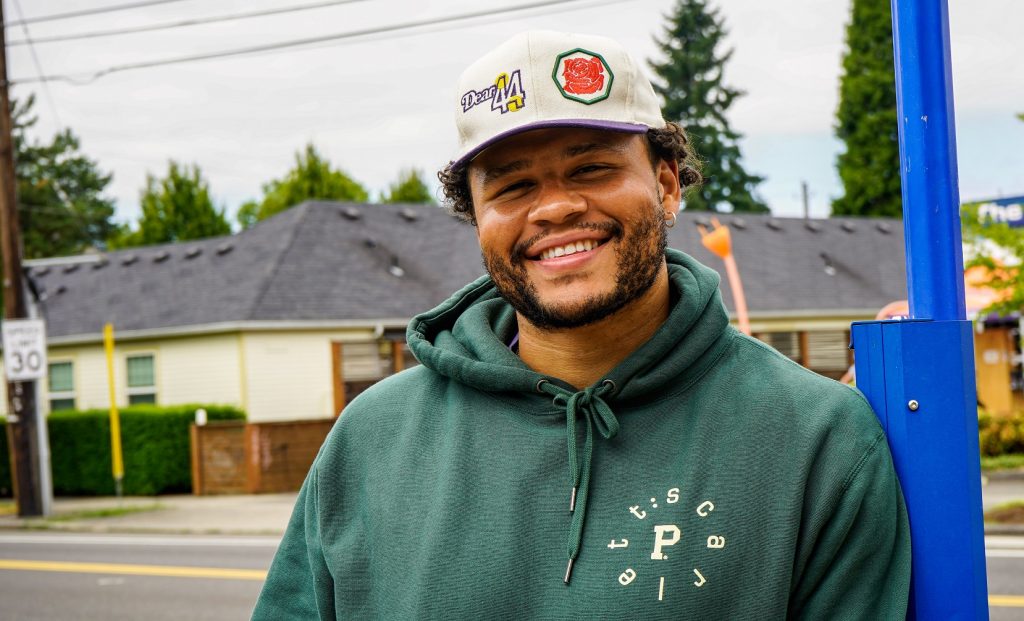 NFL linebacker Brennan Scarlett, wearing a moss-colored hoodie, stands beneath the Line 44-Capitol Hwy/Mocks Crest stop at the corner of North Albina Street and North Rosa Parks Way like he has countless times before. As a child, this was a landing pad to a world outside his St. Johns neighborhood—a destination he often reached by bus. Now, as an adult, it's a place filled with fond memories.
It's fitting that the back of his hoodie reads like the start of a letter to an old friend: Dear 44. It's an ode to the bus line that brought him to Peninsula Park on many of the dog days of summer he spent there during his youth. Taking the bus broadened Brennan's world, bringing him to a park where he could foster his interest in sports. It allowed him to connect with other kids outside his neighborhood and participate in activities that were as inclusive as the bus itself.
Dear 44—memories of a bus line
His memories of Line 44 and affection for his hometown—he spends every NFL offseason in Portland—inspired Brennan to create the Dear 44 clothing collection. The collection is a collaboration between Brennan and Portland Gear, the local apparel company that specializes in casual clothing highlighting the city.
Brennan's childhood helped inspire the creation of the clothing line. He says the Line 44 was an important part of that story because it allowed him to participate in as many as four sports at once during his summers growing up.
From Pier Park in North Portland to Portland Community College's Sylvania campus in Southwest, Line-44 runs more than 16 miles through the city. Each week the roughly 5,000 trips made on the line cover more than 26,000 miles. For Brennan, the miles he traveled exposed him to a large part of the city at a young age.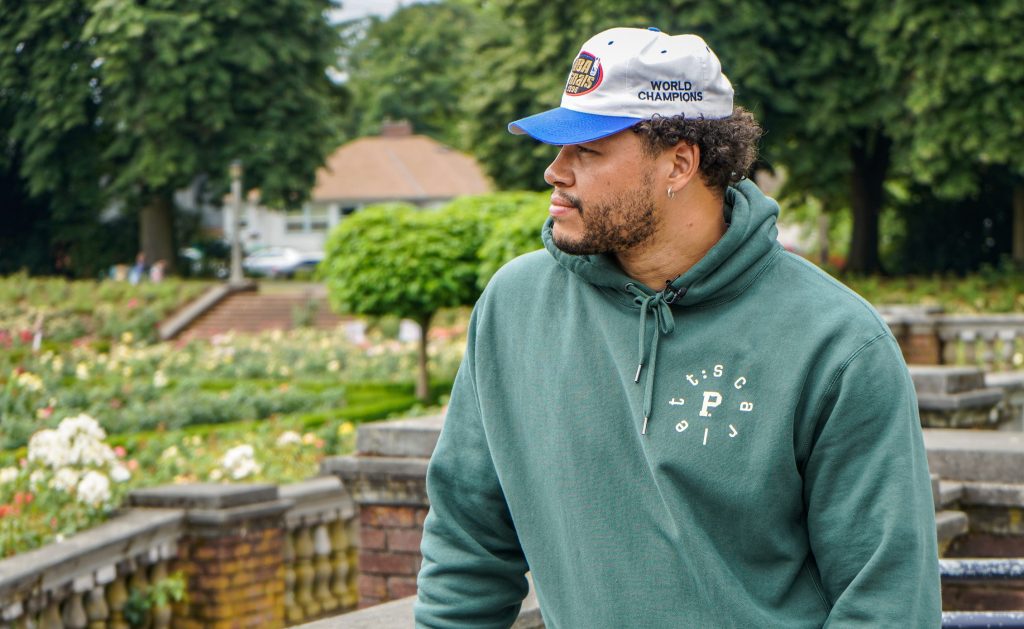 "I spent a lot of time in North, Northeast Portland, and was exposed to a lot of diversity growing up by way of the location," Brennan said. "I had a lot of exposure to a lot of different walks of life and backgrounds, and I was extremely blessed with that."
The line 44 gave him the mobility to come to Peninsula Park, and other places, to participate in the sports that would drive him to seek a career in the NFL.
"If my story can motivate some kids taking the Line 44 bus, or any other bus line, that's something I really aim to do," Brennan says.
Connecting communities
Public transportation is access to opportunity. Recognizing that, TriMet is committed to maintaining transit that is fair and equitable, and growing a system that serves a diverse community. Our values are rooted in inclusion and ensuring that everyone is welcome on board.
As the region continues to open up, and more events and destinations return, TriMet can get you and your family to those memory-making places that you'll remember years from now.
Whether you're traveling to Downtown Portland, Hillsboro, Gresham or any of hundreds of destinations throughout our 533-square-mile service area, TriMet can help make these connections. By making the system more accessible to everyone, we can bring more people to the places that impact their lives. To plan your own trip, go to trimet.org/planner.