Efforts by TriMet, PBOT and other regional partners to make transit faster, more reliable and convenient press on throughout COVID-19 pandemic
When the COVID-19 pandemic struck the Portland metro area, tens of thousands of people who regularly commuted to Downtown Portland on TriMet buses started to work from home. A lot has changed in the 15 months since, and a lot remains uncertain with the spread of the Delta variant. However, one thing is for sure. When people return to routines that include more frequent trips to and from downtown, they'll notice TriMet buses are picking up the pace, helping people who ride get to their destination faster.
"We are rolling out the red carpet for our transit riders to come back and come to downtown," said Jamie Snook, Manager of Capital Planning at TriMet.
Rose Lanes
Portland's Rose Lane Project is one of the key initiatives that is speeding up buses throughout the region. TriMet and PBOT worked together to identify bottlenecks that were slowing down riders on some of our busiest bus lines. Then, PBOT engineers took a closer look at how traffic flowed with transit and where it could be improved. They identified transit priority upgrades to keep buses moving past congestion. One tool is using red paint to highlight areas where transit vehicles get priority.
"We've been working to make sure that we are implementing improvements that are highly visible, so you'll see a lot of green paint for improved bikeways and a lot of red paint for improved transit ways," said Snook.
Focus on bridges
Some of the earliest Rose Lane projects focused on bridges that cross the Willamette River and connect people in communities from Portland to Gresham and Troutdale, Beaverton, Lake Oswego, Oregon City and Estacada. PBOT crews continued to build and expand the network throughout the pandemic. While much of their work focuses on streets near Downtown Portland, benefits stretch to the outskirts of the city and beyond:
Burnside Bridge – A new Rose Lane on West Burnside Street improves access to the bridge before continuing eastbound. It connects with and extends the bus-only lane that that Multnomah County installed across the bridge in late 2019.

Bus lines improved: 12, 19, 20

Communities served: Downtown, East and Northeast Portland, Gresham

Hawthorne Bridge – Before the pandemic, PBOT restriped Southwest Madison Street to speed up buses heading east, especially during the evening commute. Over the last several months, crews used red paint to bring awareness to new transit priority lanes on Southeast Hawthorne and Southeast Madison streets that also help keep buses out of traffic.

Bus lines improved: 2, 6, 10, 14, 30

Communities served: Downtown, East, North, Northwest, Northeast and Southeast Portland, Estacada, Gresham, Milwaukie

Morrison Bridge – Improvements on Southeast Belmont and Morrison streets between Southeast 12th Avenue, MLK and Grand improve speed and safety as buses, bikes and autos head to and from the bridge.

Communities served: Downtown, East, Northwest, Southeast and Southwest Portland

Steel Bridge – In the summer of 2019, PBOT created a business access and transit lane on Northwest Everett leading to the Steel Bridge. The new lane immediately improved the speed of buses approaching the bridge and reduced delays for riders by as much as a minute and a half.

Bus lines improved: 4, 8, 16, 35, 44, 77

Communities served: Downtown, East, North, Northeast Portland, Fairview, Troutdale
"The day that we opened the transit lane on the Burnside Bridge, buses sailed right past a line of traffic, and the passengers on the bus all clapped. This is a great thing for our current riders, and we hope more people come on board," shared Snook.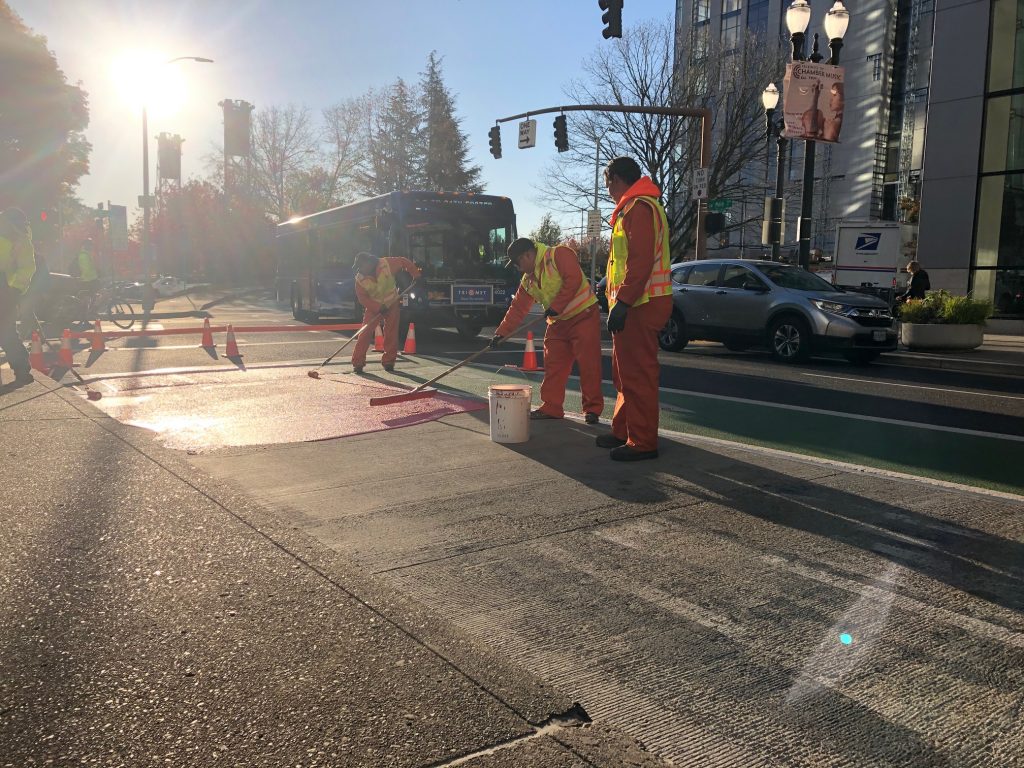 Other projects
Some major streets in the Portland metro area have also received the Rose Lane treatment:
MLK and Grand – New, red transit lanes on Martin Luther King (MLK) Boulevard Grand Avenue, between Southeast Mill and Northeast Broadway help Line 6 buses and Portland Streetcar move more freely through more than 1.5 miles of congestion.
Washington County – Washington County installed its first red lanes in the summer of 2020 to help reduce delays for riders traveling on Northwest 185th Avenue through the intersection with Cornell Road.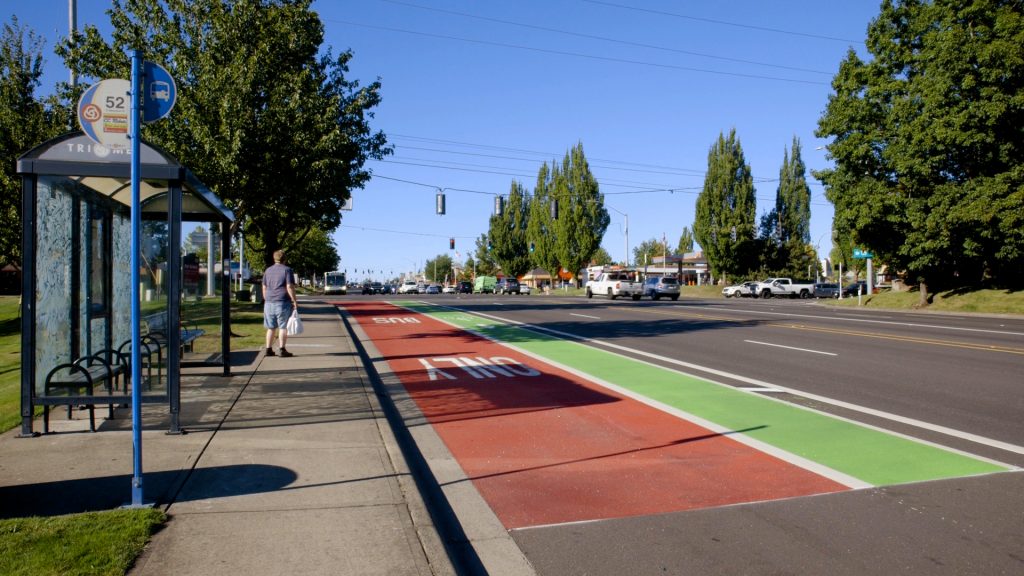 Strategic Partnerships
TriMet's mission is to connect people with valued mobility options that are safe, convenient, reliable, accessible and welcoming for all. Since our buses travel on roads owned and maintained by cities, counties or the state, we rely on their partnership to make transit better. We thank agencies across our three-county service district for their support and ongoing commitment to achieving these goals.
"When we're making a decision to ride the bus, we want to be able to move quickly and see that travel time savings," said Snook. "These projects are going to help us realize that."
Making transit better together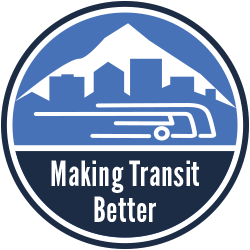 When it comes to reducing traffic congestion, TriMet is part of the solution. A single bus can take more than 60 cars off the road. Riding transit instead of driving a car helps reduce air pollution. As a result, we live in a cleaner environment with more vibrant and livable communities. With regional support to help keep buses moving past traffic congestion, we make transit a more attractive and convenient option for safe, reliable transportation. Plan your next trip at trimet.org/planner.