With concerts returning, TriMet remains the most convenient way to reach shows and save money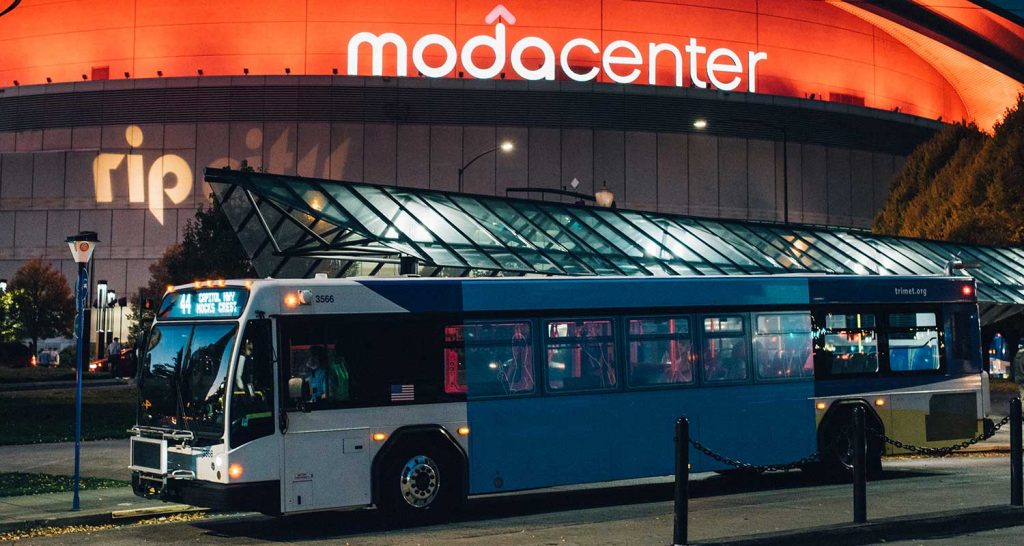 Guns N' Roses will be "loaded like a freight train", "speedin' like a space brain" one more time this weekend, and TriMet can get you there in style.
Up to 10,000 fans expected to join Axl Rose and crew at the Moda Center on Sunday, Aug. 22, for the first concert at the venue in over a year and a half, the energy level will be high and raucous. Doors open at 5:30 p.m. for the 7 p.m. start. All TriMet riders—whether traveling to the concert or not—should expect busier buses, MAX trains and platforms in the areas near the Moda Center during these times, and around the time the concert is expected to end, 11 p.m.
The Moda Center is not requiring concertgoers to show proof of vaccination, but masks are required inside the building, the parking garage and around the Rose Quarter campus. Masks are also always required when riding TriMet, per federal law. Those in need of a mask can find a free, disposable one available as you board a bus or train. For more information about service to the Moda Center, go to TriMet.org/moda.
"It's So Easy"
The return of Portland's largest concert venue is a long-awaited event for fans of live music. But with it comes the challenge of parking, often hard to find and pricey. If you ditch your car, TriMet can make getting to the show convenient, safe and fun. The Rose Quarter area is a bustling transit hub, home to all MAX lines, as well as six bus lines: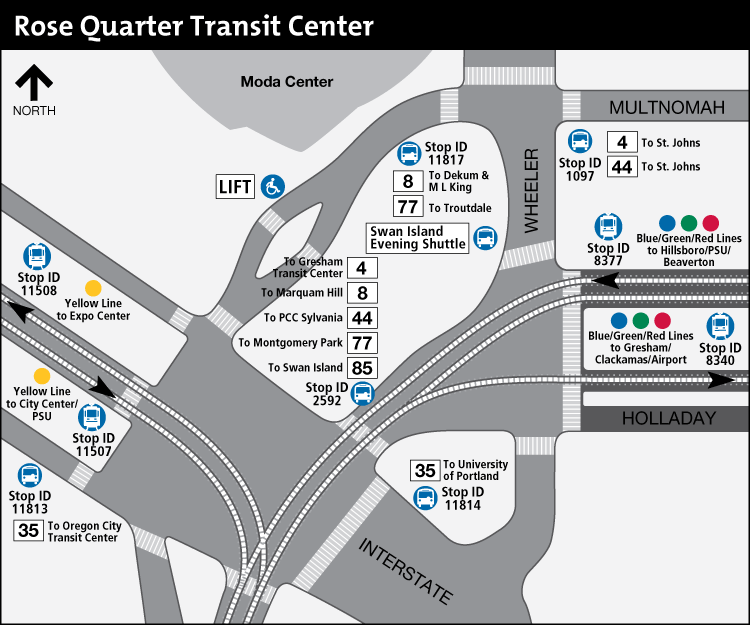 MAX Blue, Green and Red lines stop at the Rose Quarter Transit Center, and MAX Orange/Yellow Line connects to the Interstate/Rose Quarter Station. You can plan your trip now by going to trimet.org.
"Think About You"—and others—when riding
The rise in cases of COVID-19 is a concern for our community as the Delta variant continues. While getting vaccinated is an important way of keeping yourself—and others—healthy, health experts say masks are an important tool right now for keeping cases down.
The Transit Security Administration continues to require that travelers wear a mask on public transit. TriMet has free masks available in dispensers on all of our vehicles if you need a fresh one. Masks are also required at busy stations and stops, so remember to keep it on and covering both your nose and mouth while riding, exiting and waiting for the next train or bus.
Remember "Patience"—and plan ahead
The show usually starts around seven

We go on stage around 9

Get on the bus about eleven

Axl Rose, "Mr. Brownstone"
TriMet gives you the flexibility to get to the show when you want. But with more people riding, we suggest planning a little extra time. By going to TriMet.org/planner, you can check arrivals, departures and travel times ahead of Sunday's show.
If you need help with your travel plans, you can receive arrival time information from our Rider Support team via text message at 503-238-7433. You can also call 503-238-RIDE (7433) seven days a week between 7:30 a.m. and 5:30 p.m. or on Twitter at @trimethelp.
---