Following a successful cleanup around the Gateway Transit Center over the weekend, TriMet plans three more events in Portland later this summer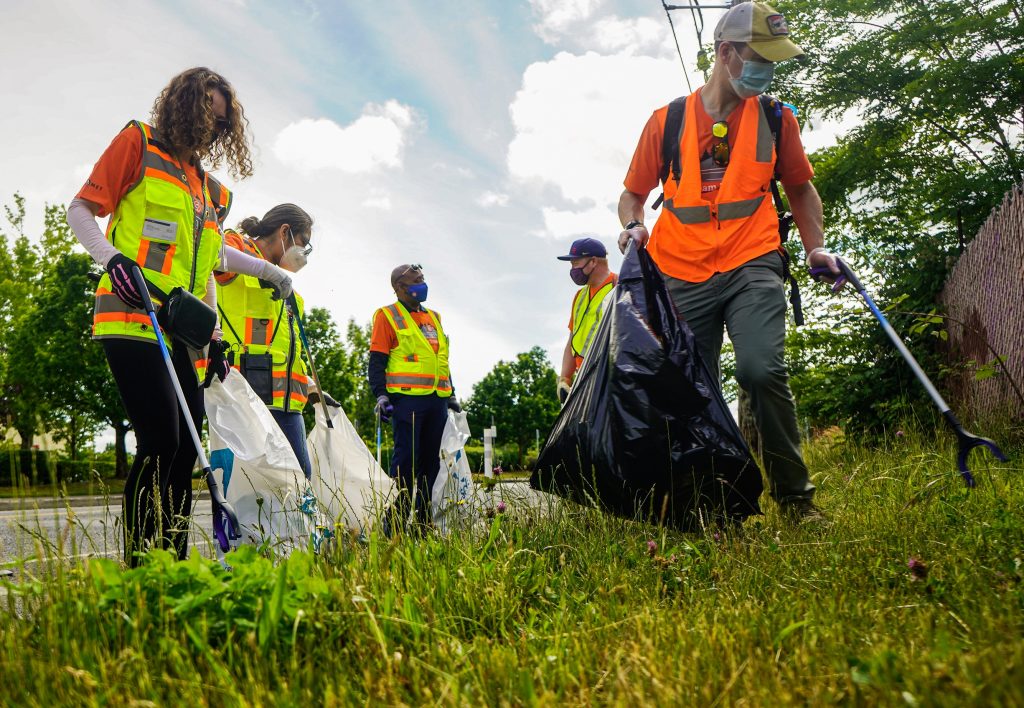 The morning air was still crisp as a group of more than a dozen TriMet employees gathered with others in the Fred Meyer parking lot off of Northeast 99th Avenue on Saturday, June 12. There, the volunteers collected their tools—trash bags, reach extenders and gloves—and prepared to depart for the surrounding areas to clear out rubbish, piece by piece.
To take part in the SOLVE event, the Portland nonprofit that organizes neighborhood cleanups, TriMet assembled our first group of litter-collecting volunteers to hit the area around the Gateway/NE 99th Ave Transit Center. The transit center sees a rush of activity every day, with MAX Blue, Green and Red Line trains, seven bus lines, as well as the Columbia Gorge Express, all passing through it. It's been an important part of TriMet's transit system for more than 35 years, and we want to do our part to help keep the area looking good for those who live, ride and do business in the neighborhood.
TriMet's volunteer team was made up of employees from various departments and included Interim General Manager Sam Desue, Jr. The group swept through the neighborhood picking up items both large and small, and regularly having their full bags replaced by new ones.
"It was a privilege to be out there with an amazing team of volunteers to help keep the neighborhood clean," Desue said. "It's important that we do what we can to maintain a vibrant city, especially one as beautiful as ours, where people feel comfortable walking and connecting with transit. I want to thank everyone who made time to volunteer at the Gateway SOLVE event, and I look forward to the upcoming cleanups later this summer."
In addition to SOLVE, the Hazelwood Neighborhood Association, Fred Meyer, The Oregon Clinic and Realty Brokers all sponsored Saturday's event, supporting volunteers as they collected bags full of trash across neighborhood.
Investing in Gateway
The Gateway Transit Center will continue being a critical part of the transit system for many years to come, with the development of our Better Red project coming soon. It will extend the MAX Red Line to Hillsboro, and in doing so improve sections of track near the transit center and Portland International Airport. Helping to keep the neighborhood surrounding the transit center clean is one way we can make a positive impact ahead of construction, which is slated to begin later this year with an expected completion date in 2024.
Summer cleanups planned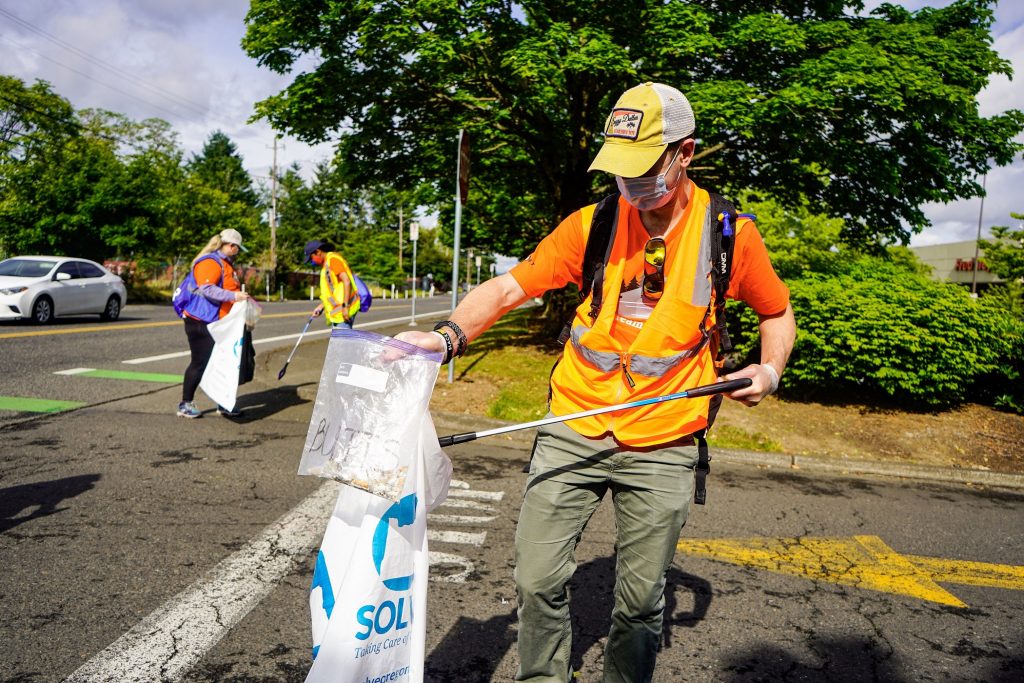 Throughout an area extending a few blocks north, south and east of Gateway Transit Center, TriMet's volunteers picked up all types of litter, with special containers used for cigarette butts and batteries. While the Gateway event was a first, TriMet is planning future cleanups to take place in Downtown Portland later this summer.
TriMet volunteers who participated in the first event on Saturday said clearing trash was a constructive way of showing civic pride. It's doing something practical to help nearby businesses, improve the look of public spaces and give our riders a better experience.
"It was a pleasure working alongside this team and our community partners, whose hard work made this event a huge success!" TriMet Community Affairs Specialist Libby Winter said. "The Hazelwood Neighborhood Association and SOLVE made this possible, and it was a great experience to be able to participate and make a difference. People were showing their support by honking their horns and saying 'thank you' as they passed, which is always nice to hear."
TriMet is planning for future cleanups to take place in July, August and September. The objective will be the same:  to clear trash from areas of the city that are seeing a rise in litter.