Desue to become the first Black leader of Oregon's largest transit agency in its 51-year history and brings more than 27 years of transportation experience to role
TriMet's Board of Directors has named Sam Desue, Jr., as the new general manager to lead Oregon's largest transit provider. Desue, who currently serves as the interim General Manager and Chief Operating Officer, was selected following a national search and extensive community engagement efforts conducted by the agency and the TriMet Board. He becomes TriMet's first GM of color in our five-decade history.
"When Sam joined TriMet in 2019, he quickly established himself as a proven, measured, and thoughtful leader who was committed to safety, service and the community," said TriMet Board President Bruce Warner. "His years of transit expertise, customer-driven vision, commitment to building consensus and his humanity are sure to benefit transit riders and the agency for years to come."
"I am honored to be selected by the board as the next General Manager of this impressive agency," said Desue. "While we are collectively facing significant challenges as we recover from the impacts of the pandemic, I have full confidence in the TriMet team, our regional partners and in the strength of the community we serve. With a critical lens on equity and social justice, I will diligently work to advance new customer, safety, maintenance and climate initiatives."
Established leader at TriMet
Desue joined TriMet in 2019 as Chief Operating Officer (COO) and expertly managed and oversaw six of the nine TriMet divisions including Transportation, Maintenance, Information Technology, Safety & Security, Operational Training, Business Planning & Assets, and Operations Planning & Development. He has been the accountable executive for federal, state, and local regulatory authorities and provided strategic direction, transportation planning, policy development and oversight.
In March of this year, Desue was named our interim General Manager after his predecessor, Doug Kelsey, retired. As interim GM, Desue has already made huge strides to build back trust and improve the agency relationship with union leaders. He has advanced climate initiatives and championed safety, maintenance and critical equity and social justice policies. Desue has also begun developing new strategies to manage TriMet's recovery from the COVID-19 pandemic and the associated economic impacts.
Leading hand on climate initiatives, operational improvements, union partnership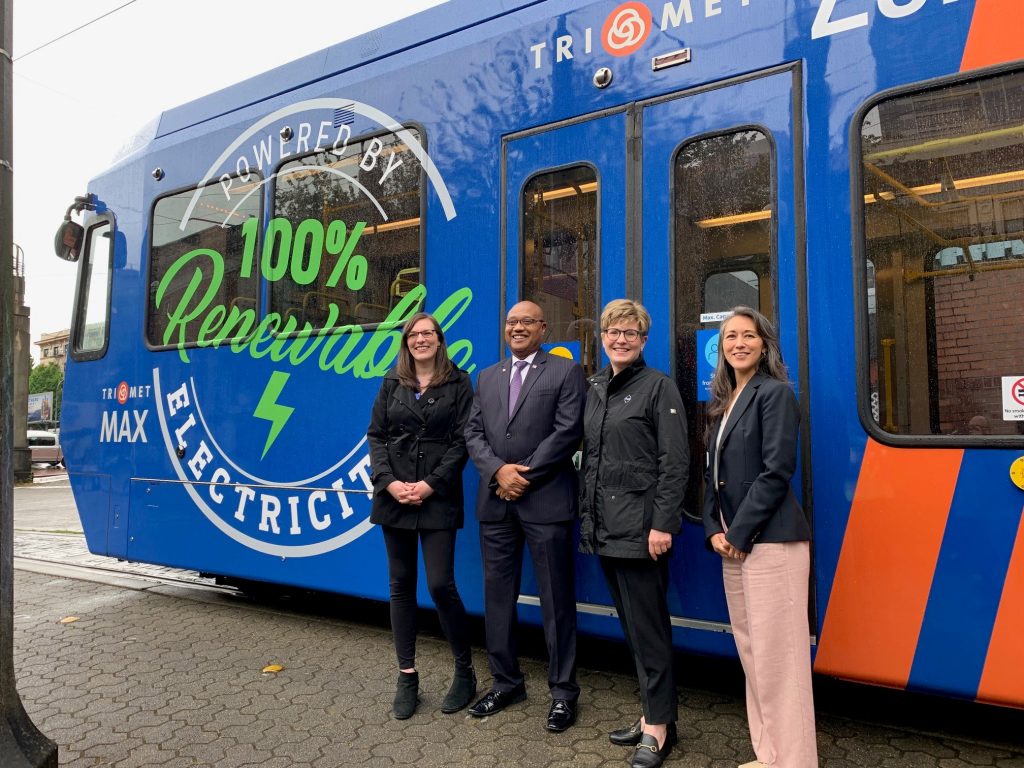 On Monday, June 14, 2021, Desue announced the agency's move to 100% renewable electricity for the MAX light rail system, TriMet's electric buses and all TriMet-owned facilities. This move immediately reduced TriMet's carbon footprint by more than 25% and will soon be followed by other climate initiatives.
Desue has also led the largest capital improvement project in TriMet's 51-year history, replacing and upgrading track, switches and the signal system across the 108-year-old Steel Bridge. He has improved bus on-time performance from 88% to 94% in the past two years. He improved MAX light rail safety by decreasing rule violations 28%—the largest decrease in two years.
Under Desue's direction, TriMet maintained a safe operating environment for employees and riders through historic challenges: protests, civil unrest, wildfires, poor air quality, an intense ice/windstorm and the global pandemic.
Desue was instrumental in the successful negotiation of TriMet's new Amalgamated Transit Union 757 contract, the seventh successful union contract he has helped enact in his transit industry career. He has consistently led diverse, inclusive and equitable work groups and has a track record of decreasing turnover, improving financial management and boosting employee morale.
More than 27 years of public/private transportation experience
Desue brings more than 27 years of public and private transportation experience to the position. Desue's visionary and strategic leadership in transportation extends beyond TriMet. He started his career in transport as a bus operator for Gray Line of Alaska. He has been a leader in both the Seattle and the Kansas City metropolitan areas. He consistently advanced through the ranks at Kansas City Area Transportation Authority (KCATA), starting there as the Director of Transportation in 2013 and serving as COO, interim General Manager and finally Deputy Chief Executive Officer. Desue worked at both Pierce Transit and Community Transit in Washington, where he directed transportation services. He also oversaw landside transportation operations at SeaTac International Airport as well as operations at Seattle Monorail.
Desue developed a strong foundation for leadership during his nearly 11 years of service in the United States Army. As a non-commissioned officer and a leader in the military, he was relied upon by senior commissioned officers to execute complex tactical and strategic operations, make intent-driven decisions and operate in joint, inter-agency, and multinational environments.
Desue serves on the American Public Transportation Association (APTA) Board of Directors and on the APTA Operations Committee. He received his Master of Business Administration (MBA) in 2006.
Desue is a dedicated MAX Blue Line rider as well as a frequent Line 17 rider. He and his wife have two grown children and enjoy spending time with family when they're not traveling and exploring restaurants and coffee shops in the Portland metro area.