While improvements to the MAX system mean more reliable service during high-heat spells, triple-digit temperatures lead to reduced speeds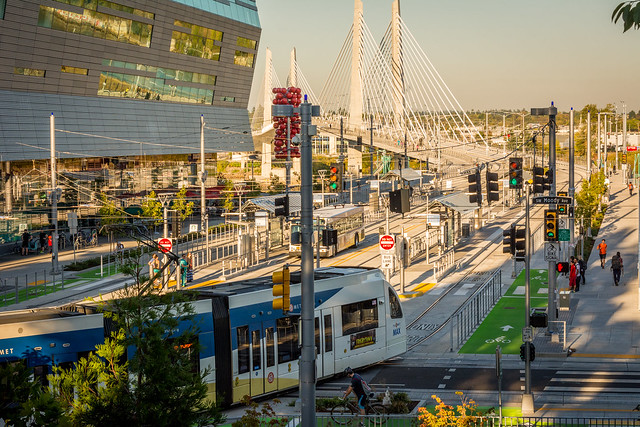 With temperatures expected to soar to record highs this weekend starting on Friday, June 25, TriMet is reminding riders to stay hydrated and watch trimet.org/alerts for updates on service.  Over the past few years, we've worked to reduce heat-related delays, but when temperatures reach extreme levels, we take extra precautions with our MAX and WES trains that can result in slower speeds in some areas.
Improvements to TriMet's overhead wire system and track areas mean trains can run at normal speeds along most of the system when temperatures rise up to 100 degrees. But the swelter felt here this weekend is expected to be unprecedented for the month of June. Some forecasts are calling for temperatures up to 113 degrees. When temperatures reach those heights, it puts a strain on many systems, including power grids and our transit system.  
High heat riding tips
While summer heat waves happen, this one is coming unusually early for the Portland area. We want our riders to stay safe, comfortable and prepared, so before you head out this weekend, here are some tips to help make your trips a breeze until the region cools.
Stay hydrated: Pack some water if you plan on traveling this weekend. While some MAX stations and transit centers have some shaded areas, not all do, especially bus stops. Even in the shade, extreme heat can take a toll on your body.
Plan ahead: To avoid spending more time than necessary waiting for a bus or train, consider using trimet.org/planner to plot out your trip, trimet.org/transittracker to check arrival times and trimet.org/alerts to see whether there are any delays or disruptions.
 If possible, travel in the morning: When temperatures reach triple digits during the day, there's often little relief from the heat until well after sundown.Traveling during the morning hours between 7 a.m. and 11 a.m. will help you beat the heat and complete your trip in comfort.
Wear light, breathable clothing: Break out the shorts and tank tops if you have them. Jeans and darker clothing trap heat, so they won't be ideal if you plan on spending time outside. Even if your wait for the next train or bus isn't long, you don't want to be uncomfortable. And, also remember to put on sunscreen and bring extra with you just in case you need it.
System improvements and staff are working to keep you moving
TriMet will have staff working this weekend to monitor the MAX system, keeping an eye on the overhead wires and the rail itself. Reducing heat-related delays has been part of our continuing efforts to speed up transit and keep trains on time. Over the past few years, we've made improvements to our overhead wire and counterweight system to prevent the wires from sagging as temperatures rise. This happens because the wires are made of copper, which reacts to soaring temperatures by expanding and sagging.
The counterweights hang from a pulley system and are connected to the overhead wires. As the temperature rises, the weights creep toward the ground, applying an opposing force to the wires and preventing them from drooping. But when temperatures are so extreme and exceed 100 degrees, we do have to reduce the maximum speed for all trains to 35 mph. While this affects trains traveling through high-speed areas, such as along I-84, it can lead to delays throughout the system.
We've also installed rail anchor ties to prevent the rail from developing "sun kinks" in high heat. Because the rail is made of steel, it can expand by several inches in extreme hot or cold temperatures. A sun kink happens when extreme heat causes the rail to bow outward. By installing rail tie anchors in kink-prone areas, our crews have found the rail stays in place.
WES service
Although WES doesn't operate on weekends, when temperatures are expected to reach their peak, service could be impacted on Monday when temperatures are expected to exceed 100 degrees. When temperatures reach 100 degrees, trains reduce their maximum speed to 40 mph. And when temperatures reach 105 degrees, WES service is suspended suspended, per Portland & Western Railroad restrictions, and shuttle buses will serve the line. Expect major delays.
Stay safe and cool this weekend
All of our buses and most of our trains have air conditioning, but when waiting for a vehicle to arrive, remember our tips and stay in the shade. If you're looking for service information to land directly in your inbox or phone, sign up for alerts about your bus or train via email or text message at trimet.org/email.