TriMet, joined by Portland Streetcar, will suspend fares over the Fourth of July weekend to help riders reach their summer destinations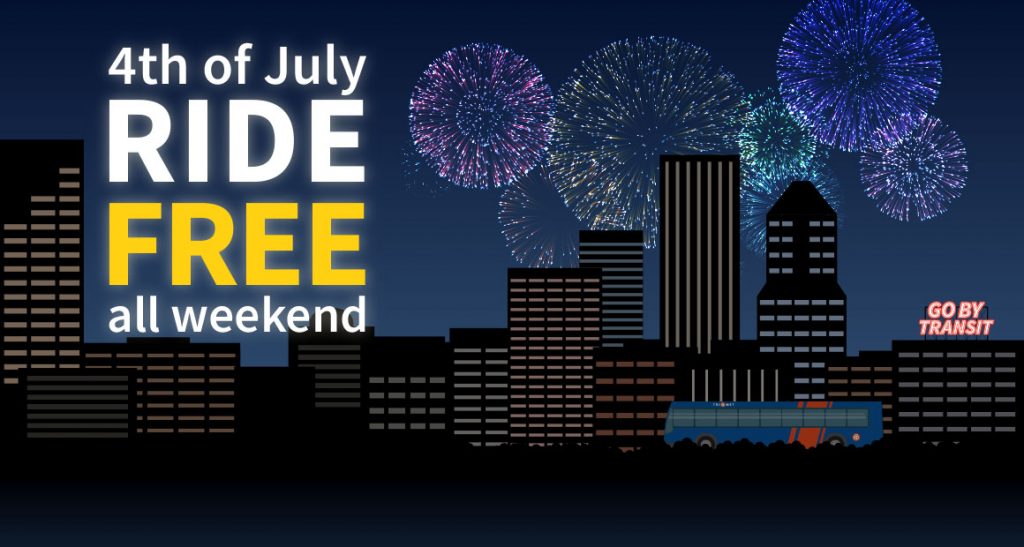 Ditch your Hop card this Fourth of July. Forget about purchasing tickets at a machine or fare box. TriMet will not be collecting fares on buses, MAX trains and LIFT paratransit vehicles on July 3, 4 and 5, 2021, in honor of Independence Day, as people begin celebrating what we hope is independence from the pandemic. Many festivities and destinations are opening up after being shut down last Fourth of July. Portland Streetcar will also join TriMet in not collecting fares over the weekend.
With more people getting out and about, we want to help keep people moving and connected to their community. After all, Americans have been celebrating the Fourth of July in traditional ways for the last 255 years. Whether it's been with concerts, games, food and, of course, a sparkling fireworks display, the Fourth of July is for all of us to come together this year.
Free rides will begin at the start of service on July 3 and run through the end of the service day at 3 a.m. on July 6. If you do accidentally tap your Hop card, you'll see confirmation of valid fare but will not be charged. TriMet's ticket machines will also not be accepting purchases during this time. Fare boxes on buses will have an out of service sign covering the money slot.
Take transit to the 4th's big events
Various events that were postponed in 2020 are returning this year, and these are opportunities to enjoy and support your local community. Here are just some of the destinations TriMet can help you reach without worrying about driving or parking.
Waterfront Blues Festival: The Waterfront Blues Festival is returning in July but with a new location. From July 2-5, a socially distanced version of the music festival will be held at Zidell Yards in the South Waterfront neighborhood. Tickets go fast, and some shows are sold out–including on July 4–but if you do have tickets, TriMet and Portland Streetcar are your hassle-free options for getting there and back.
Zidell Yards is directly served by the MAX Orange Line at South Waterfront/SW Moody station. Several bus lines also serve the South Waterfront neighborhood, as well as Portland Streetcar.
Independence Day Baseball:  America's pastime will be on display this Fourth of July. The Portland Pickles will take on the Gresham Greywolves and the Portland Gherkins in a double header on Sunday, July 4. The games will be held at Walker Stadium in Lents Park, accessible by the Line-17 Holgate/Broadway and the MAX Green Line from Southeast Holgate Boulevard station.
Pack a picnic: A Fourth of July fireworks display and family picnic will be happening at Tom McCall Upper Elementary School in Forest Grove. There will also be live music and food vendors at the community event. The elementary school is within walking distance of a Line-57 TV Hwy/Forest Grove stop.
Farmers' markets: Farmers' markets are back in full swing this summer, offering an abundant bounty of locally grown produce and other products.  
Hillsboro Farmers' Markets: Whether you choose the downtown market or the one at Orenco Station, the MAX Blue Line can get you there. For the downtown market, located at 150 East Main Street, riders will want to get off at Hatfield Government Center. Those heading to the Orenco Station Farmers' Market will exit at the Orenco MAX Station. Downtown's market is open on Saturdays between 9 a.m.-1 p.m., and Orenco Station's is open on Sundays between 10 a.m.-2 p.m.
Gresham Farmers' Market:  Located at the Center for the Arts Plaza in Gresham, the market is open between 8:30 a.m.-2 p.m. To reach the market on foot, riders can take the Blue Line and exit at Gresham Central Transit Center.
Beaverton Farmers' Market: Open over the summer on Saturdays between 9 a.m.-1:30 p.m., the market is located at 12375 SW 5th Ave, just a few feet from a Line 76-Hall/Greenburg stop.
Portland Farmers' Markets: Portland has a number of farmers' markets open throughout the city, including the year-round market at PSU, the Hollywood and King Farmers' Markets in Northeast Portland and the Lents Farmers' Market in Southeast. Each market is within walking distance of a bus stop or MAX station. To plan your trips, go to trimet.org/planner.
The Oregon Zoo/Washington Park: The Oregon Zoo is now open to members who reserve their tickets online. The tickets are set for specific times to keep crowd sizes manageable. The Oregon Zoo is served by MAX Blue and Red lines and Line 63-Washington Park/Arlington Heights.
Stay safe and healthy this Fourth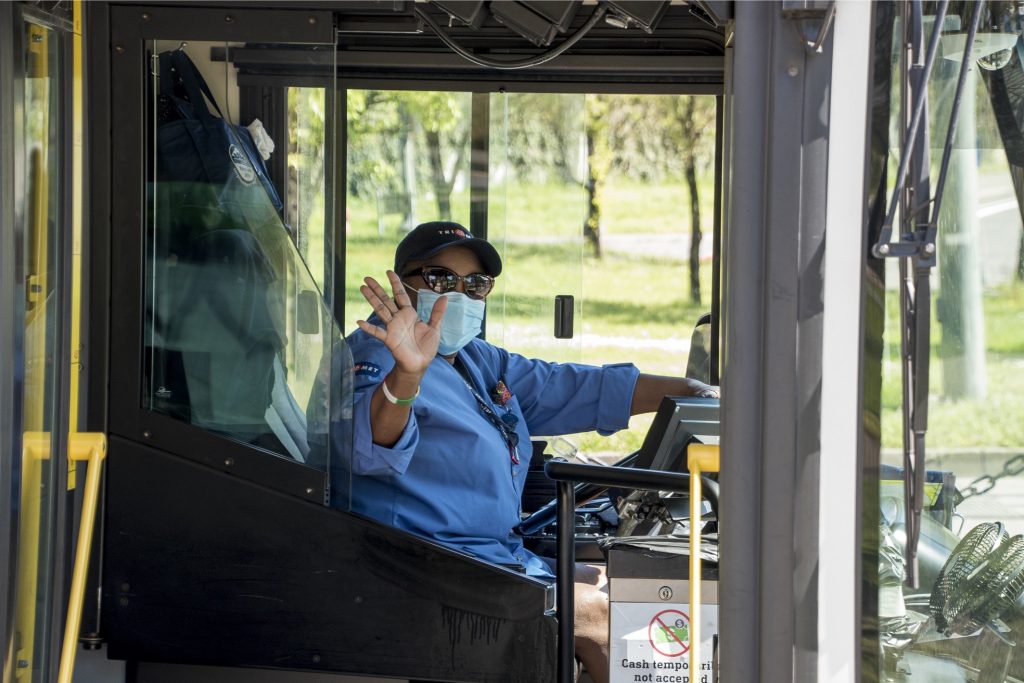 Even with more opportunities to ride, it's still important to remember to stay respectful of the health guidance that remains in effect. This includes when you're riding a bus or train, as TriMet continues to follow state and federal requirements. Masks are still required while riding, as well as when riders are waiting at transit centers and MAX stations.  And for now, social distancing remains in place, with space limited on board. You may need to wait to get on a bus or a train.
Low-income fare program available year-round
While TriMet offers free rides to everyone on New Year's Eve, Rosa Parks Transit Equity Day and, for this year, the Fourth of July, we also offer reduced fare to people struggling financially every day of the year.
TriMet's low-income fare program is open to Oregonians who are between 18 and 64 years old and live on an income up to double the federal poverty level. Currently that means individuals who earn up to about $25,500 a year qualify. Maximum annual income increases with household size. For a family of four, for example, annual earnings could be as high as $51,500. Applicants must have a government-issued I.D. and proof of income – an income tax return, recent pay stub, Oregon Health Plan card or other qualifying document.
Over the last five years, TriMet has also provided more than $8.5 million in fare assistance and relief to non-profits, community-based organizations and government entities.